You probably played hooky once or twice as a kid to savor that sweet feeling of sleeping in and watching daytime television. So when you hear about students who are chronically absent—missing 18 school days or more a year—you might imagine hundreds of students stubbornly refusing to get out of bed.
Allyson Vukovich, community partnership coordinator at Des Moines Public Schools, talked with United Way to dispel that picture.
Vukovich is one of the leaders who is organizing Graduation Walk on October 19, 2019, when hundreds of volunteers visit nearly 1,500 homes of middle and high school students at risk of not graduating, including those who are chronically absent. Vukovich explained that school attendance can predict whether or not a student will end up graduating. Walk volunteers will share powerful information about the importance of graduating to encourage students to stay in school.
Myth #1: Kids who skip school are lazy.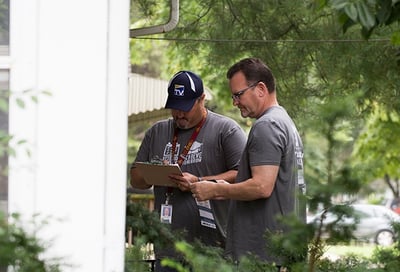 "If anything, our kids in Des Moines Public Schools are amazing and resilient," says Vukovich. "They are overcoming things that most of us can't even imagine."
One of the priorities for Graduation Walk was originally to determine the reasons students are missing school on a regular basis. Although every student has his or her own story, these reasons stood out:
Physical and mental health issues
Transportation barriers—no car or no access to busing
Daytime jobs to support families
Babysitting younger siblings
"The fact that they are trying to get to school—even if it's not every day—shows how strong they are," Vukovich says. "You can go to any of our schools, pick a kid, and hear a story that will make you think, you are the most amazing kid I've ever met in my life."
Myth #2: Missing a few days is no big deal.
It doesn't take many absences to have an effect on a student's grades or potential to graduate. According to Attendance Works, missing just two days a month—18 days a school year—can drastically affect a student's academic success.
Studies conducted by Attendance Works and UChicago Consortium on School Research show that attendance between sixth and ninth grade truly matters.
By sixth grade, absenteeism is one of three signs that a student may drop out of high school.
Ninth-grade (regular or high) attendance better

predicts

graduation rates than eighth-grade test scores.
Nearly 90% of freshman who miss less than a week of school per semester graduate, regardless of their eighth-grade test scores.
Myth #3: It doesn't matter if you show up to school if you aren't ready to learn.
Students who aren't in the right frame of mind to absorb classroom material—due to chronic pain, mental health issues, challenges at home, or a lack of food or sleep—can still benefit enormously from just walking in the school door.
Vukovich emphasizes the relationships students build with teachers, counselors, and coaches every day they attend. "That's just one more positive adult that can help them navigate anything that's going on in their lives."
Once a student connects with an authority figure and reveals the challenges they are facing, the school can engage the many support services available to help the student get back on track.
Myth #4: The schools are too overwhelmed to do anything about absent kids.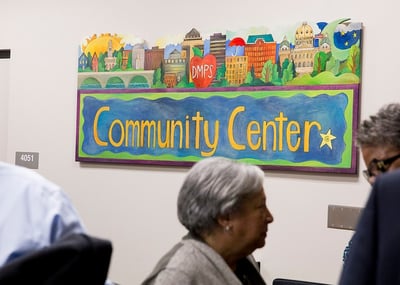 The media often paints a picture of middle and high schools that are overpopulated and under-resourced, with teachers who either don't care or are too overworked to step up.
That's certainly not true for Des Moines Public Schools, which have many strategies in place to serve kids who need extra help. A few of these include
Working with English Language Learner (ELL) families to help them understand and navigate the educational system and the support services available to them
The Community Center and Clinic at Scavo High School, which offers health care, mental health services, a food pantry, and on-site day care
Flexible Graduation Pathways, which provides alternative educational opportunities for students struggling in a traditional classroom setting
Community School Coordinators, who work with all areas of the community to alleviate barriers and increase student access to programs and opportunities they need to develop successfully

Before- and after-school programming

,

provided by Des Moines Public Schools or community partners

,

to keep kids engaged and supported throughout the entire day
United Way of Central Iowa invests in many of these strategies and programs. See our education investments.
"We are community schools, and our community is so wonderful," says Vukovich. "We look at things that already exist in the community and intentionally bring them in to support our schools."
Myth #5: Kids missing school or dropping out doesn't impact me.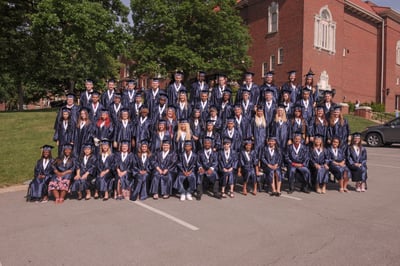 The future of our students is the future of central Iowa. Those in middle and high school now will be your future co-workers and neighbors—the people employed in local businesses or who fill the middle- and high-skilled positions companies need.
The more kids who come to school and graduate, the more likely our community will continue to grow and thrive.
Unfortunately, many students feel no one is rooting for them to succeed. Graduation Walk is a great way to show these kids that the entire community is behind them and that even strangers care.
"That day is just the first step toward doing what we need to do for our kids," says Vukovich. The work never stops for us. The more support we can get on a regular basis, the better. Because our kids need support all day, every day, all year-round."
---
Volunteer to visit middle and high school students who missed at least 5 days in the first month of school—putting them at risk of not graduating. In just one Saturday morning, you can help a young person make the most important decision of their life: to graduate from high school.