The Tocqueville Society recognizes the generosity of individuals and families contributing at the highest levels of personal giving. These caring philanthropists exemplify an outstanding commitment to improving the quality of life within our community.
Since its inception in 1984, Tocqueville Society members have contributed cumulatively over $50 million to United Way of Central Iowa. Last year alone, they contributed $7.1 million. These funds are strategically invested to create measurable and lasting change in our community's most urgent issues.

---
Tocqueville Society Brochure


---

Your Investment Transforms Lives
Every gift to United Way of Central Iowa is invested to improve lives right here in our community. Your generosity is amplified through a collective impact process that unites our community around tackling our toughest challenges.
As a Tocqueville member, you can elevate that work so that more of our students graduate from high school, more local families are financially stable, and more of our neighbors lead healthy lives.
---
2022 Tocqueville Society Award:
Tim & Jess McCulloh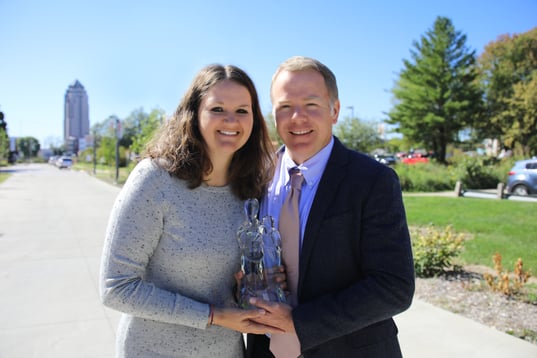 Tim McCulloh, Surety Bond Executive at Holmes Murphy & Associates, and Jess McCulloh, Senior Human Resources Consultant at Wells Fargo, are the 2022 Tocqueville Society Award recipients.
Tim and Jess McCulloh were selected as this year's recipient of United Way of Central Iowa's prestigious Tocqueville Society Award. Past awardees select an individual or couple who exemplify inspirational, sustained leadership and service to the central Iowa community to receive this award, one of United Way's highest honors.
The McCullohs were presented with the award at the annual Tocqueville Society Celebration, sponsored by ISG, held on October 6. In addition to this recognition, the event celebrates the more than $6.9 million raised in 2021 by 436 central Iowa Tocqueville Society members who annually invest $10,000 or more to foster a thriving community through United Way of Central Iowa.

"Central Iowa is fortunate to have the McCullohs, not only because of their generosity and care they have for everyone who lives here, but also as role models for the next generation of philanthropists," said Mary Sellers, President of United Way of Central Iowa. "Their leadership and contributions have had immeasurable impact on our community, and we appreciate their continued dedication to serving central Iowa through United Way in such powerful ways. The results we've seen under their guidance are incredible and the scope of the positive change they've created is inspiring."
---

Become a Game-Changer
Tocqueville members are the game-changers who are fostering a thriving community in central Iowa.
In addition to creating lasting impact, Tocqueville Society members can:
Meet and network with central Iowa's most influential leaders and philanthropists

Benefit from charitable giving tax savings (a great resource to contribute appreciated assets)

Make a direct investment to impact the people of central Iowa with expert-driven strategies

Share leadership, expertise, and influence through various committees and events

Gain new business and career opportunities by demonstrating community leadership

Give to causes you care about most in a way that significantly amplifies your impact

Enjoy special society events including an annual celebration

Annual recognition of all Tocqueville Society members in the Business Record


(

See the 2020 Des Moines Business Record Recognition Ad)

---
Join the Tocqueville Society
You are invited to join the Tocqueville Society, an exceptional group of individuals and families who give $10,000 or more to United Way of Central Iowa each year. There are many options to grow your giving and create long-lasting impact.
Step-Up Program

The Tocqueville Step-Up Program starts with a minimum personal contribution of $5,000 in the first year, followed by an annual gift increase to reach $10,000 by the third year. You receive full membership benefits starting in year one. Click below to download the PDF enrollment form.
---
Leave a Legacy
By endowing your gift for perpetuity, you will ensure United Way of Central Iowa is there to tackle our community's challenges for the next 100 years. We work closely with the Community Foundation of Greater Des Moines so that you can manage your legacy securely and conveniently through the Endow Iowa Tax Credit Program.
---
Volunteer
Tocqueville Society members are often as generous with their time as they are with their donations. United Way of Central Iowa offers excellent opportunities to give back as a volunteer throughout the year. Click below to download a PDF of the volunteer calendar, and visit our Volunteer page to look for specific opportunities.
---
"Tocqueville Society members are central Iowa's most generous philanthropists who share a passion for making our community a place where everyone has an opportunity to thrive."

Kelly Sparks
Director, Tocqueville Society