The Tocqueville Society recognizes the generosity of individuals and families contributing at the highest levels of personal giving. These caring philanthropists exemplify an outstanding commitment to improving the quality of life within our community.
Since its inception in 1984, Tocqueville Society members have contributed cumulatively over $50 million to United Way of Central Iowa. Last year alone, they contributed $7.1 million. These funds are strategically invested to create measurable and lasting change in our community's most urgent issues.

---
Your Investment Transforms Lives
Every gift to United Way of Central Iowa is invested to improve lives right here in our community. Your generosity is amplified through a collective impact process that unites our community around tackling our toughest challenges.
As a Tocqueville member, you can elevate that work so that more of our students graduate from high school, more local families are financially stable, and more of our neighbors lead healthy lives.

---

Become a Game-Changer
Tocqueville members are the game-changers who are fostering a thriving community in central Iowa.
In addition to creating lasting impact, Tocqueville Society members can:
Meet and network with central Iowa's most influential leaders and philanthropists

Benefit from charitable giving tax savings (a great resource to contribute appreciated assets)

Make a direct investment to impact the people of central Iowa with expert-driven strategies

Share leadership, expertise, and influence through various committees and events

Gain new business and career opportunities by demonstrating community leadership

Give to causes you care about most in a way that significantly amplifies your impact

Enjoy special society events including an annual celebration

Annual recognition of all Tocqueville Society members in the Business Record


(

See the 2020 Des Moines Business Record Recognition Ad)

---
Join the Tocqueville Society
You are invited to join the Tocqueville Society, an exceptional group of individuals and families who give $10,000 or more to United Way of Central Iowa each year. There are many options to grow your giving and create long-lasting impact.


Step-Up Program

The Tocqueville Step-Up Program starts with a minimum personal contribution of $5,000 in the first year, followed by an annual gift increase to reach $10,000 by the third year. You receive full membership benefits starting in year one. Click below to download the PDF enrollment form.
---
Leave a Legacy
By endowing your gift for perpetuity, you will ensure United Way of Central Iowa is there to tackle our community's challenges for the next 100 years. We work closely with the Community Foundation of Greater Des Moines so that you can manage your legacy securely and conveniently through the Endow Iowa Tax Credit Program.
---
Volunteer
Tocqueville Society members are often as generous with their time as they are with their donations. United Way of Central Iowa offers excellent opportunities to give back as a volunteer throughout the year. Click below to download a PDF of the volunteer calendar, and visit our Volunteer page to look for specific opportunities.
---
2020 Tocqueville Society Award:
Gerry Neugent
Gerry Neugent, co-chairman of the board and former CEO of Knapp Properties, was selected as this year's winner of the prestigious Tocqueville Society Award from United Way of Central Iowa. This award is the organization's highest honor, given annually by past awardees to an individual or household who exemplifies inspirational, sustained leadership and service to the central Iowa community.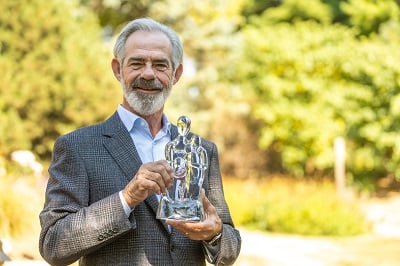 The award was presented at the annual Tocqueville Society Celebration on September 30, which was held virtually this year, sponsored by Ryan Companies. The celebration recognizes the more than 430 central Iowa Tocqueville Society members and households comprising United Way's premier philanthropic society, who annually invest $10,000 or more in the community through United Way of Central Iowa in the areas of health and human services.
"I am humbled and honored to be the 2020 Tocqueville Award recipient," said Gerry. "United Way of Central Iowa makes a huge impact on meeting the challenges facing our community and its most vulnerable residents. I am proud to be a part of it."
"Gerry is the ultimate connector. When our community is facing a problem or a challenge, if he can bring resources together to improve the lives of central Iowans, he's all in," said Tom Mahoney, chairman of the board and former CEO of ITA Group and 2020 United Way Campaign cabinet member. "He is genuinely as nice a man as you'll meet and has devoted his life to giving people in need a hand up. Gerry is incredibly dedicated to uniting our community and showing us the way. I congratulate him on being recognized as this year's award winner. He has made central Iowa better and stronger."

Gerry has contributed to United Way of Central Iowa at the Tocqueville Society membership level since 2005 and has been a donor since 1997. He has made a long-term commitment as the Give Chair on the United Way of Central Iowa Executive Committee and as the Vice-Chair of the annual campaign in 2018. In serving as Chair of the 2019 United Way Campaign Cabinet, his leadership lead to tremendously positive financial results for the campaign, which have allowed United Way of Central Iowa to respond to our communities urgent and current needs.

In addition to his duties at Knapp Properties, Gerry enjoys participating in many community, civic and professional activities outside of United Way. He currently serves as a Director of American Equity Investment Life Insurance Company and Iowa State Bank. He is past Chair of the Greater Des Moines Partnership, President of the Des Moines Community Playhouse, the Des Moines Public Library Foundation, the West Des Moines Community Enrichment Foundation and has served on many other city and community boards.

"Gerry is one of the most influential, dedicated, and caring individuals I know – and one of the humblest," says Elisabeth Buck, former President of United Way of Central Iowa. "His 23-year engagement with United Way of Central Iowa as a donor, volunteer, and advocate has made an immeasurable impact in our community and in our fight for the health, education, and financial stability of every central Iowan."