The Tocqueville Society recognizes the generosity of individuals and families contributing at the highest levels of personal giving. These caring philanthropists exemplify an outstanding commitment to improving the quality of life in our community.
Since its inception in 1984, Tocqueville Society members have contributed cumulatively over $50 million to United Way of Central Iowa. Last year alone, Tocqueville Society members contributed $7.1 million. These funds are strategically invested to create measurable and lasting change in our community's most urgent issues.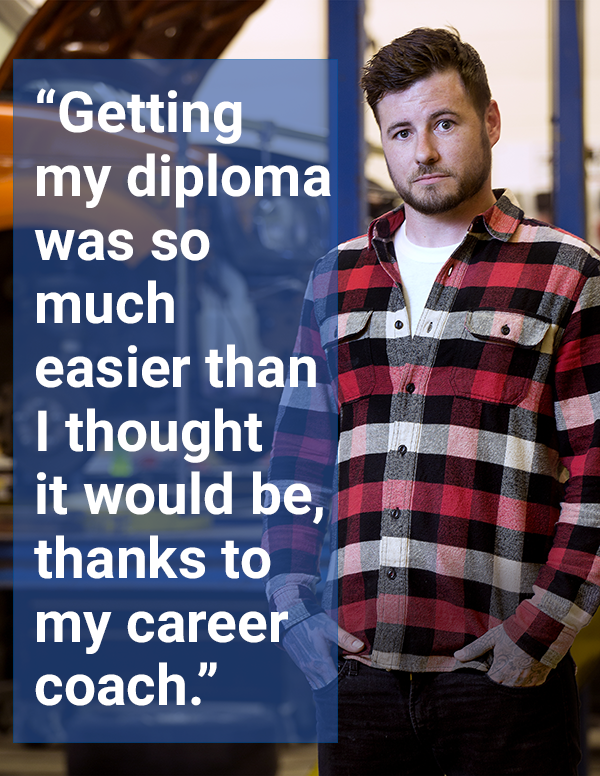 Your Investment Transforms Lives
Every gift to United Way of Central Iowa is invested to improve lives right here in our community. Your generosity is amplified through a collective impact process that unites our community around tackling our toughest challenges.
As a Tocqueville member, you can elevate that work so that more of our students graduate from high school, more local families are financially stable, and more of our neighbors lead healthy lives.

Become a Game-Changer
Tocqueville members are the game-changers who empower our community to meet its Goals for 2020 in Education, Income, and Health.
In addition to creating lasting impact in central Iowa, Tocqueville Society members can:
Meet and network with central Iowa's most influential leaders and philanthropists

Benefit from charitable giving tax savings (a great resource to contribute appreciated assets)

Make a direct investment to impact the people of central Iowa with expert-driven strategies

Share leadership, expertise, and influence through various committees and events

Gain new business and career opportunities by demonstrating community leadership

Give to causes you care about most in a way that significantly amplifies your impact

Enjoy special society events including an annual celebration

Annual recognition of all Tocqueville Society members in the Business Record
(See the 2019 Des Moines Business Record Recognition Ad)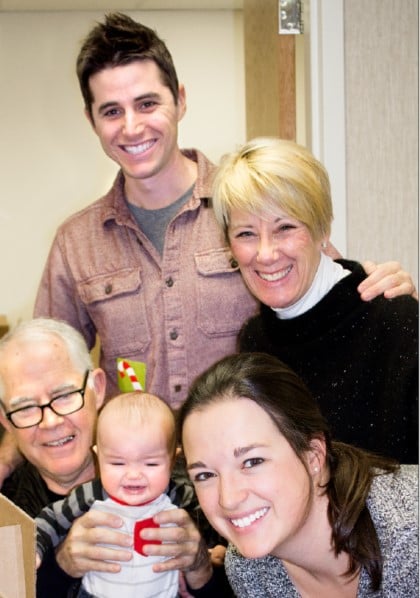 Tocqueville Society members Debbie and Mike Hubbell and family pack food donations for struggling single-parent families at a holiday volunteer event.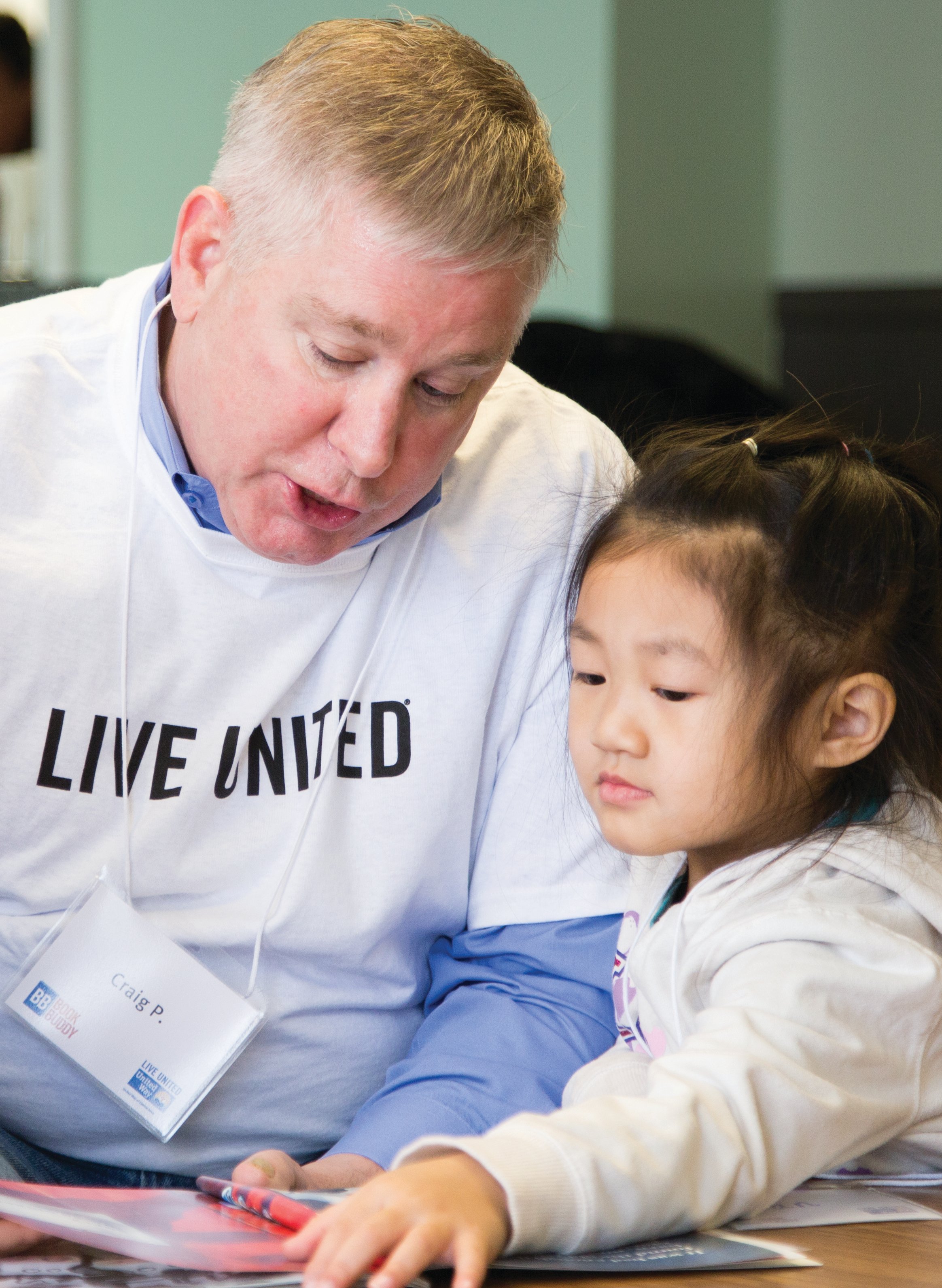 Join the Tocqueville Society
You are invited to join the Tocqueville Society, an exceptional group of individuals and families who give $10,000 or more to United Way of Central Iowa each year. There are many options to grow your giving and create long-lasting impact.


Step-Up Program

The Tocqueville Step-Up Program starts with a minimum personal contribution of $5,000 in the first year, followed by an annual gift increase to reach $10,000 by the third year. You receive full membership benefits starting in year one. Click below to download the PDF enrollment form.
Leave a Legacy
By endowing your gift for perpetuity, you will ensure United Way of Central Iowa is there to tackle our community's challenges for the next 100 years. We work closely with the Community Foundation of Greater Des Moines so that you can manage your legacy securely and conveniently through the Endow Iowa Tax Credit Program.
Volunteer
Tocqueville Society members are often as generous with their time as they are with their donations. United Way of Central Iowa offers excellent opportunities to give back as a volunteer throughout the year. Click below to download a PDF of the volunteer calendar, and visit our Volunteer page to look for specific opportunites.
2019 Chair and Co-Chair
Diane Bridgewater is chairing and Emily Abbas is co-chairing the 2019 United Way Tocqueville Society campaign.
Diane is the Executive Vice President/Chief Financial and Administrative Officer at LCS.
Emily is SVP, Chief Marketing and Communications Officer at Bankers Trust.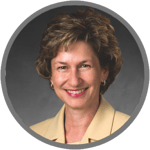 Diane Bridgewater

Emily Abbas
2018 Tocqueville Society Award: Nora Everett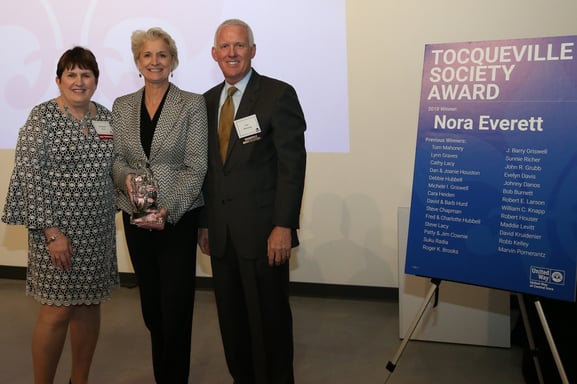 Nora Everett has been honored with the prestigious 2018 Tocqueville Society Award. This award is United Way of Central Iowa's highest honor, given annually to an individual or household who exemplifies inspirational and sustained leadership and service to the central Iowa community through United Way.
Tocqueville Society, United Way's premier philanthropic society, recognizes the more than 400 households who annually contribute $10,000 or more into the community in the areas of health and human services.
A committee of past Tocqueville Society awardees selected Nora Everett as the 2018 Tocqueville Society Award Winner. The award was presented at the annual Tocqueville Society celebration on October 24 at Curate in the East Village.
"Nora is passionate about her work, the people she touches, and our community," said Tom Mahoney, chair of United Way of Central Iowa's board of directors and chair and CEO of ITA Group. "She is a servant leader who inspires new thinking around complex issues and engages others to fight for all central Iowans to have a chance at a quality life."
Everett, president of Retirement and Income Solutions and chairman of Principal Funds at Principal, is one of two women appointed to a divisional president role in Principal's history and has been a model in leadership and community giving. She will become United Way of Central Iowa's board chair next year. Everett co-chaired the organization's 100th anniversary annual campaign in 2016, has been a Tocqueville member since 2004, and has been a champion for Tocqueville and Women United at Principal.
"Nora brings tremendous leadership to United Way of Central Iowa, with a deep understanding of the organization's complexities and a desire to make our community stronger by working together," said Elisabeth Buck, president of United Way of Central Iowa. "She gives her dollars, her time, and her talents generously and encourages everyone to live united."
Watch Nora Everett's moving acceptance speech:
Tocqueville Society Award Recipients:
2018 - Nora Everett
2017 - Tom Mahoney
2016 - Lynn Graves
2015 - Cathy Lacy
2014 - Dan & Joanie Houston
2013 - Debbie Hubbell
2012- Michele I. Griswell
2011 - Cara Heiden
2010 - David & Barb Hurd
2009 - Steve Chapman
2008 - Fred & Charlotte Hubbell
2007 - Steve Lacy
2006 - Patty & Jim Cownie
2005 - Suku Radia
2004 - Roger K. Brooks
2003 - J. Barry Griswell
2002 - Sunnie Richer
2000 - John R. Grubb
1995 - Evelyn Davis
1994 - Johnny Danos
1992 - Bob Burnett
1991 - Robert E. Larson
1990 - William C. Knapp
1989 - Robert Houser
1988 - Maddie Levitt
1987 - David Kruidenier
1986 - Robb Kelley
1985 - Marvin Pomerantz