Tocqueville Society Membership Benefits
Recognition in the Business Record, The Des Moines Register and United Way of Central Iowa's online Leadership Circle Registry

Timely e-newsletters to inform Tocqueville Society members how your contributions lead community change

Invitation to the annual celebration event as well as special engagement and volunteer opportunities
Business Record Recognition Ad
A membership benefit of being a Tocqueville Society member is having a recognition ad in the Business Record.

2017 Chair and Co-Chair
Todd Millang is chairing and Diane Bridgewater is co-chairing the 2018 United Way Tocqueville Society campaign. Todd is the Senior Vice President at CBRE-Hubbell, and Diane is the Executive Vice President/Chief Financial and Administrative Officer at LCS.
Over 30 Years of Giving
Since its inception in 1984, Tocqueville Society members have contributed cumulatively nearly $40 million to United Way of Central Iowa. Last year alone, Tocqueville Society members contributed $4.9 million. These funds are strategically invested to create measurable and lasting change in our community's most urgent issues.
Your Investment Transforms Lives
Every gift to United Way of Central Iowa is invested to improve lives right here in our community. Your generosity is amplified through a collective impact process that unites our community around tackling our toughest challenges. As a Tocqueville member, you can elevate that work so that more of our students graduate from high school, more local families are financially stable, and more of our neighbors lead healthy lives.
2017 Tocqueville Society Award: Tom Mahoney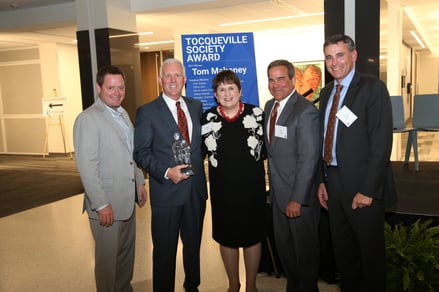 Tom Mahoney was honored with the prestigious 2017 Tocqueville Society Award. This award is United Way of Central Iowa's highest honor, given annually to an individual or couple who exemplify inspirational and sustained leadership and service to the central Iowa community through United Way.
A committee of past Tocqueville Society awardees selected Tom Mahoney as 2017 Tocqueville Society Award Winner. The award was presented at the annual Tocqueville Society celebration on October 18 at Principal's new atrium.
"Tom Mahoney, behind the scenes, is one of the most philanthropic individuals I've ever had the good fortune to know," said Dan Houston, CEO of Principal, who presented Mahoney with the award. "He's the ultimate champion for people who are looking for a hand up versus a hand out. It's been a privilege to work alongside Tom on many projects throughout central Iowa."
Mahoney is the Chairman and CEO of ITA Group and currently serves as the chair of United Way of Central Iowa's board of directors. He joined Tocqueville Society in 2008, and has served on committees with United Way of Central Iowa since 2010. He was chair of the campaign in 2014 and joined United Way's board of directors in 2013. His work includes leaving a legacy of service to those United Way serves throughout the community, including efforts to engage and recognize employee campaign chairs at companies and to increase leadership opportunities on United Way's board.
"Tom is a dedicated husband, father, and businessman, who also recognizes the importance of giving his talents and resources to our community so all families can thrive," said Elisabeth Buck, president of United Way of Central Iowa. "His leadership and focus on serving others has made a huge impact in how we do our work as an organization, and we look forward to his continued direction and commitment to United Way as president of our board."
Tocqueville Society Award Recipients:
2017 - Tom Mahoney
2016 - Lynn Graves
2015 - Cathy Lacy
2014 - Dan & Joanie Houston
2013 - Debbie Hubbell
2012- Michele I. Griswell
2011 - Cara Heiden
2010 - David & Barb Hurd


2009 - Steve Chapman
2008 - Fred & Charlotte Hubbell
2007 - Steve Lacy
2006 - Patty & Jim Cownie
2005 - Suku Radia
2004 - Roger K. Brooks
2003 - J. Barry Griswell


2002 - Sunnie Richer
2000 - John R. Grubb
1995 - Evelyn Davis
1994 - Johnny Danos
1992 - Bob Burnett
1991 - Robert E. Larson
1990 - William C. Knapp


1989 - Robert Houser
1988 - Maddie Levitt
1987 - David Kruidenier
1986 - Robb Kelley
1985 - Marvin Pomerantz