Become a 5-2-1-0 champion!
5-2-1-0 is a movement to help central Iowa kids and families make healthy choices.
It starts by sharing easy tips and expert advice to promote 5-2-1-0 habits with families and kids. As a 5-2-1-0 champion, you will receive a monthly email with social media posts and newsletter content you can customize and share with your networks.
Sign up to be a 5-2-1-0 champion:
---
Well Kids of Central Iowa Coalition
Day on the Hill - February 25, 2020
Join us in advancing key priorities that can help children and families get and stay healthy. RSVP here.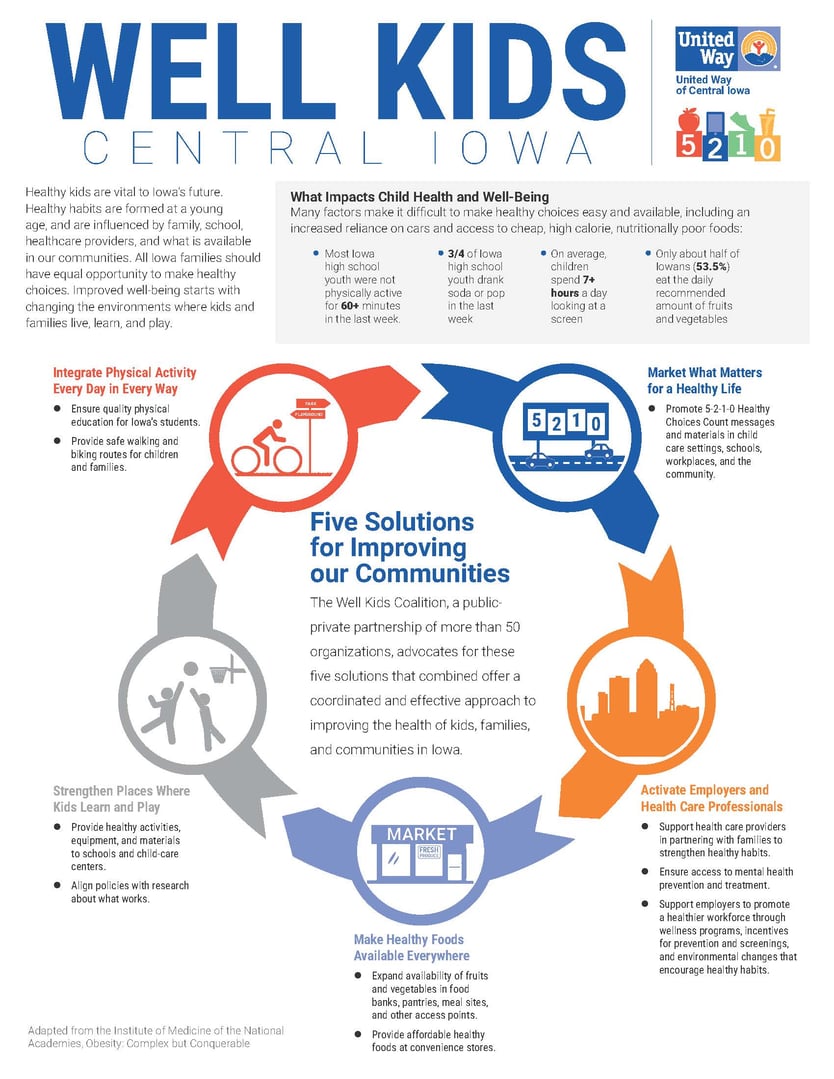 View the 2020 Legislative Agenda
About the Coalition
The Well Kids of Central Iowa Coalition is a network of partners working to advance the health and well-being of central Iowa children and their caregivers. The coalition is specifically focused on reducing childhood obesity by making healthy choices in nutrition and physical activity available, affordable, and easy.
What's the problem?
28.3%

of Iowa 10- to 17-year-olds are overweight or obese.

14.7%

of 2- to 4-year olds from low-income families are obese.

41.5%

of Iowa kids ages 1-17 watch TV or play video games 1-4 hours per day.
48% of Iowa kids ages 6-17 have a TV, a computer, or electronic devices in their bedroom.
Children who are obese are at greater risk for diabetes, cardiovascular disease, hypertension, hyperlipidemia, and sleep apnea—conditions previously thought to be adult diseases. In addition, children who are obese often face stigma and social isolation that can impact them their wholve lives.
What we can do to address it
The Well Kids Coalition uses the social-ecological model of health promotion to create a holistic and systemic approach to reduce childhood obesity. At its core, the coalition is a collaboration among various stakeholders and sectors to work together to address this complex issue. The coalition recognizes that to create change, we must work at all levels of influence (individual, interpersonal, organizational, community, and policy/system) and address the social determinants of health.
A steering committee represents diverse sectors and coalition membership to guide the direction of the coalition. Workgroups are working in the areas of government, health care, schools and after-school programs, early childhood, community, and business to identify goals, measurements, evidence-based or promising practice strategies, and engagement with key audiences. All members have the opportunity to network and share information.
To learn more about the Well Kids Coalition, contact Erin Drinnin. View a list of Well Kids Coalition members at www.5210dsm.org.