Myat, a Karen refugee, continues to embrace his culture while growing and evolving as an American through the power of art and education.
Music fills the air, colorful cultural clothes delight the stage, families attentively watch for their children from the crowd, and the enticing aroma of traditional cuisine floats through the auditorium. The IOWA Don Dance brings Karen (pronounced Kuh-REN) youth together from across the Midwest to celebrate the Karen New Year. On the stage, Myat* proudly stands – with a big smile – ready to perform.
He's come a long way since he first came to America as a refugee.
In 2014, at the age of 13, his parents' American dream materialized in the form of a small apartment in a neighborhood of Des Moines' north-west side with no shortage of crime. Two years later, Myat learned about ArtForce Iowa, an organization aiming to end the cycle of trauma and transform youth-in-need through art. All ArtForce Iowa programs, which are funded in-part by United Way of Central Iowa's Education Leadership Initiative, are based on a three-force model – ArtForce, WorkForce, and LifeForce – incorporating creative self-expression, work skills development, and advocacy in a safe supportive community.
Myat soon enrolled, and quickly felt a connection with ArtForce Iowa staff. He established himself as a consistent presence in the organization's DSM Heroes, a supportive arts-based community program for immigrant, refugee, and first-generation American youth who have experienced violence and trauma.
According to UNHCR Refugee Agency, refugee children are five times more likely to be out of school than non-refugee children and only 50 percent have access to primary education – ultimately, this 50 percent hasn't received the building blocks to form the foundation and core of academic learning.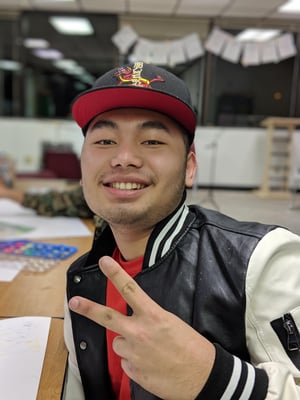 "Our DSM Heroes, like Myat, undoubtedly face barriers in the world of education," said Emma Parker, program director of DSM Heroes: "We recognize career paths in the United States require understanding of the English language, but also recognize fluency can only be achieved by a mind uninhibited with fear. Our heroes are struggling with the trauma of fleeing their home country for their lives and now living in unstable environments and/or experiencing terrifying journeys. ArtForce Iowa meets them where they are, as they wrestle with the heartache and frustration of being a teenager displaced in a new country."
Myat, the self-identified musician, was quiet and reserved. Before workshops, however, he would seem to open up with his guitar in hand, often playing chords and proudly singing songs from his home country. He shared with an ArtForce Iowa staff member that one of the reasons he enjoys his time there is because of the opportunity it provides to share his religion and culture with others.
From music to visual art, he often stretches the limits of the mediums he is working in using non-traditional methods, always resulting in unique pieces. His work has evolved. He has evolved.
After proudly graduating from Hoover High School last year – ArtForce Iowa's DSM Heroes program reports a 100 percent graduation rate – Myat enrolled in a small cohort to participate in Street Cred Ready at ArtForce Iowa, a 12-week financial literacy program geared toward helping new graduates address adult responsibilities. "While they are enrolled in our programs, we assist them in any way possible to ensure they have the best chance at succeeding in life," said Emma. "We can break the cycle of poverty through education."
Myat attended every session and showed true interest in the content – eagerly listening, actively asking questions, and supporting his peers in the program. In completing Street Cred Ready, he earned his financial literacy certificate. He's currently attending ELL classes at DMACC Urban and pursuing a career in criminal justice. Though there is no shortage of obstacles standing in his way, he continues to move along the path toward employment and citizenship.
From a shy teenager to a confident and determined young man, Myat will forever be a part of the ArtForce Iowa family. Each year, their staff eagerly awaits his invitation to the Karen New Year to celebrate alongside him: a new year, full of new opportunities.


*Myat's name has been changed.