In July 2019, Alexis Lee enrolled her two daughters, Avianna and Aubrey, at Bidwell Riverside Child Development Center. As any mother would be, Alexis was anxious sending her girls to a new place but was hopeful Bidwell would be a childcare center they could call "home" during their younger years.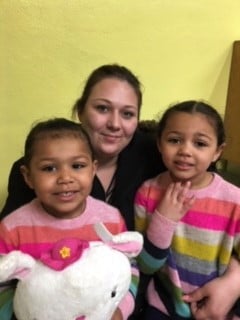 Alexis, however, had a little bit more anxiety on how her daughter, Aubrey, who was two at the time, would handle this new environment. Prior to Bidwell, Alexis had been asked to leave two other childcare facilities because Aubrey tended to bite instead of using other ways to communicate. Biting for children at her age is developmentally appropriate, though socially unacceptable.
The previous centers tried interventions and classroom modifications but would continually call Alexis to come pick up her daughter due to the distraction and harm caused by the biting – then ultimately asked Alexis not to bring her back. Without a daycare provider, Alexis lost her job.
Alexis' sister told her about Bidwell Riverside Center's Child Development Center. Within the first five minutes of her tour there, Alexis shared Aubrey's history of biting.
"Alexis was very open about the situation," said Kay Strahorn, director of Bidwell Riverside Child Development Center: "I was impressed and appreciative. Alexis said she wanted our team to know what we were taking on and shared her need for stable care for her girls. After our first meeting, I immediately called my Infant and Toddler Consultant with the IAEYC ECQuIP team, Johnna."
The Early Childhood Quality Improvement Project (ECQuIP) team is part of Iowa Association for Education of Young Children (IAEYC) and is instrumental in assisting Bidwell's Child Development Center in providing quality education and care. Kay and Johnna created a plan to help successfully assimilate Aubrey into the classroom, which Kay shared with Alexis and the Aubrey's teachers.
"After meeting with the Child Development Center about their plan for Aubrey, I knew I wouldn't have to worry about getting calls to come pickup my daughter," said Alexis. "They gave me what I needed to be able to help their team and help my daughter at home."
The first day came and went. Then a week. Then a month – no biting!
Alexis has since found a new job – and because of that job – she needed to keep Aubrey and Avianna in the care of the Bidwell team when the pandemic hit. "My employer said that they would understand if they heard my kids every once and awhile during my meetings, but I was worried that I wouldn't be able to focus on my job," Alexis said. "I was worried if they stayed home, I'd be back at square one.
"I'm so grateful Bidwell has remained open," she said. "I don't know what would happen if I didn't have my girls in their care right now."