Mon and his family moved into their house in December of 2020. Not an apartment. Not a townhouse. A house – a piece of property they could now call their own.
His journey to homeownership was long, but he had the perseverance and commitment to get it done for his family.
Mon spent decades of his life as a refugee. Born in Bhutan, Mon and his family fled his home country at when he was at an early age amid the outbreak of civil war, arriving in Nepal in 1992. He proceeded to live in refugee camp in Nepal for almost 24 years before being approved for relocation and coming to the United States in 2016.
Mon says they chose to come directly to Iowa. "I like this state," he said. "I feel safe here. The traffic is not as crowded as other big states, so to learn to drive here was easier than in other places." He knew transportation was key in succeeding here. It helped that friends and relatives who had been previously relocated were in Iowa, too.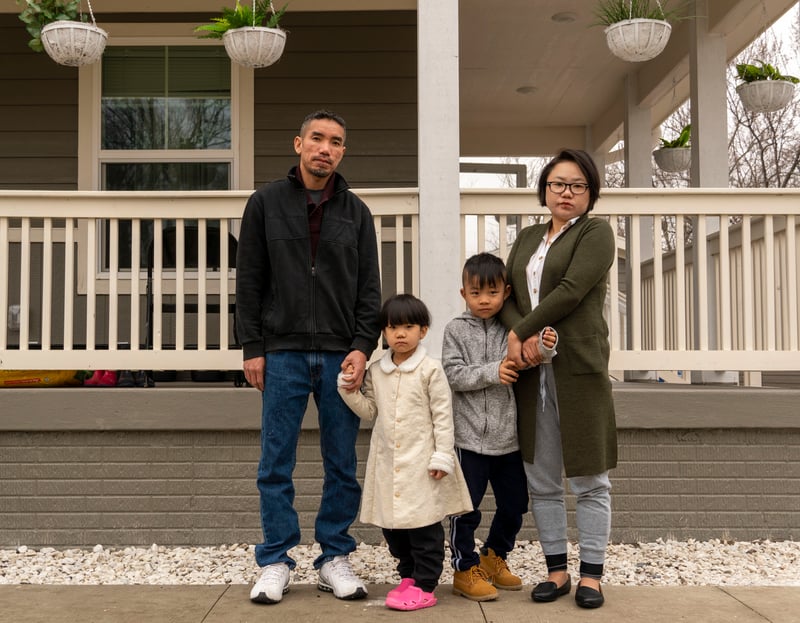 Upon arrival, Mon, his wife Pravita, and their son moved into a small apartment. The single room space was tight for their family as it was – then only more so when their daughter was born. After almost four years of living basically on top of each other, they were ready for something bigger. Mon sought out support from Greater Des Moines Habitat for Humanity (GDM Habitat) to secure housing, where he was referred to Lutheran Services in Iowa (LSI) Individual Development Account (IDA) program. The IDA program, funded in-part by United Way of Central Iowa, assists former refugees with financial education and access to fund-matching programs. With mentorship and case management support, IDA helps individuals with low-income save for major purchases, like higher education, starting a business, a car, or – in Mon's case – a home, while they continue to balance their daily income and expenses.
Mon was enrolled in January 2020, opened a savings account, and developed a monthly savings plan for the remainder of the year.
"When I have the house, I can pay the mortgage. And then later, that property belongs to me," Mon said. "But in an apartment, you can pay and at the end, get nothing."
Through his financial classes with GDM Habitat and LSI's IDA program, Mon learned about money management and the importance of saving – lessons that will pay-off as a homeowner.
"I saved the money I own," he said. "I saved $4,000 that was then matched [through the IDA program] for $8,000 total."
Saving $4,000 within a short timeframe as the single source of income for a family of four is no small achievement. But with that total amount including the IDA program match, he was able to cover the closing costs on his family's new home.
Now, they live in a neighborhood with several other Bhutanese families and even relatives – close to the middle and high schools where the kids will someday get an education. They have separate rooms and two bedrooms that allow more space for the kids to play, for them to relax, and guests to feel welcome – more space to live. The family is excited about the little joys a home can bring, like decorating and making memories together.
"I felt very sad when I left my country. I felt as if I lost my paradise," Mon said during a virtual homeownership ceremony in early January 2021. "When I got the key and I entered the house, I felt that I regained my lost paradise. That was the happiest moment in my life. Right now, me, my family, and kids are super happy to live in this new house."
This story was featured in our 2021 Community Impact Report. Find the current report at www.CommunityImpactReport.org.
Mon's story was provided by Jessie Smith, Economic Development AmeriCorps VISTA with Lutheran Services in Iowa's Refugee and Immigrant Services. Jessie works on capacity building efforts in the Economic Development department, supporting programs for former refugees such as LSI's Global Greens, matched savings, and VITA tax assistance.