Ensure that all central Iowans have access to food, shelter, and other basic needs. Without these needs being met, children cannot learn in school, families cannot be financially stable, and individuals cannot enjoy health and well-being.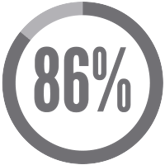 of households earning less than $15,000 annually live in housing they cannot afford (paying more than 30% of their income).

affordable units are needed in central Iowa to meet current needs.
(Polk County Housing Trust Fund)
---

Homeless children are 2x more likely to have a learning disability, repeat a grade, or be suspended from school.
(American Psychological Association)

of Polk County households were food insecure at some time during 2017.
(DMU Dept. of Public Health Food Insecurity Survey)
Low-income students are 4x more likely to be chronically absent, often for reasons beyond their control due to unstable housing, unreliable transportation, or a lack of health care
(National Center for Children in Poverty)

calls were received by United Way's 2-1-1 helpline in 2017. 2-1-1 serves a 15-county area and helps central Iowans address essential needs. Among those calls:

fewer individuals are homeless in Polk County.
(Institute for Community Alliance, Point in Time Study, 2016-2017)
---
people received United Way-funded legal assistance to help increase financial stability:

families/individuals stayed in their homes.

people received legal assistance with housing issues.

families/individuals had assets protected/maintained
Three new mobile pantries launched in Polk and Dallas Counties to increase access to food from the support of OpportUNITY's Food Insecurity Work Group.
---
people accessed United Way-funded services for homelessness, and 300 families moved from shelter to permanent housing.
---
meals and food items were served or distributed to individuals/families through United Way-supported pantries and shelter services.