Book Buddy is a 1:1 reading program that pairs caring adult volunteers with preschoolers for regular reading. The volunteer reads aloud to the same student once or twice a week for 40 minutes.
Frequently, Book Buddy students double their mastery of pre-reading skills. Their test scores significantly improved more than the scores of preschoolers not in the program.
Hundreds of central Iowa four-year-olds are at risk of not gaining the skills they need to start kindergarten ready to learn. And research shows that children who start behind, stay behind.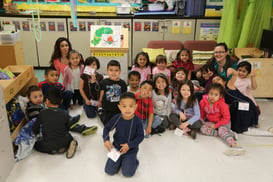 Book Buddy reaches children in the critical year before kindergarten, helping them build the pre-reading skills they need for a strong start in school.
Using an engaging curriculum and library of 25 books developed in collaboration with Des Moines Public Schools, volunteers follow read the book and do activities to teach a specific literacy skill.
Book Buddy extends learning beyond the classroom to support family literacy. Children bring home their own copy of the featured book every Friday—the start of a budding library in homes where reading materials are often scarce.

Student assessment results are compelling—91% showed improvement last year—but the increasing confidence in students is the most convincing of all. Their bright smiles will be the highlight of your week!
To sign-up for Book Buddy, please click the button above. For questions, please contact Katie McKenzie at bookbuddy@unitedwaydm.org.
In 2020, Book Buddy went virtual due to COVID-19. Click here to watch videos of our virtual volunteers in action.
---
What's It Like to Be a Book Buddy?

Eh's Story
This preschooler's life was changed by books.
Gema's Story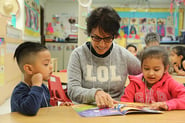 Gema Garcia of Ankeny volunteers to read with preschool students in both Spanish and English, teaching them essential literacy skills for kindergarten.
Deb's Story
A first-year Book Buddy volunteer shares her experience, which didn't start out too well, but quickly transformed into a special time each week.
Watch the video below to see Book Buddy in action!