The Macomber endowment, a generous gift that will continue year-after-year, will help United Way of Central Iowa foster an equitable, engaged, and empowered community now and in the future.
Recently, the Community Foundation received its largest gift in its history from life-long Des Moines residents Harriet S. and J. Locke Macomber — $45 million that will create endowments benefiting United Way of Central Iowa and seven additional local organizations: BWA Foundation, the Des Moines Art Center, Des Moines Symphony, Drake Law School, Orchard Place, St. Paul's Episcopal Church, and the YMCA of Greater Des Moines.
"We are honored to have been selected as a recipient of this generous endowment," said Mary Sellers, President of United Way of Central Iowa: "The Macombers have always been engaged community partners. Central Iowa has benefitted from their longstanding commitment to supporting our community. …
Even now, they continue to help so many organizations address urgent needs and implement strategies for long-term impact. This gift will allow United Way to continue to foster a thriving community, just as we have for the past 100 years."
Who were the Macombers?
Harriet and Locke were active members of the community and were engaged with many Des Moines nonprofits – one of them being United Way of Central Iowa. Locke, who was a retired chairman of the board and president of the former Valley National Bank, held a general chairman position of the 1975 United Way campaign. After Locke's passing in 1998, Harriet continued being active with the organization in addition to the Des Moines Art Center, YMCA, and many others.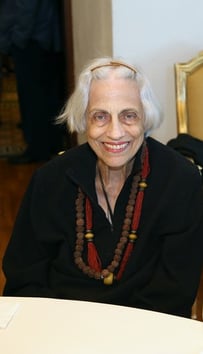 They were active Tocqueville Society members for more than 15 years. In her later years, Harriet would often receive transportation to Tocqueville events from Ramona (Moni) Gaukel, Volunteer Engagement Officer with United Way. "Harriet was so smart and knowledgeable," said Moni. "She would read the newspaper front-to-back every single day. She was a lifelong learner that was always prepared for everything − I admired that about her."
The Macomber Legacy and United Way of Central Iowa
Thanks to the Macombers' endowment, various programs and initiatives focused on supporting our youngest central Iowans – from early childhood through middle and high school – will be able to continue to provide a healthy start, foster a love of learning and self-care, and create a path for future success. The programs and initiatives this gift will fund are under United Way's Early Childhood Success and Education Success strategic imperatives under UNITED to THRIVE, and include Vision to Learn, Smile Squad, and other initiatives supported by Education Leadership Initiative and Women United.
The positive results of these programs are exponential, and we are appreciative of the Macombers' endowment to expand and serve more central Iowans.
With intentional planning, Harriet and Locke were able to make a "forever" gift – one that will sustain organizations like United Way for years to come – and leave a lasting legacy in our community. If you're considering an endowment, or want to know how you can leave your mark on central Iowa, visit unitedwaydm.planmylegacy.org