Many believe that a meaningful life is not complete without the fulfillment that comes from helping others.

If you're ready to take your commitment to the community to the next level, while meeting new people and gaining new experiences, UNITED 55+ is for you!
Meet other active adults and stay engaged in the community

Get to know people in the community you might not otherwise meet

Get help finding volunteer opportunities that suit your interests and schedule

Keep updated on volunteer events and other news in a monthly newsletter

Get reimbursed for your mileage

Make an impact on local nonprofits and the central Iowa community
The UNITED 55+ initiative of United Way of Central Iowa is a partnership with the AmeriCorps Seniors program.
Questions? Contact Lynne Melssen, AmeriCorps Seniors Program Director, at lynne.melssen@unitedwaydm.org.
Interested in UNITED 55+?
Fill out the form below and let us know so we can connect.
Other Opportunities Available

UNITED 55+ offers a variety of ways to get involved and give back. If you are interested in options other than those listed above, select "Other" and the program director will help create a tailored plan for you that fits your interests, talents, and schedule.
In the meantime, check out United Way of Central Iowa's Get Connected volunteer portal for immediate and long-term volunteer opportunities.
Volunteer Opportunities
Literacy kits are used in elementary schools and at early childhood centers to help inspire a love of learning and reading. Employees say making literacy kits is a meaningful break in their workday while connecting with their fellow co-workers.
Show people in central Iowa how much you care and how much they matter by writing a note of encouragement. We will share your messages with our partner organizations.
If you enjoy working with the public while helping provide a valuable service to the community, then volunteering at the Not New Shop thrift store is for you! We are looking for customer service-oriented individuals to assist customers with purchases, sorting and pricing donations, displaying merchandise, and keeping the shop in order. Our volunteers really have fun! Store location is 705 E. University Ave. on the east side of Carver Elementary School. Store hours are 10:00 a.m. to 3:00 p.m. Monday through Friday. Saturday (10– 1 p.m.) Contact Ginny Kerr via email to learn more about volunteering.
You can help local low-income families by volunteering to provide free income tax preparation.
As a VITA volunteer you will be provided with the training and materials you need to become IRS certified. Volunteer greeters and Spanish translators are also needed to welcome taxpayers and make sure they have the paperwork they need. Not adding new volunteers until Fall 2021.
Transportation
Medical appointments, dental visits, trips to the pharmacy or grocery store - these are all challenges for seniors and adults with disabilities who don't have access to transportation. Using your vehicle, volunteers provide transportation and conversation to those in need. Opportunities include Grimes and Urbandale.
Fraud Fighters
Volunteers are trained by the Iowa Insurance Division to give presentations on common scams, such as fraudulent investments, consumer and Medicare insurance offers. The main focus is to educate central Iowans with tips and tools to prevent fraud from happening to them, and to learn the importance of thoroughly investigating money-making offers, before parting with your assets. Volunteers, with the help of the Volunteer Services team, reach out to prospective organizations to offer free Fraud Fighters presentations. Presentations last approximately 40 minutes and can be scheduled for small or large groups.
"

The purpose of our lives is to live beyond ourselves and to reach back and pull someone else along.

It's so intrinsically rewarding to know you have impacted a life.
Volunteerism is critical to us occupying this world that we live in.

Our time is supposed to be shared with others.

"
-

Renee Hardman

,
4-year Book Buddy volunteer
---
Meet UNITED 55+ Volunteers
Gina Smith-McMillen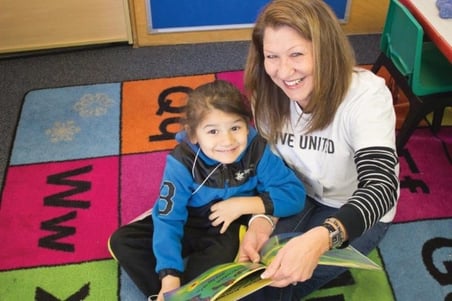 Having participated in the United Way campaign for years, Gina Smith-McMillen welcomed the invitation to see those dollars at work through the 55+ Initiative at United Way. Now in her third year as a Book Buddy at Wonder Years, she says watching the children grow over the course of the program has been one of the most rewarding experiences of her lifetime.
Though several faces come to mind as Gina recalls her Book Buddies, Olivia stands out. Olivia clung to the teacher's leg on the first day, and for several weeks, kept her head down and didn't talk much. Then one day, when Gina showed up to read, they became the best of friends. Olivia was talking and smiling from that day forward.
Many hours in Gina's week are spent in the world of video—managing sales accounts for Ingram Entertainment—but her favorite half hour is devoted to simple books. The excitement in the students' eyes is the highlight of her week. Though retirement is still years off for her, she looks forward to the day she has more time to give back to the community.
Nancy Heuer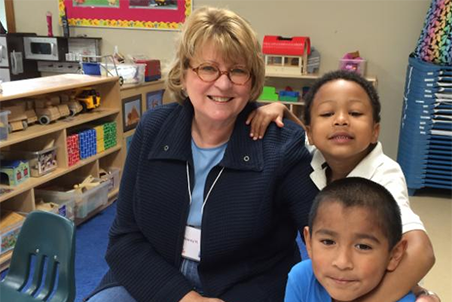 As a recent retiree, Nancy has come full circle to her early passion for education in her role as a Book Buddy volunteer. Her decision to volunteer was prompted by an invitation from members of her book club. Beyond that was her desire to give back in appreciation for the support she and her husband, Tom, received when their son, Dylan, lost his hearing due to meningitis at 7 months old.
With resources from United Way-funded agencies and Des Moines Public Schools, they mastered new ways of parenting and teaching, including reading a book and simultaneously using sign language. Dylan successfully navigated his way to earn several degrees and accept his current job as a sports photography editor for Major League Baseball because teachers, mentors and his parents saw his potential. We think Dylan would have smiled to see Nancy reading recently, using sign language for "more" to reengage students who were distracted during the book More, More, More Says the Baby. And it worked!