Aaniece Owens used to sit in the back of the classroom and squint at the blurry board at the front of the room. Her teacher told her she could go the carpet at the front of the class to read the board if she needed to, but Aaniece was shy and only went a few times. She often had headaches and borrowed her mom's glasses when she was at home.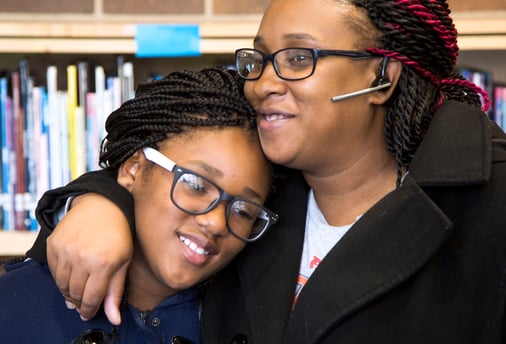 Then, in May 2017 as a fourth-grader, she received an eye exam at school, and along with 19 other students, received two pairs of glasses.
Aaniece was among 160 students at five Des Moines Public Schools to receive glasses during the Vision To Learn pilot project that United Way of Central Iowa brought to central Iowa this spring. By the end of the 2017-18 school year, Aaniece will be among 1,000 students at 22 schools to receive glasses through this program. The program specifically targets schools where more than 50 percent of children are on free and reduced lunch.
For Aaniece's mom, who is going to school to get her nursing degree, working, and raising two children while pregnant with her third, Vision To Learn made a huge difference.
"I have a really hectic schedule, so the fact that they could take care of all of this at school really took a load off my shoulders," Veronica Campbell said.
Her daughter had been screened a year prior to see if she needed glasses and passed that screening, Veronica said. But as the year unfolded, Aaniece kept having headaches, so her mom took her to a pediatric neurologist.