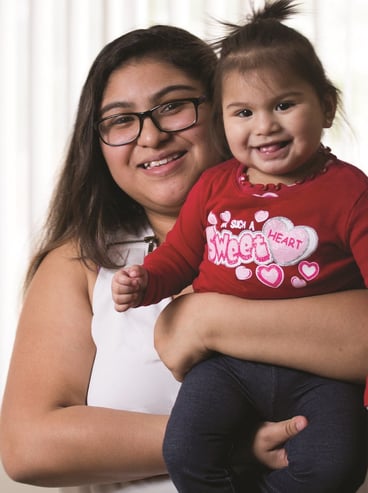 Walking across the stage to receive her diploma was the ultimate proof of Minerva's strength. The 17-year-old was not only graduating from East High School, she was celebrating her survival of a high-risk pregnancy, her daughter's critical illness, and her own emergency surgery—all within a few months.
That moment was the start of a new journey, a different one from what Minerva imagined a year ago.
When she found out she was pregnant nine months before graduating, Minerva felt sad. She had plans to marry her boyfriend, go to college and become a nurse. Not only would she become a mom as a teenager, but she also had a medical condition called Lupus, which made her pregnancy high risk.
The school nurse connected Minerva with Marcia Allen, a nurse home visitor through a United Way-funded program with Visiting Nurse Services. Marcia began to visit Minerva regularly to talk about what to eat, the importance of exercise, how to prepare for her baby, and what goals Minerva could set for herself, which still included nursing school in a few years.
Minerva felt shy at first, but soon grew comfortable asking Marcia for help.