OpportUNITY unites central Iowa to fight poverty together.
We are driven by the belief that:

Poverty and barriers to financial stability prevent central Iowans from thriving in our community.
We can, through our collective action, eliminate these barriers and reduce poverty.
Change cannot happen without ALL OF US. We need you to advocate, educate, participate, and communicate.
Since OpportUNITY began in 2014, every plan, action, success, and challenge has been collaborative.
Small changes lead to long-term transformation. It starts with dedicated work groups focused on tackling specific barriers to poverty—and all of us doing our part!
On June 12, 2018, OpportUNITY released an updated plan to reduce poverty in central Iowa—with eight work groups reporting on their first-phase successes and their second-phase goals.
Want to get involved?
If you're interested in helping with the OpportUNITY Plan's work in central Iowa, please fill out the form and click Submit.

Hear from four individuals who have been impacted by OpportUNITY work.


The Child Care Cliff Effect

The Child Care Cliff Effect is a major barrier to families striving for self-sufficiency. This issue adversely impacts families by limiting access to quality childcare.
"While Central Iowa is experiencing incredible energy and growth as a community, over 34% of Central Iowans are not financially self-sufficient," says Seth Johnson, OpportUNITY Program Director.
"The Child Care Cliff Effect is one of those poverty traps that we can remove as a barrier to prosperity."
Download our Cliff Effect infographic to learn more.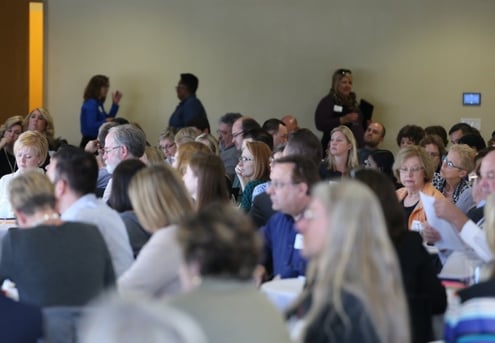 The Plan in Action:
Read the reports from each of the OpportUNITY work groups
---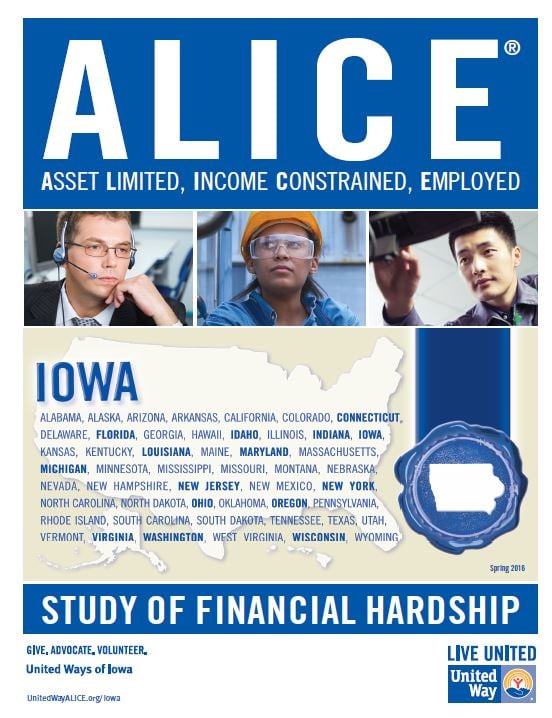 Learn about ALICE
Asset Limited, Income Constrained, Employed
Once upon a time is the opening line of so many of our favorite childhood books. But there is a real story told every day in Iowa that is not a fairy tale. It is the story of ALICE. She is working (often at more than one job), has income above the Federal Poverty Level, and yet still cannot make ends meet each month.
ALICE is an acronym to represent all those in our community who are Asset Limited, Income Constrained, Employed. She is not an individual, but a conceptual blending of all those in our community who bring home a paycheck that doesn't stretch to cover a household's needs.
If we look around, we can see ALICE everywhere we go. She is the heroine that holds the fabric of our communities together. She's in convenience stores, coffee shops and restaurants, the person taking care of our youngest children and our oldest citizens. ALICE is glad to have a job, proud of her work and happy to contribute to the community. She is also always afraid of the wolf at the door – the next car repair, doctor visit or unexpected bill.
The ALICE Report, a joint project of the United Ways in Iowa, tells the real story of those in our communities who are below the ALICE Threshold. Businesses, public officials and community members are well aware that people are struggling in our state. However, they often don't understand the depths of the struggle, the real fears of these families and the consequences for all of us when we don't listen to their tale. The ALICE report is a first step in further opening the conversation with a common language to create a new ending for ALICE's story. Click below to download a PDF of the Executive Summary or the Full Report.
---
Our Community is Committed to Reducing Poverty in Central Iowa
Thank you to the following central Iowa organizations and businesses for endorsing the OpportUNITY plan for poverty reduction.
4 R Kids ECI
2 The Top
AARP
AFL-CIO
African American Leadership Forum
Age-Friendly Greater DM
Al Exito
Alpha Kappa Alpha Sorority Inc.
Alpha Phi Alpha Fraternity, Inc.
Altoona Campus
American Friends Service Committee
AMOS
Art Force Iowa
Athene USA
Anawim Housing
Back 2 School Iowa
Bank of the West
Bankers Trust
Beacon of Life
Beckley Automotive Services
Bhutanese Community in Iowa
Bidwell Riverside
Big Brothers Big Sisters of Central Iowa
Blank Children's Hospital
Boys & Girls Clubs of Central Iowa
BriWen Industries
Bridges to Success
Broadlawns Medical Center
Brooks Lodden, P.C.
Business Volunteer Council
Bureau of Refugee Services
Candeo
Capitol Park Early Learning Center
CareMore Clinic
Catholic Charities
Central College
Central Iowa ACEs 360
Central Iowa Shelter & Services
Central Iowa Works
Central Iowa Workforce Investment Board
Centralized Intake – Primary Health Care
Charles Gabus Ford
Child & Family Policy Center
Children and Family Urban Movement
Children and Families of Iowa
ChildServe
Chrysalis Foundation
Church World Service
City of Des Moines
CommonBond Communities
Community Foundation of Greater
Des Moines
Community Housing Initiatives
Community Youth Concepts
Corinthian Baptist Church
Courage League Sports
Creative Visions
CROSS Ministries
DART
DMACC
DMARC
Dallas County Public Health Nursing Services
Des Moines Alumnae Chapter of Delta Sigma Theta
Des Moines Area Hunger Hike
Des Moines Area MPO
U.S. Department of Housing & Urban
Development - Des Moines
Des Moines Health Center, Inc.
Des Moines Municipal Housing Agency
Des Moines Public Schools
Des Moines University
Directors Council
Disability Rights Iowa
Drake University
Drake University Adult Literacy Center
Drake University Headstart
Dress For Success Des Moines
Dorothy's House
EDGE
Elim Christian Fellowship of Des Moines
EMBARC
El Comunicador
Easterseals
Early Grade Reading Advisory Council
Eat Greater Des Moines
Employee & Family Resources
Evelyn K. Davis Center for
Working Families
Evelyn Davis Early Learning Academy
Every Child Matters in Iowa
Everybody Wins! Iowa
FamilyWize
FBL Financial Group, Inc.
Fidelity & Guaranty Life
Financial Capability Network
Food Bank of Iowa
Gateway to College
Girl Scouts of Greater Iowa
Goodwill Industries
Grandview University
Greater Des Moines Partnership
Habitat for Humanity
HCI Care Services / VNS of Iowa
Healthy Homes Des Moines
Heartland Area Education Agency
Helping Hands Pantry
HIRTA Public Transit
Hawthorn Hill
Hispanic Educational Resources
Home, Inc.
House of Mercy
Hunger-Free Polk County
IMPACT Community Action Partnership
ICC-Solidarity Microfinance
I Have A Dream Foundation
ISU Extension and Outreach Polk Co.
ISU Extension and Outreach-
Community and Economic Development
Iowa Afterschool Alliance
Iowa Association for the Education of Young Children
Iowa Bystander
Iowa Central Community College
Iowa Citizens for Community
Improvement
Iowa College Student Aid Commission
Iowa Community Action Association
Iowa Credit Union Foundation
Iowa Department of Corrections
Iowa Department of Human Rights
Iowa Department of Human Services
Iowa Center for Economic Success
Iowa Homeless Youth Centers
Iowa International Center
Iowa Jobs for America's Graduates
Iowa Justice for our Neighbors
Iowa Legal Aid
Iowa Sports Foundation
Iowa State Education Association (ISEA)
Iowa Workforce Development
Iowa Vocational Rehabilitation Service
Isiserettes Drum Corp
Job Honor
Joppa
Jewish Family Services
John Grubb YMCA
John Deere Foundation
Karen Association of Iowa
Kia of Des Moines
Kirkwood Community College
KPMG
Latino Forum
Link Associates
Links Incorporated (Des Moines Chapter)
Lutheran Church of Hope
Lutheran Services of Iowa
ManUp Iowa
Meals from the Heartland
Mercy College of Health Sciences
Mercy Des Moines
Meredith Corporation
Mid Iowa Health Foundation
Mid-Iowa Council, Boy Scouts of America
Moms Rising Iowa
NAACP Des Moines Branch
Nationwide
New Opportunities Inc.
Northeast Iowa Community College (NICC)
Oakridge Neighborhood Services
Omega Psi Phi Fraternity Inc.
Opportunity Iowa
Orchard Place
Paramount Lodging Advisors
P4C, Professionals for Charity
PCHTF- Healthy Homes East Bank
Perry Child Development Center
Phi Beta Sigma Fraternity Inc.
Plymouth Church Board of Christian Social Action
Prevent Child Abuse Iowa
Prelude Iowa
Polk County Continuum of Care
Polk County Early Childhood Iowa
Polk County Family and Youth Services
Polk County Health Dept.
Polk County Housing Trust Fund
Primary Health Care Inc.
Principal
Project Iowa
Rebuilding Together
Refugee Planning Alliance
Responsible Education and Development (READ)
Sankofa Urban Farms
Save the Children Action Network (SCAN)
Simpson College
Skills 2 Compete Coalition
South Central Iowa Federation Labor
State Public Policy Group
School Administrators of Iowa
Tomorrow Plan
Toyota of Des Moines
Transformations Group
Trinity United Methodist Church
United Way of Central Iowa
Unity HealthCare
Urban Dreams
Urbandale Schools
U.S. Committee for Refugees and Immigrants, Des Moines Field Office
Viva East Bank!
VITA
Voices to be Heard
WeLift
Wells Fargo Bank
Wesley Life
West Des Moines Human Services
West Des Moines Community School District
Wilkie House
YESS
YMCA of Greater Des Moines
Young Women's Resource Center
Youth Build
Youth Justice Initiative of West Des Moines
Youth Policy Institute of Iowa
Zeta Phi Beta Sorority Inc.
OpportUNITY Leadership Roundtable
Glennda Bivens, Iowa State University
Extension
Mary Bontrager, Greater Des Moines
Partnership
Barb Bremner, Polk County Early
Childhood Iowa
Robert Brownell, Polk County
Elisabeth Buck, United Way of Central Iowa
Eric Burmeister, Polk County Housing Trust Fund
Teree Caldwell-Johnson, Oakridge Neighborhood Services
Marvin DeJear, Evelyn K. Davis Center for Working Families
Angie Dethlefs-Trettin, Community Foundation of Greater Des Moines
Dennis Groenenboom, Iowa Legal Aid
Tom Narak, School Administrators of Iowa
Vinh Nguyen, Des Moines Public Schools
Mark Phillips, Polk County Continuum of Care Board
Elizabeth Presutti, DART
Sarai Schnucker Rice, DMARC
Carly Ross, U.S. Committee for Refugees and Immigrants
Rob Denson, DMACC
Kris Schechinger, Nationwide Insurance
Phyllis Staplin, Community
Kanisha Tillman, Community - Lived Experience
Connie Welcher, Iowa Home Care/Lived Experience (Consulting)
United Way of Central Iowa Staff
Dr. Helene Fein
Jody Kanne
Seth Johnson
Corinne Lambert
Natalie Lynch
Renee Miller