In mid-September 2020, Rev. Jonathan Whitfield arrived late to a meeting. The group gathered, representing fellow members of the faith community and social service organizations, had been meeting weekly to discuss creating a new initiative to encourage COVID-19 vaccinations among underserved populations and communities of color in Polk County. The pastor sat solemnly for a few minutes listening to the other members tick-off agenda items, and then shared his story.
He had just come from the hospital, where a member of his church community was ill with COVID-19. The pastor was there to assist the family as they concluded with medical professionals that their loved one would not survive due to complications from the virus. Unfortunately, the individual was not vaccinated. "This is why we're here," he said to the room. "Because I'm tired of seeing people die from something they don't have to die from."

Pastor Whitfield: "I have served families that have not been vaccinated and unfortunately that choice has cause them a lot of pain, a lot of sorrow. Because the lack of vaccination has left them vulnerable and without an ability to fight off the virus if they were to contract it."

After a successful COVID-19 vaccination clinic held at Corinthian Baptist Church in April 2021 with more than 1,000 participants under the Healthier Together: It's a Win For All initiative, the State of Iowa connected with United Way of Central Iowa to gauge interest in more community and family-centered vaccine clinics. A small group began to reach out to religious leaders and prominent members of the African, African American, Asian, and Hispanic communities in central Iowa. By mid-September, the group officially kicked-off the #VAXDSM initiative. They had all seen the effect COVID-19 was having in their churches and neighborhoods, just as Rev. Whitfield had. Now, they were ready to use their influential voices to speak up on the benefits of vaccination to do what they could to help Polk County reach an average overall vaccination rate of 70 percent.
During the #VAXDSM kick-off, community leaders told stories of their experiences with COVID-19.
Some shared common myths or rumors they had been hearing about the vaccine.

Some spoke about the legitimate barriers to access or distrust of government or health institutions due to historic mistreatment.

Some contracted the virus themselves and had been severely ill.

Some had family who have suppressed immunity.
Some lost family to the virus.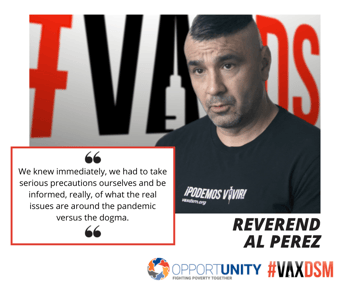 Rev. Al Perez, HelpDSM: "I have a little daughter who has a unique syndrome and has had respiratory issues her whole life. We knew immediately that we needed to take precautions ourselves and be informed, really, of what the real issues are around the pandemic versus the dogma."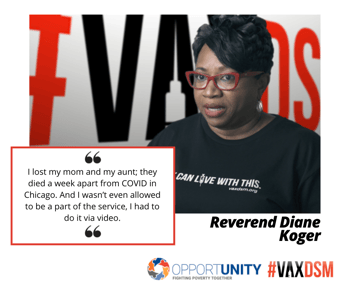 Rev. Diane Koger, Second Baptist Church of Ottumwa: "I lost my mom and my aunt; they died a week apart from COVID in Chicago. And I wasn't even allowed to be a part of the service, I had to do it via video."
No matter their experience, they collectively declared their support of the #VAXDSM initiative, participated in a training with the Polk County Public Health Department, and – those who were able – committed to hosting vaccination clinics within the community.
Since it's official kick-off, #VAXDSM has hosted five COVID-19 vaccination clinics in the Des Moines area, administering more than 250 first, second, or booster COVID-19 vaccines and/or flu vaccines. The website, vaxdsm.org, provides information on the benefits of vaccination and addresses common misconceptions about the vaccine. Billboards, bus signs, yard signs, flyers, and social media posts feature prominent and recognizable members of the community supporting vaccination. There are even #VAXDSM t-shirts assuring people "We can LIVE with this" vaccine. The key in ensuring everyone in our community has access to factual information and the support needed to get vaccinated, however, has been the personal, open one-on-one conversations with trusted members in the most underserved communities.
For many though, it's not just one conversation. "I see people who were once very against it now coming around," Rev. Whitfield said at a clinic held at Corinthian Baptist Church, where 64 individuals got their first COVID-19 vaccine, a testament to the sustained and multifaceted messaging and outreach through #VAXDSM.
Vaccination rates are improving across the county. As of February 14, 2022, Centers for Disease Control and Prevention shared the total county vaccination rate for those fully vaccinated in Polk County is 66.5 percent. With the rise of new variants, continued strain on healthcare systems, and many families still to reach – #VAXDSM is raising the bar and setting our sights on an overall average vaccination rate of 75 percent for Polk County.
United Way of Central Iowa understands the caring power we can all bring to our community and appreciates these trusted community voices advocating alongside us to make an impact on important issues, like vaccination, education, and other wellness practices impacting the 5 Elements of a Thriving Community. We have seen that building trust within communities that have been historically ignored or mistreated in traditional health settings is critical in fostering an equitable, engaged, and empowered community. Together, we can do the work needed to continue to reduce illness, and hopefully, save lives.
#VAXDSM is a local collaborative effort designed to lift awareness and acceptance of the value of vaccination against COVID-19 among Black, Latino, African, Asian-American, and other underserved populations in Central Iowa. Current leadership includes Rev. Jonathan Whitfield, senior pastor of Corinthian Baptist Church; Dr. Nick Venditti, representing multiple Latino congregations; Bobbretta Brewton, AmeriCorps VISTA; Rev. Al Perez of HELP DSM; La-Tica Paige of Corinthian Baptist Church; Juan Carlos Cadenillas of Polk County Health Department; Jacquie Easley-McGhee, Director of Diversity at Mercy Medical Center; Wayne Ford, former Iowa legislator; Elder James McNear, Jr., senior pastor of Mission Temple Church; Pastor Marcial Perez of New Dawn Ministries; Pastor Cornelius Martor, lead pastor of Life Chapel International; Pastor Lian Thwang of Des Moines Chin Evangelical Church; Overseer Tammy Harris, senior pastor of Elpis Christian Fellowship; Pastor Jordan Rabon of King of Kings Missionary Baptist Church; Reverend Diane Koger, Second Baptist Church of Ottumwa; Zakiya Jenkins of Grace Fitness; EMBARC; The Filipino-American Society of Iowa; Polk County Supervisors; the NAACP; Strategic America; and Luke Lynch and Hannah Nelsen of the United Way of Central Iowa.