More than three years after escaping a secretly arranged child marriage in Sudan, 21-year-old Aisha Nyala is on the road to becoming a doctor.
Aisha Nyala once walked through a war. Now she's striding toward medical school.
Born in Sudan, Aisha came to the United States with her family at age 2 and grew up in Des Moines. At home, she suffered physical and emotional abuse from her father but found solace in school. When she was 15, Aisha's father took her on a summer "vacation" to Sudan, however, it was a just a ruse. He had secretly arranged for her to marry a man nearly three times her age. When she refused, he abandoned her in a remote southern village. Aisha spent more than two years in the prison-like compound before she escaped, journeying for days through a war-torn desert to reach the capital of Khartoum and, eventually, a flight home to Iowa.
With the support of Des Moines Public Schools and several United Way–funded programs, Aisha returned to Lincoln High School to earn her diploma. Experience that heroic journey in "The Girl Who Walked Through a War," a multimedia story published in December 2018.
"Graduating high school felt like a huge achievement because it was something my father never wanted for me," Aisha reflects. "In Sudanese culture, women's education is not prioritized. I wanted to show myself – and other women and girls from my country – that it can be done. If you have passion and an education, nothing can stop you."
Fighting for the Future
A biology major at the University of Northern Iowa (UNI), Aisha participates in the yarn and chemistry clubs. Recently, she founded a yoga club so students can care for their mental health without paying for a class. But her altruistic impulses extend beyond the bounds of campus. Apart from academics, Aisha's focus is on the nonprofit she founded to advocate for girls and women in Sudan.
While Aisha was fighting against her own arranged marriage in Sudan, she witnessed other young girls sob through their weddings. Upon her return to the U.S., she learned her younger cousin and a favorite playmate had been forced to marry a significantly older man. Aisha decided she couldn't wait any longer to take action. In her freshman year, she started HerOwnFuture with the long-term goal of getting child marriage outlawed in Sudan.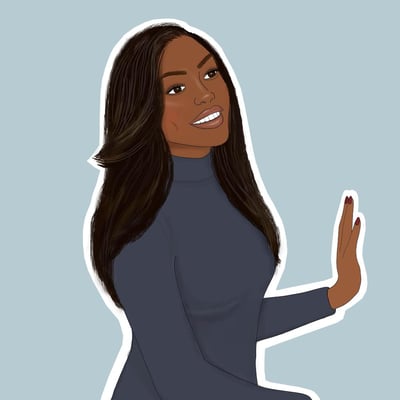 "Aisha is a fighter with a great heart. Her desire and passion to stand up for what is right and just is a call to action that we all should emulate," says Eric Idehen, one of Aisha's mentors, a community development officer at Wells Fargo and the founder of Cornerstone of Hope Orphanage in his native Nigeria.
Although her nonprofit organization is still in its infancy, Aisha has recruited a small team of young women in Sudan who provide shelter and other resources to girls escaping domestic violence and arranged marriages.
An illustration of Aisha done by artist cherrymarks.

"I hope that HerOwnFuture can help women and girls live a life of freedom and liberty in Sudan," says Aisha. "When I was there, I had to figure things out on my own. I don't think I would have gotten through it if I didn't try to fight."
Headed Toward Healing
Now, Aisha is juggling her nonprofit work, a full course load at college, and a part-time job as a veterinary assistant to cover living expenses. While managing symptoms of PTSD and anxiety stemming from her traumatic past, she's learned to prioritize her mental health and question her negative thoughts.
"There is a huge sense of belonging, community, and support on a college campus," says Aisha. "I wouldn't have been able to succeed without the support of staff and faculty members at UNI."
Aisha also relies on lessons from the United Way-funded programs she joined in high school. iJAG offered resources for college and introduced her to role models of color. RunDSM's Movement 515 boosted her confidence and improved her public speaking skills, which she uses to promote her nonprofit. And Flexible Graduation Pathways helped her complete her studies after she lost two years of school.
"I'm really grateful to have had the opportunity to access these programs that have helped me accelerate my life," Aisha says.
Sharing her story through United Way was another occasion for healing, says Aisha. "Because of that, I am a much more open person. I can finally be myself. I have a voice now."
Wise Beyond Her Years
Aisha uses that newfound voice to pass her wisdom on to first-generation college students and struggling high schoolers.
"All you beautiful young girls in high school, reach out for help from your teachers," Aisha advises. "Know that once you get through high school, you have a lot more opportunities waiting in your future. Regardless of where you are now, you will get through it."
Aisha herself has been tempted to give up more than once in her college career. During those difficult moments, she remembers that she's already been through the most traumatic thing she can imagine. What could stop her now?
On the Road
Aisha plans to move on to medical school to train as an OB-GYN after she graduates from UNI next year. As a self-declared "womanist," Aisha wants to focus her career on the conditions that affect Black women's fertility. Eventually, she'd liked to provide free services to women and girls in Sudan, who often have limited access to expensive gynecological care. In the meantime, she'll keep expanding her nonprofit.
"I believe my purpose is to dedicate my life to women and girls in Sudan," Aisha declares, "to help them escape child arranged marriages and pursue an education."
Aisha still has a long road to walk before completing her medical training. There will likely be more obstacles along the way, but she's prepared to face them head-on, serving as a role model to her four younger siblings and for other young Sudanese women. Most of all, she wants to prove her dad wrong, using her own life as an example of what women can achieve when they have access to education.
"Even with all the challenges I've been through, I am still pushing forward," says Aisha. "I've had my struggles and my battles. I have failed. But I am still pushing. And I am thriving."


This story was featured in our 2021 Community Impact Report. Find the current report at www.CommunityImpactReport.org.