A statewide, cross-sector network of individuals and organizations that promote and support the importance of oral health to overall health and well-being.
Purpose
To create a unified voice among oral health champions who will educate, advocate, and integrate their efforts to improve the oral health outcomes of all Iowans.
Guiding Principles – We Believe:
That oral health is a key component to overall health and well-being across all ages


That we must be inclusive, foster collaboration, and not duplicate efforts among partners


We have strength through existing oral health coalitions and groups


In sharing, connecting, and filling gaps among our members


In having leadership and voice from community members, especially those disproportionately impacted by economic, social, and healthcare challenges
Join OHI Today!
If you would like to join the Oral Health Iowa Coalition, please fill out the Membership Form and we will contact you. For general questions, please contact Jaci Miller at oralhealthiowa@gmail.com.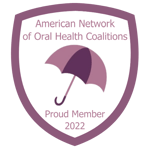 Goals of OHI:

1) Develop broad, cross-sector partnerships and champions
2) Create common messaging and provide education to raise awareness about oral health
3) Identify issues and develop integrated solutions to improve oral health
4) Strengthen the dental safety net and protect dental coverage for vulnerable populations
5) Facilitate resource and information sharing, including data collection and dissemination
About the Coalition
The Oral Health Iowa Coalition (OHI) officially launched in early 2020 in an effort to provide a collective voice for oral health in Iowa. OHI is a statewide, cross-sector network of individuals and organizations with a purpose to support preventative education, advocate for policies impacting equitable good oral hygiene, and integrate strategies to improve oral health outcomes for every Iowan. To join OHI, click here.
---
Why Oral Health?
Having good oral health can have a positive impact in all five elements of a thriving life. Without tooth aches or mouth pain, a child can focus on what they're learning in the classroom – leading to a more successful education. With preventative care, children avoid the most common childhood disease, tooth decay – meaning their families avoid the higher costs for treatment. With a confident smile, a person is more likely to have more confidence going into a job interview – and landing it!

Good oral hygiene can also affect a person's overall health and well-being. Individuals who have access to routine and preventive dental care are less likely to have chronic health conditions, reducing their overall cost of health care. These individuals are also less likely to use emergency room services for dental problems, avoiding unnecessary expenses.

Oral Health Iowa believes that access to quality affordable oral health care is critical. Yet, access continues to be a challenge, especially in our rural communities.

Accessible and affordable quality oral health care can lead to:

1. A Strong Economy
29 percent of adults with low-income say the appearance of their mouth and teeth affects their ability to interview for a job.
Dental problems result in hours lost from work and may also adversely affect a person's productivity.
Thirteen Iowa counties, with a higher number of rural communities, have one or fewer dentists, or only have access to dentists over age 60.
Iowa children in urban areas are 20 percent more likely to have had a dental visit than those in rural areas.
2. Lower Health Care Costs
Dental surgeries to treat preventable oral health issues cost Iowa insurance companies $44 million in 2018.
In 2019, more than 6,500 Iowans sought emergency care for preventable oral health concerns, costing more than $9 million.
3. Improved Overall Health & Well-being
People with periodontal (gum) disease have 2-3 times more risk of heart attack, stroke, or other serious cardiovascular event.
Nearly 1 in 5 older adults experience tooth loss. Having missing teeth or wearing dentures can impact nutrition and overall health, especially for vulnerable adults who are disabled, homebound, or in a nursing home.
Children who have poor oral health miss more school and receive lower grades than children who don't.
We believe that good oral health has a positive ripple effect on our community as a whole. It's why Oral Health Iowa aims to support preventative education, advocacy for policies impacting equitable good oral hygiene, and create strategies to improve oral health outcomes for every Iowan.
---
2022 Legislative Priorities
Oral Health Iowa supports programs that strengthen access to oral health care across the lifespan of all Iowans.
INCREASE ACCESS TO DENTAL PROVIDERS
Ensure that all Iowans have access to comprehensive oral health care.
Address health care workforce shortages and misdistribution.

Increase funding for the FIND program to provide education loan repayment for dentists to serve high need/low access patient populations.

Increase funding for I-Smile to connect Iowa children to dental care, prevention and other health resources.

Dedicate funding for statewide implementation of I-Smile Silver, a pilot project in 10 counties helping Iowa adults.
INCREASE FINANCIAL CAPACITY TO PAY FOR DENTAL SERVICES
Reduce financial barriers associated with dental care.
Align Medicaid dental reimbursement rates with Hawki.

Maintain access to comprehensive dental coverage for children through the current Hawki dental program.

Maintain comprehensive adult dental benefits.

Oral Health Iowa Coalition Organizational Members
Cedar Valley's Promise
Count the Kicks
Dental Connections, Inc.
Delta Dental of Iowa Foundation
DMACC Dental Hygiene Clinic
EveryStep
Iowa Dental Association
Iowa Dental Hygienists' Association
Iowa Department of Public Health
Iowa Primary Care Association
Iowa Public Health Association
Iowa School Nurse Organization
Lifelong Smiles Coalition - Iowa
Oral Health Connections
United Way of Central Iowa
University of Iowa College of Dentistry
OHI is supported by the partners listed below. To become a partner or to sponsor OHI, please contact Erin Drinnin.
Thank you to our OHI partners!