United Way of Central Iowa has made a commitment to improve early grade reading proficiency in Polk, Warren, and Dallas counties. Volunteers play a critical role in this effort by building Literacy Kits that are used to help preschool through elementary school children read with a volunteer, and engage in fun activities to improve their reading skills.
What is a Literacy Kit?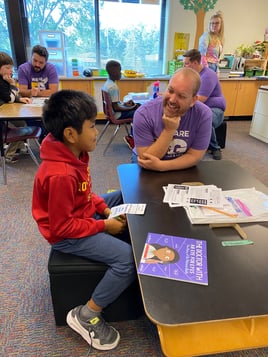 A Literacy Kit includes a book and related objects, games, or other activities to make reading interactive and to bring books to life for children. A team of literacy experts has designed each kit to teach literacy skills and to make reading fun for kids. The kits can be used in one-on-one situations or with small groups of children at school, in after-school programs, in childcare centers, or in a child's home. Literacy Kits deepen children's reading experience and help them build their personal library at home.
Each Literacy Kit includes:
A children's book

Several related activities perfect for interaction and imagination

Instructions for the reading volunteer/mentor explaining how to use the kit

A personal note of encouragement from the volunteer who built the kit to the child
How can my employees/group volunteer to build Literacy Kits?
Complete the form on this page to get things started and connect with a representative from United Way of Central Iowa. We will reach out to discuss details and help organize your volunteer event.
United Way will provide a sample email message to help recruit volunteers, and an online form for volunteers to sign-up to participate.
On the day of the event, a United Way staff member will arrive at your location with everything your group will need to participate in the activity.
Typically volunteers will meet as a group, receive instructions from the United Way staff member, and then build the kits by collating materials, coloring/cutting out/assembling pieces, writing personal notes of encouragement, and assembling each kit by packaging the book and all kit pieces into a plastic sleeve.
Once the event is done, the United Way staff member will collect the completed kits to be distributed to schools, childcare centers, and elsewhere to be used by volunteer reading mentors with the kids.
What is the cost to build Literacy Kits?
A donation of $8 per literacy kit covers the cost of the materials, the book, and the time for United Way staff to help conduct the event and distribute the kits once they are completed. Your organization can determine the number of kits to obtain. Typically, volunteers can make two kits per hour.
What are the benefits of building Literacy Kits?
Volunteers who assemble literacy kits through their workplace report high levels of satisfaction and engagement after the experience. People who have volunteered to complete Literacy Kits say this project is a meaningful break in their workday that allows them to connect with co-workers and make new friends within the company.
As a bonus, Employees get a purposeful boost from helping their youngest neighbors and making a difference in the lives of the one in three central Iowa kids who can't read proficiently by the end of third grade—kids who are four times more likely to drop out of school.