United Way of Central Iowa's Core Values include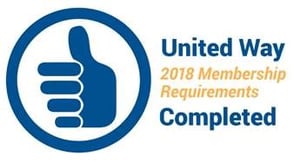 Integrity, and that means we want to be transparent to ensure the community can easily review our policies and finances. The following information is updated quarterly.


---
Documentation
Whistle Blower Policy | Donor Directed Policy | Donor Privacy Policy | Form 990 | Charity Navigator
Below you will find an overview of our financial activities for the fiscal year that ended June 30, 2017. This information is designed to focus on current year activities and changes year-over-year. This overview should be read in conjunction with the financial statements below, as well as our audited financial statements.
Financial Highlights
Overall for fiscal year 2017, which ran July 1, 2016-June 30, 2017, United Way of Central Iowa (UWCI) had a strategic decrease in net assets—prior to changes in our endowment and changes in our restricted contributions—of $523,322. This is a change year-over-year of $965,471. Please see below for drivers of such change.
Revenue:

Campaign Contributions - Gross revenue decreased by $1,356,065, mainly due to a change in the information provided on specific donor-designated pledges. This decrease in revenue is partially offset by a decrease in expenses under the Donor-Directed Contributions line.
Partially offsetting the decrease seen in Campaign Contributions, Grants, Sponsorships, and Other Non-Campaign Contribution revenue increased by $590,125 due to the receipt of new grants and sponsorships.
In total, Total Revenue decreased by $891,256.

Expense:

Mostly offsetting the Campaign Contribution – Gross revenue decrease mentioned above, we have an offsetting decrease of $1,040,403 in Donor-Directed Contributions expense.
Community Investments and Services increased by $929,765. This increase was due to expenses incurred as part of new grant and sponsorship funding, as well as the strategic decision for additional funding into programs in the community.
In total, Total Expenses increased by $74,215.
For additional information regarding United Way of Cental Iowa's financials, please see the link to our audited financial statements below.
---
Financials
Statement of Activities
Fiscal Year Ending
June 30, 2017*
Fiscal Year Ending
June 30, 2016*
Revenues
Campaign Contributions - gross
$28,471,871
Uncollectible Contributions Allowance
(921,543)
Contributions - net**
$26,062,966
$27,550,328
Grants, sponsorships, & other non-campaign contributions
1,726,766
1,136,641
Investment Income
45,117
60,554
Other
393,901
372,483
Total Revenue
$28,228,750
$29,120,006
Expenses
Community Investments & Services
19,216,630
18,286,865
Donor-Directed Contributions**
5,682,484
6,722,887
Administration & Fundraising
3,852,958
3,668,105
Total Expenses
$28,752,072
$28,677,857
Change in Net Assets before Endowment
(523,322)
442,149
Board-designated Endowment earnings distributed for spending***
--
--
Restricted Grant, Sponsorships, & Other Non-Campaign Contributions
(508,177)
820,741
Increase/(Decrease) Endowment balance, after distribution***
1,333,601
(235,379)
Change in Net Assets after Endowment
$302,102
$1,027,511
* The June 30, 2017 Financial Audit is available for your review.
The June 30, 2017 I.R.S. Form 990 is available for your review.

** For audited financial reporting purposes, donor-directed contributions are not included in expenses but are charged against contributions.
*** In audited financial reports, the increase in the Board-designated endowment funds distributed for spending is combined with the Endowment Increase/(Decrease) after distribution. The total change in the endowment is presented in revenue in the Statement of Activities.
Statement of Financial Position
Fiscal Year Ending
June 30, 2017*
Fiscal Year Ending
June 30, 2016*
Assets
Cash & Investments
$12,466,496
$12,300,124
Contributions Receivable
10,413,014
11,184,883
Other Receivables
132,884
542,046
Land, Building and Equipment
2,552,274
2,726,656
Other Assets
216,079
140,860
Endowments
11,040,937
9,701,990
Total Assets
$36,821,684
$36,596,559
Liabilities
Payables to Agencies
$1,521,319
$1,496,721
Other Payables
1,429,186
1,204,924
Refundable Advances
246,185
572,022
Total Liabilities
$3,196,690
$3,273,667
Net Assets
Unrestricted - designated by governing board**

Land, Building and Equipment

$2,552,274
$2,726,656

Endowment Funds

7,518,944
6,754,082
Unrestricted after designations**
10,983,461
10,835,019
Total Unrestricted
$21,054,679
$20,315,757
Temporarily Restricted
9,224,493
10,013,803
Permanently Restricted
3,345,822
2,993,332
Total Net Assets
$33,624,994
$33,322,892
Total Liabilities and Net Assets
$36,821,684
$36,596,559
* The June 30, 2017 Financial Audit is available for your review.
The June 30, 2017 I.R.S. Form 990 is available for your review.
** To provide financial stability for the organization, the governing board established a guideline range for unrestricted net assets after designation. The range is based on three to six months of budgeted program and operating expenses for the next fiscal year. For 2016, the range was approximately $5,936,000 to $11,872,000. For 2017, the range was approximately $5,789,000 to $11,578,000.