CAMHI4Kids advocates for a children's mental health system in Iowa.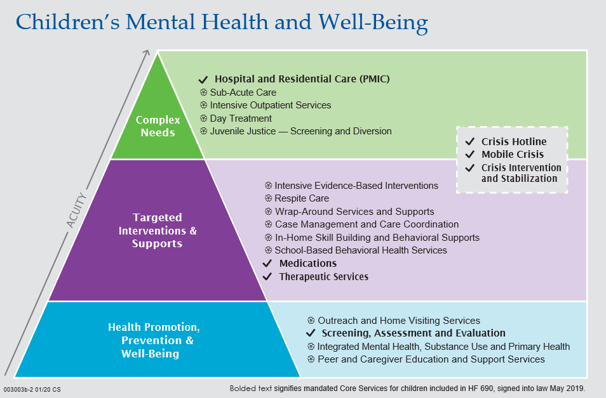 Children with strong mental health are equipped to develop important skills that begin in early childhood. Mental health is connected to social, emotional, and cognitive development and is the foundation for a healthy life, healthy community, and healthy state. When we ensure children's mental health needs are met, they are more likely to perform better in school, graduate, and become healthy, productive adults in our community.
CAMHI4Kids supports the development of a children's behavioral health system that includes a multi-tiered system of:
Prevention, early identification, early intervention and community prevention
Comprehensive crisis services
Behavioral health treatment
Community-based flexible support services
---

Advocacy Agenda
Learn more about our Legislative agenda for the annual state legislative session.
---
CAMHI4Kids Partners
Central

Broadlawns Medical Center
Candeo
Central Iowa Community Services
Clive Behavioral Health Community
Health Partners Community Support
Advocates CROSS Region
Greater Des Moines Partnership
Mid-Iowa Health Foundation
Mosaic in South Central Iowa
Polk County Decategorization
Polk County Health Services
Polk County Medical Society
Primary Health Care, Inc.
Project IOWA
South Central Behavioral Health Region
United Way of Central Iowa
United Way of Story County
Warren County Health Services
Young Women's Resource Center
Youth Emergency Services & Shelter (YESS)
Youth Homes of Mid-America

Eastern

Community Foundation of Greater Dubuque
Community Foundation of Northeast Iowa
Counseling and Family Centered Services
Families First Counseling Services
Family Resources
Nurturing Families Community Partnership for Protecting Children
Otto Schoitz Foundation
Southeast Iowa Children's Mental Health Collaborative
Tanager Place
The Arc of East Central Iowa
United Way of Clinton County, Iowa
United Way of East Central Iowa
United Way of Muscatine
Van Buren County SAFE Coalition
Vera French Community Mental Health Center

Western

Boys and Girls Home and Family Services
CHI Health Mercy Hospital
First Resources Corporation
Heartland Family Services
Midwest Christian Services
Northwest Iowa Care Connections
Plains Area Mental Health, Inc.
Rolling Hills Community Services Region
Seasons Center
Southern Hills Regional Mental Health
Southwest Iowa Mental Health & Disability Services Region
United Way of Siouxland
Wesco Industries

Statewide




A Mid-Iowa Organizing Strategy (AMOS)
American Academy of Pediatrics - Iowa Chapter
Blank Children's Hospital
Catholic Charities
Child and Family Policy Center
Child Health Specialty Clinics
Children and Families of Iowa
ChildServe
Coalition for Family and Children's Services in Iowa
EveryStep Care and Support Services
Foundation 2 Crisis Services
Four Oaks Family and Children's Services
Genesis Development
Hillcrest Family Services
Iowa ACEs 360
Iowa Association for the Education of Young Children
Iowa Association of Community Providers
Iowa Association of Nurse Practitioners
Iowa Behavioral Health Association
Iowa Chapter of Children Advocacy Centers
Iowa Hospital Association
Iowa Mental Health Planning Council
Iowa Primary Care Association
Iowa State Sheriffs' and Deputies' Association
Lutheran Services in Iowa
Mercy Children's Hospital and Clinics
NAMI Iowa
National Association of Social Workers - Iowa Chapter
Navigate Wellbeing
Orchard Place
Please Pass the Love
Prevent Child Abuse Iowa
REM Iowa

United Ways of Iowa

University of Iowa Hospitals and Clinics

YSS
For more information, please contact Erin Drinnin, co-chair of the coalition.