The U.S. Census focuses on federal poverty at 100% - a point where 11.1% of central Iowans cannot afford food, housing, and other basic needs. Above that level, however, 22.9% of individuals in Warren, Dallas, and Polk Counties cannot afford everything they need to survive without assistance. Many families above the 100% federal poverty line are working; yet, they are one flat tire or one emergency room visit away from crisis.
What is the federal poverty line we should focus on?
The community's Goal for 2020 focuses on increasing the percentage of central Iowans who are financially self-sufficient, or above the 250% federal poverty line. This is the point where Des Moines area families can afford basic household needs including child care, rent, and health care, according to The Policy Project's "The Cost of Living in Iowa" study. Above that line, individuals can begin to save, pay loans, or cover education.
Learn how United Way of Central Iowa focuses on addressing poverty as a priority area in our work:
Here is what you should know about poverty in Des Moines and the surrounding areas from the latest U.S. Census data released in December 2017.
The percentage of individuals living in poverty in central Iowa has remained mostly flat over five years.

Over five years, the number of central Iowans living above 250% of the federal poverty line has increased by more than 26,600 individuals, while 12,100 more individuals are living below the 100% federal poverty level. Some changes can be attributed to an increase in central Iowa's population. Since 2011, central Iowa's population has increased by 49,579 people, accounting for 61% of Iowa's population growth.
While there were positive signs of improvement in central Iowa in 2016, the following trends have occurred over the past five years (from 2011-2016) for those living below the 100% federal poverty line:
Among age groups living in extreme poverty, the number of seniors increased 57.7%, the number of children ages 18 and under increased 20.2%, and the working age population increased 21.9%.
Among minority groups living in extreme poverty, Asians showed a population change of 109.4% and African Americans and Hispanics had a 14.3% and 14.8% increase, respectively.
Among family type, married couples with children, single fathers, and single mothers living in extreme poverty all increased—with single father families experiencing the greatest increase of 54.8%.
Poverty exists beyond Des Moines.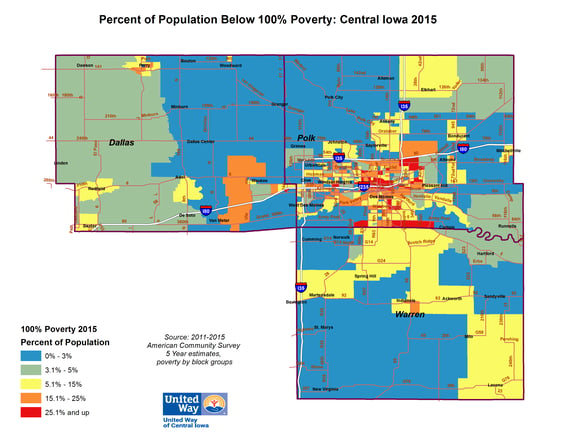 The number of individuals living at 100% of the federal poverty line has increased sharply in central Iowa's suburban communities. Waukee had a 159% increase in poverty, Ankeny saw a 121.1% increase, and Urbandale had an 80% increase in 2016. That's compared with an 18% increase in poverty in Des Moines.
This trend shows that poverty isn't isolated to one area.
The map featured here and above gives a snapshot of where those in poverty lived in 2015.
To address poverty, we must consider many factors.

With 22.9% of individuals in the Des Moines area living above the federal poverty line but still not affording basic needs, we must consider the barriers that keep them from achieving financial self-sufficiency. A report on ALICE (Asset Limited, Income Constrained, Employed individuals) in Iowa found a few factors to consider:
More than 68% of all jobs in Iowa pay less than $20 per hour, and these jobs are growing faster than higher wage jobs. At $15 per hour, a person makes $30,000 a year.
Meanwhile, the average household survival budget for a family of four (two adults with one infant and one preschooler) is $46,680 – nearly double the U.S. family poverty level of $23,850.
Other factors that lead to poverty include a lack of affordable housing in central Iowa and the child care "cliff effect" where once a family meets a certain income level, they lose child care benefits before they can afford to make up the difference.
One path to help families achieve financial self-sufficiency is education and job training.

Across central Iowa, more adults took advantage of postsecondary education—a key United Way of Central Iowa strategy to increase families' incomes and help employers fulfill a need for skilled workers. Greater Des Moines saw a 7.8% increase in the number of individuals with some college and/or an associate degree, and a 13.9% increase in the number of people with a bachelor's degree or higher over a five-year period.
From 2015-2017, United Way of Central Iowa-funded programs reported the following results for individuals in central Iowa:
More than 1,400 individuals achieved a high school equivalency diploma
1,462 central Iowans earned a work-related credential
10,064 central Iowans became work-ready
3,987 were placed in employment
Learn more about what is poverty and how United Way of Central Iowa focuses on increasing financial stability for families through our INCOME priority work: