United Way of Central Iowa was named the #1 Most Influential Nonprofit in Greater Des Moines by the Des Moines Business Record's "Book of Lists."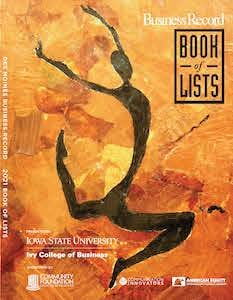 The first-ever list of Top 25 Most Influential Nonprofits, which appears in the 2021 Book of Lists, was voted on through an online survey of Business Record readers, which was conducted in the summer of 2020. The survey asked participants which nonprofit they believe is the most influential and asked them to pick nine other nonprofits they also perceived to be influential. The top five were announced at the Book of Lists virtual unveiling event yesterday evening.
"It is an incredible honor to receive this recognition and have the community of Business Record readers vote United Way of Central Iowa to be at the top of this list of influential change makers in Greater Des Moines," said Elisabeth Buck, president of United Way of Central Iowa. "Our role in central Iowa is and always has been to unite our community to address our toughest challenges. We wouldn't be able to do the impactful work we accomplish without our staff, donors, volunteers, advocates, elected officials, and nonprofit and business partners. At United Way, we wholeheartedly believe that when we are united, we create the possibility for every person in our community to thrive. We look forward to continuing our great work with you, our community, alongside us."
United Way of Central Iowa would like to credit the dedication and guidance of the outstanding leaders in our community who serve on its Board of Directors, Executive Committee, and its various cabinets and committees. See the full list of business leaders and influencers at unitedwaydm.org/board-of-directors.
Additionally, Elisabeth Buck was named the #14 Most Influential Business Leader by Business Record readers as part of its list of Top 25 and Sara Kurovski, Tocqueville Society director at United Way of Central Iowa, was named to the "Business Leaders You Need to Know" list.
See the full list of the Top 25 Most Influential Nonprofits, Top 25 Most Influential Business Leaders, and Business Leaders You Should Know at BusinessRecord.com.