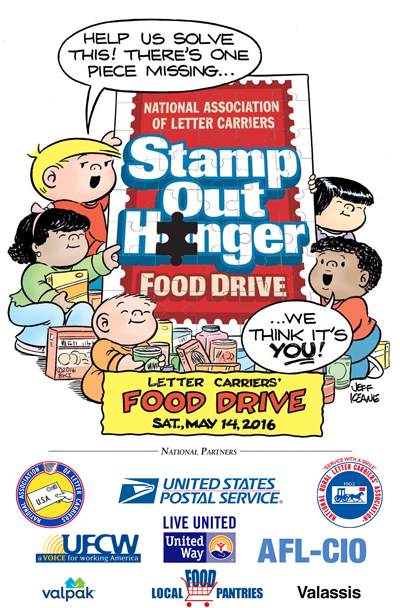 A box on your front step. It's a thrill to see it there, to imagine what might be waiting for you inside. But there's an even better feeling than that. A bag on your front step—waiting to go out to people in need.
This Saturday, May 14, you'll have the chance to pay back the excitement you feel every time the Postal Service leaves you a gift or a personal letter. During the 24th annual Letter Carriers' Stamp Out Hunger® Food Drive—the nation's largest one-day drive—you can leave nonperishable food items in a bag next to your mailbox for your letter carrier to deliver to the Des Moines Area Religious Council (DMARC), which will distribute the food to local pantries.
"Letter carriers touch every residential andbusiness address in this country at least six days a week," says Frederic Rolando, president of the National Association of Letter Carriers (NALC). "And our continued effort in the fight against hunger—often in our own neighborhoods—has made us all too familiar with the staggering numbers of people in need."
Last year, the Stamp Out Hunger Food Drive collec
ted 71 million pounds of food nationally, bringing the total to 1.4 billion pounds collected over the past 23 years. In central Iowa, last year's total was 80,000 pounds.
Although Stamp Out Hunger is a national drive, the food you donate will end up in the hands of people in your own community. More than 65,000 central Iowans are food-insecure, which means they don't know where their next meal is coming from. One in five children are food-insecure.
More than 65,000 central Iowans are food-insecure.
"Summer is an especially difficult time for low-income families," says Erin Drinnin, United Way of Central Iowa's community impact officer, health. "Kids are out of school and don't receive the free or reduced-price lunch they may have been getting in the cafeteria. That means families have to rely more on their local food pantry, whose shelves are likely running out of the food collected around the holidays. It's easy to forget to donate during the summer, but that's when pantries and other community agencies need food the most."
Saturday's food drive is one of the easiest ways for you to donate. You don't even need to load up your car. Just search your pantry for unopened canned goods, boxed items and other nonperishables that haven't reached their expiration date, then leave them next to your mailbox. Even better: Make a special trip to the grocery store to pick up much-needed protein, such as peanut butter, canned chicken and tuna, and almonds, walnuts or peanuts.
Donating to the Stamp Out Hunger Food Drive is one way to help contribute to United Way of Central Iowa's health goal: Increase central Iowa's Gallup-Healthways Well-Being Index to 65.6 by the year 2020. Learn more about our health efforts.
But if you're out of town or you don't have time to shop, there will be other chances to give. United Way of Central Iowa is hosting the Pack a Protein Picnic Food Drive July 7-21, where you will have an opportunity to donate through your workplace.
And if you want to know more about how United Way is working with the community to reduce food-insecurity, review the performance measures and action steps in the OpportUNITY Plan to reduce poverty in central Iowa by 20 percent.