Sean Vicente, managing partner of KPMG's Des Moines office, was selected as this year's recipient of United Way of Central Iowa's prestigious Tocqueville Society Award. Past awardees select an individual or couple who exemplify inspirational, sustained leadership and service to the central Iowa community to receive this award, one of United Way's highest honors.

Sean was presented with the award at the annual Tocqueville Society Celebration, sponsored by Ryan Companies, held on October 7. In addition to this recognition, the event celebrates the more than 765 central Iowa Tocqueville Society members comprising this premier philanthropic leadership group, who annually invest $10,000 or more in the 5 Elements of a Thriving Community through United Way of Central.
Photos from the Tocqueville Society Celebration can be found here.
"For me, being a part of United Way of Central Iowa is about giving back to impact our entire community, and I'm so proud of the work we have collectively been able to deliver through this organization," said Sean. "Receiving this honor as the 2021 Tocqueville Society Award recipient is a humbling experience, and I am truly grateful to family, friends, and my peers involved in this work who make it such an enjoyable and important part of my life."

Sean has contributed to United Way of Central Iowa at the Tocqueville Society membership level since 2003 and has been a loyal donor since 1993. He has been actively engaged with the organization, advocating for education and engagement in our community, as well as volunteering on a variety of committees and cabinets. Most recently, Vicente has made a long-term commitment as United Way of Central Iowa's Board Chair through 2023. His leadership and contributions have led to measurable positive financial results – including increasing membership and raising $1 million over goal during his tenure as Tocqueville Society Campaign Co-Chair in 2017.

United Way of Central Iowa is fortunate to have Sean as an extension of our team. He shows his commitment to our community through the numerous leadership positions he's held within our organization, including Education Leadership Investment Committee from 2009-2012, Finance and Audit Chair from 2013-2016, and a six-time member of our Campaign Cabinet. The results we've seen under his guidance are incredible and the scope of the impact he's created is inspiring.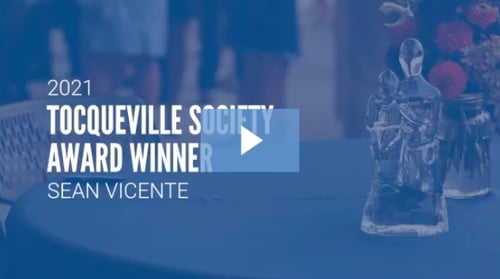 In addition to his duties at KPMG, Sean enjoys participating in many community, civic and professional activities outside of United Way with his wife, Jennifer, and two children, Michael and Sydney. He is past President of the Board of Bravo Greater Des Moines and currently serves as a board member at Junior Achievement of Central Iowa and the Greater Des Moines Partnership.
Watch Sean's acceptance speech by clicking on the video above.
"Sean is the ultimate champion for helping people," said Dan Houston, Chairman, President and CEO of Principal Financial Group and the presenter of this year's Tocqueville Society Award. "Sean is genuinely dedicated to uniting our community. And his distinguished record of philanthropy and volunteer service shows us how small acts of service add up in big ways. I congratulate him on being recognized as this year's award winner. He has, without a doubt, made central Iowa a better place to live, work, and play."