Youth in central Iowa, particularly those living in poverty, are much more likely to graduate high school and earn more money throughout their lives if they're well prepared to succeed from the start. According to the Urban Institute, over a third of youth contribute over 20% of the total annual income of their households, and one tenth contribute over 50%.
Compared with other counties in central Iowa, youth unemployment in Polk County is high.
Polk County
20.3% unemployment rate for 16–19 year olds
10.9% unemployment rate for 20–24 year olds
Warren County
12.4% unemployment rate for 16–19 year olds
5.7% unemployment rate for 20–24 year olds
Dallas County
2.0% unemployment rate for 16–19 year olds
4.0% unemployment rate for 20–24 year olds
The unemployment rate for African American youth is more than double that of white youth in the United States.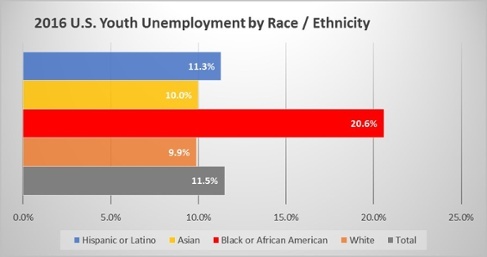 Youth Readiness Programs in Central Iowa
---
Here are three examples of how organizations have implemented innovative solutions to help youth prepare for future careers.
Evelyn K. Davis Center for Working Families
The Evelyn K. Davis Center is a non-profit organization in Des Moines that offers education, job training, and career opportunities for families and individuals of central Iowa. The Summer Youth Experience Program focuses on serving young adults, ages 14–21, by giving them summer work experience, opportunities to volunteer, and educational experience where they can build useful skills for the workforce.
iJag
Each month, Principal Financial Group in Des Moines sends 80 volunteers into high school classrooms to host workshops that provide students (who are at high risk for dropping out of school or disengaging from school) with a six practical but crucial skills:
Leadership

Personal
Job attainment
Job success
Communication
Career development
Over the years, iJag has effectively and cost effectively increased academic performance, school attendance, graduation rates, job placement, and continued training/education.
Central Campus – Des Moines Public Schools
Central Campus was the first Iowa high school to be designated by the United States Department of Labor as a pre-apprenticeship and registered apprenticeship. It offers a number of advance career academies with dozens of specially designed programs that can help students go to college and prepare them for their future careers. Training programs allow students to earn college credit and work towards a two-year associates degree from a community college.
To learn more about types of programs that address poverty and help encourage, train, and prepare youth for their futures, contact United Way of Central Iowa, or visit our website to find various volunteer and education opportunites.
Check out another article we've written, Central Iowa Students Need to See Many Paths to Success, to explore the issues covered in this article on a deeper level.