Please join us in welcoming Mary Sellers back as President of United Way of Central Iowa.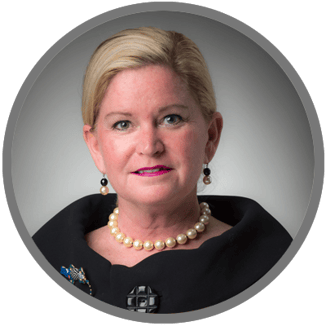 Mary Sellers joined United Way of Central Iowa as President on July 1, 2021. In this role, she is responsible for leading United Way's work tackling community challenges with innovative and systemic solutions by bringing together donors, volunteers, businesses, government, and our nonprofit partners to work toward unified solutions.

Prior to leading United Way of Central Iowa, Sellers served as U.S. President of United Way Worldwide from 2017 to 2019. She led the U.S. network of local United Ways serving 85% of communities in the U.S. and was accountable for $3.5 billion in fundraising revenue annually. In addition, she was responsible for the strategic impact of United Ways in 41 countries and territories.

Before accepting the role with United Way Worldwide, Mary had previously served as President of United Way of Central Iowa from 2012-2017, strategically aligning the organization and evolving it to allow partners and donors more opportunity to collaborate and engage in United Way's strategic focus.

We hope you take the opportunity to get to know Mary through this Q&A session with her:

Q: We're excited to have you back at United Way. How are you making this a fresh start for you and what's your top priority right now?

A: It's been four years, and a lot has progressed and changed throughout that time. With that in mind, my priority is to listen. A lot. And to not make assumptions. I am starting with an open mind and am eager to learn what is impacting our community now.

I think gaining an understanding of the work we need to do collectively to set a foundation for UNITED to THRIVE within our community would be another top priority for me. We've only just launched this new strategic focus for our organization in January of this year, and we still have a good amount of work that needs to be done to continue framing that out. I see us partnering with our funded partners, donors, volunteers, and the community at large to keep laying that foundation and determining what that looks like moving forward.

Q. What's the best way for our partners and collaborators to share their suggestions or feedback with us?

A. As we hit different milestones, for example when we determine what the equity metrics are, we will want to convene and pull people together to have conversations. This will allow us to ensure we're moving in the right direction, and being inclusive – just as we did when we first established the UNITED to THRIVE strategic focus and our 5 Elements of a Thriving Community.



I think we will be consistently having important conversations with our partners, and as I mentioned, my top priority is listening. I look forward to learning from those discussions and continuing to build off the great work that has already been done – and helping the team along with our funded partners and the broader community move forward together to execute on UNITED to THRIVE.

Q. As a graduate of the Getty Leadership Institute, the Strategic Perspectives in Nonprofit Management program at the Harvard University Graduate School of Business, and the Diversity Leaders Initiative at Furman University, you have learned a lot about nonprofit leadership. What's one lesson you keep coming back to or that is still relevant to you today?

A. The one thing that's going to be consistent moving forward is change. As an organization, and as individuals, we need to be nimble and able to adapt to whatever comes our way – I think we all learned that through the pandemic. Whether it was the year 2000 when I was at Harvard or in 2017 when I was at United Way Worldwide, that's definitely the one common theme I keep coming back to – especially for nonprofits with missions like ours. We have to be reflective of and responsive to our community. With our community in a constant state of change, we, too, must change continuously to meet people where they are.

Q. What's one thing you're learning now, and why is it important?

A. I'm just finishing up Robert Putnam's book Upswing. This read has been very meaningful to me because within it he describes a time when there was a lot of dissonance within the community. And it describes a time that many of us would think was today, but it wasn't. It's the Gilded Age, back in the 1880s to 1900s. He talks about what happened when we had the most parity in our country and how we came back together. Now, we have gone back to an individualistic, or "I" society rather than the more communitarian, "We" society. The book shares insight on how we can learn from our past to get our communities to come back together again. I think the timing of reading this book for me is really perfect.

Q. What would you say is a common misconception about your role?

A. I would say that a common misconception about the position I hold is that this role makes all the decisions, however, that's not the case. Our organization is such a complex organism of community involvement and volunteer leadership. I don't know, without being a part of it yourself, if people can truly appreciate the amount of people who participate in the decision making for United Way on behalf of our community. Or the dedication and commitment of our volunteer leaders – they dig into it and take that role very seriously.

Q. You will be doing a lot for our community through your work. How do you unwind after facing a challenge during the workday?

A. I do a lot of reading and walking. And I connect with friends and family, that always centers me.

Q. What do you like most about central Iowa?

A. The people and the ethos of this community. It's such a collaborative, caring community made up of amazing individuals who are very service-minded. I tend to think that goes back to the agrarian foundation of Iowa, you know, where farmers farmed the land and they helped each other whenever needed. I think that's somehow in the DNA or ethos of our community's culture.

It's why I commuted to Washington D.C., where my previous role as US President of United Way was located. I never relocated from Des Moines. I didn't want to leave my home.

Q. What's one thing you want our community to know about you?

A. I think it's important our partners, wherever or whomever they may be, know I've got a long-standing and deep commitment to diversity, equity, and inclusion. It's been present throughout my entire career. I believe it's imperative to have this commitment and dedication to break it down to the granular level of being overt with our approach to execute on United Way's mission. We need to be talking about the current disparities so that we can address how we're going to move the entire community forward and providing opportunities for every central Iowan to thrive.

Q. Is there anything you want our community to know that I haven't asked about?

A. I would say that the work of United Way is heavy. Helping our community is difficult and those difficult issues are complex. There isn't a playbook on how to solve poverty – it's a systems' issue, a generational issue, a community issue, as well as an individual issue. It's a multi-variable equation with no one single answer. And the answers keep changing.

When I think of the weight of our work, I think of the story told of how Albert Einstein gave his students the exact same final exam he had given his students the year before. One of his students retaking the course noticed the "error" and made the famous physicist aware of his mistake. Einstein answered: "You're right, these are the same questions as last year – but the answers have changed."

It's critical for us as individuals, and for us collectively as a community, to move forward and be focused on carrying the weight together. Because we might make great progress, but then the variables change so the solutions need to adapt and change. It goes back to the lesson I keep coming back to, and why we have to be nimble, agile, and constantly aware of what's happening in our community. So that we can meet the needs of our family, friends, and neighbors as best we can.