United Way of Central Iowa was honored to have one of their own selected for the United Way Worldwide Fellowship Program. Danielle Johnson, Finance Officer, shares her experience of the leadership program during the pandemic.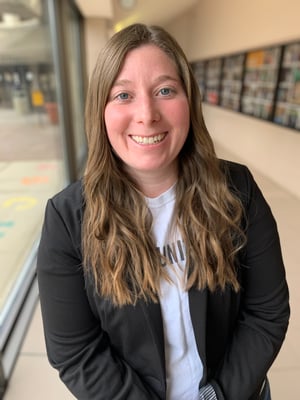 The United Way Worldwide Fellowship Program isn't your run-of-the-mill leadership course, where any up-and-comer can apply and likely get it. This year-long leadership development experience is designed for the core leaders of United Way, those who have demonstrated results, dedication to core competencies, and potential to lead United Way into the future and best support the communities they are a part of.
Applications for the program come from the worldwide network of 12,850 people and are open to those working across all departments and groups. Of those, this program is only available to 50 participants each year. Danielle Johnson, Finance Officer, at United Way of Central Iowa, was one of those 50.
"I was honored to be selected for the 2020 program and am grateful for United Way of Central Iowa's encouragement and support of my professional development," Danielle said. "I enjoy learning, so the opportunity to participate in something like this was exciting. The program was thought-provoking and strengthened skills essential to my continued personal and professional growth."
Danielle applied and had been accepted to the program prior to the COVID-19 pandemic. Then the program was primarily in-person, where participants would travel, network, and learn together. Like many events, conferences, and other learning experiences, the fellowship program went completely virtual. "It wasn't ideal, but United Way Worldwide and the program leaders did a tremendous job bringing the program to life," Danielle said. "The sessions were engaging and there was a commitment to setting aside time for us to work with our peers so we could network with one another."
Topics covered during the leadership learning sessions included collaboration, strategy, fostering innovative thinking, leading in change, influencing action, and exploring diverse perspectives.
"One of the more interesting lessons for me was the concept of positive intelligence," Danielle said. "We all have positive mental muscles (Sage) and negative mental muscles (Saboteurs) that help determine how we emotionally respond to challenges. By acknowledging the Saboteurs, we are able to better manage them and respond more positively. This session aligned very closely with some of the professional development work we have been doing internally at United Way of Central Iowa and it left a lasting impression on me."
United Way Worldwide shared that leadership development is critical for building the pipeline of future leaders for the global network. Identifying high-performing and high-potential employees enables the organization to build a culture of top-performing talent to continue to effectively serve the unmet needs of every person in every community.
"United Way of Central Iowa is proud to have Danielle as part of our team," Elisabeth Buck, President of United Way of Central Iowa: "And, of course, we were not surprised she was chosen to learn alongside some of the best and brightest from United Way organizations from across the nation. This program helps shape the decision-makers who will be making incredible impact in the communities they serve at a time when the need for strong leadership is greater than ever. Danielle has shown incredible dedication, commitment, and leadership here in our community's work."
The Fellowship Program runs from May to December and requires participants to take part in a series in-depth learning events, projects, and coaching. It's just one of the ways United Way is dedicated to its employees and to our communities. Want to learn more about what it's like to work at United Way? Visit: https://www.unitedway.org/careers/working-at-united-way
If you're interested in a career with United Way of Central Iowa, check out the Careers page: https://www.unitedwaydm.org/careers