The two organizations have selected United Way of Central Iowa as a recipient of 73,728 rolls of donated toilet paper. Food Bank of Iowa to help distribute throughout the state.
Des Moines, IA (June 4, 2020) – This March, Kimberly-Clark's Cottonelle® brand committed to donating an initial $1 million along with one million rolls of its toilet paper to United Way Worldwide's COVID-19 Community Response and Recovery Fund as part of the #ShareASquare program. United Way of Central Iowa is honored to be a recipient of 73,728 rolls of the donated toilet paper.
"We are proud to be a part of this opportunity and grateful to Kimberly-Clark's Cottonelle team for their generosity and support of Iowa during this time," said Elisabeth Buck, president of United Way of Central Iowa. "Though some stores are starting to have toilet paper back on the shelves, the run on earlier supplies made it challenging for families with low income and our frontline workers to have access to this essential item. It is our hope that this donation will help minimize the fear and anxiety caused by the rapid spread of the coronavirus."
The toilet paper donation was accepted by the Food Bank of Iowa today. In addition to receiving a portion of this donation for its pantries, the Food Bank of Iowa is supporting this effort by distributing a majority of the Cottonelle toilet paper to partner programs across the state.
"It is an honor to support the #ShareASquare program and partner with United Way of Central Iowa in this effort with the strong system we already have in place," said Michelle Book, president and CEO of Food Bank of Iowa. "The toilet paper will be distributed to our current network of partner agencies and will be made available in every one of our counties. Collaboration is a core value at Food Bank of Iowa and this effort shows true community collaboration."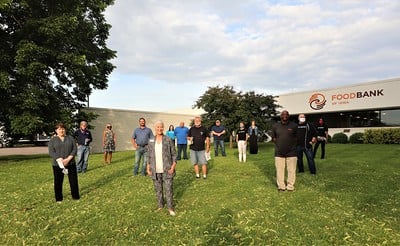 Together, United Way of Central Iowa and Food Bank of Iowa will deliver toilet paper people across our state.


In addition, United Way of Central Iowa's Women United leadership group responded to the need for toilet paper at partner childcare facilities. "Today, 15 childcare centers in central Iowa will each receive more than 100 rolls," said Jem Gong-Browne, Women United Chair. "We're grateful for Cottonelle's donation to support children in our community and for the volunteers from United Way's labor partners and members of Women United who are here to help us meet that need and distribute the rolls to those centers."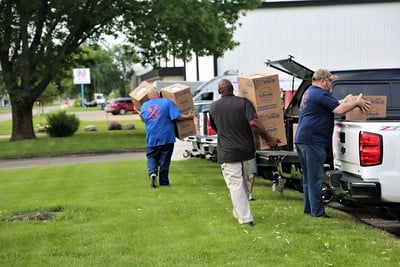 Members of the Iowa Labor Union volunteered to deliver cases of the Cottonelle toilet paper donation to 15 childcare centers throughout central Iowa.
As the effects of Coronavirus (COVID-19) put stress on consumers around the world to locate their most essential products, Cottonelle called on Americans to #ShareASquare to alleviate the toilet paper needs of friends and neighbors. The #ShareASquare social media initiative celebrates acts of generosity already happening in local communities and is meant to inspire further acts of kindness.
Beyond Cottonelle's initial commitment of $1 million, the organization donated $1 to United Way Worldwide – up to $100,000 – for every use of the hashtag #ShareASquare on social media through June 1. All funds raised go directly towards the United Way Worldwide COVID-19 Community Response and Recovery Fund to support communities affected by COVID-19.
The two organizations are working together to identify and distribute the product and dollar donation across United Way partners supporting the most vulnerable populations in our country.
The #ShareASquare commitment marks the largest single donation in Cottonelle brand history and is part of a larger commitment by Kimberly-Clark, a longtime supporter of United Way. Each of the company's US-based manufacturing facilities partner every year to fundraise and complete community service benefitting the organization. In 2019, Kimberly-Clark and its employees donated more than $5.9 million to United Way programs across the country.
To learn more about the brand, visit Cottonelle.com or join the conversation online at #ShareASquare. To donate to further support United Way of Central Iowa's efforts, visit www.unitedwaydm.org/give.