United Way of Central Iowa and their partners help adult students achieve a high school equivalency diploma that leads to a sustainable career pathway and financial independence through Bridges to Success.
In central Iowa, nearly 36,000 people over the age of 18 – 8% of the population – do not have a high school diploma or equivalency. Without achieving this milestone, they are more likely to miss out on the higher education or training needed to earn a livable wage and build wealth for their future.
According to "The Cost of Dropping Out of School," a report done by the Iowa Association of Alternative Education, those who receive a high school diploma typically earn $700,000 more throughout their working life than those who do not have a high school diploma. In many cases, a high school diploma is a minimum qualification for many entry-level jobs, putting individuals who have not earned a diploma at an incredible disadvantage from the start.
Bridges to Success, a partnership program between United Way of Central Iowa and Des Moines Area Community College (DMACC), supports central Iowans as they work toward earning their high school equivalency diplomas (HSEDs).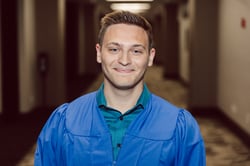 "I never graduated from high school and was homeschooled most of my life," said James, a Bridges to Success '22 graduate: "I was stuck in the same place in my career, so I decided to do the Iowa High School Equivalency Diploma through Bridges to Success while I was working full time. I finally told myself that I'm not less for not having finished high school."
Bridges to Success connects individuals with FREE classes, books, testing, and individual coaching to help them earn their HSED and pass the HiSET test (formerly GED) – opening a world of job and career opportunities.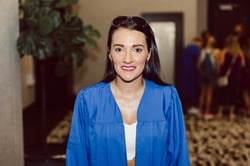 April, another 2022 Bridges to Success graduate, said: "I am 33 now and I had my daughter at 16. It's been quite a journey to get to this point. Graduating with an Iowa High School Equivalency Diploma was about proving to my girls that you can do anything you put your mind to. Getting the diploma itself was easy, but I started prerequisites for nursing and going into the nursing program. That's the hard part. There were many hurdles that I had to overcome to get to where I am now but I'm proud of myself for graduating."
In the most recent 2021-2022 academic year, Bridges to Success helped 342 individuals earn their HSED diploma and 970 individuals make educational gains.
It's one of the many programs United Way of Central Iowa offers to empower central Iowans as they overcome challenges they face in the 5 Elements of a Thriving Community – and by providing support in this area of Education Success, they will now be set up for better Economic Opportunity. Those gains then ripple into positive outcomes in the other elements, Essential Needs, Early Childhood Success, and Health & Well-Being.
Bridges to Success and other United Way programs improve lives in central Iowa by uniting the caring power of community – and that includes corporate partners like John Deere and their employees.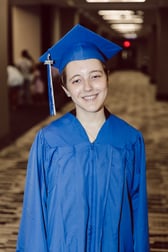 Together, we improve lives like Tricia's: "I pursued the Iowa High School Equivalency Diploma program because I wanted to graduate early. I have autism and I think a lot of my teachers didn't think I could do it because of my disability. When I did the test to get my HSED, it showed that I was college ready in all my classes. [The Bridges to Success] program is really great because it gives a lot of people the opportunity to graduate when maybe they wouldn't have been able to before. A lot of people graduating with me have accomplished so much."