On February 11, United Way of Central Iowa's 211 Day, help your neighbors get the help they need by telling them about 211.
Thousands of Iowans continue to seek help through 211 Iowa, a free 24/7 information and resource referral service, as we recover from the devastating effects of the pandemic, derecho, and other everyday crises.
211 Iowa is asking you to help your neighbors in need by making them aware of this powerful resource, and by encouraging your elected officials to consider a direct, annual appropriation to support the infrastructure for disaster recovery and resource referrals for the statewide 211 Iowa service.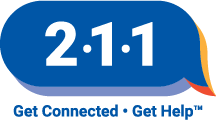 Currently, no state funding or appropriation supports 211 in Iowa. This free service – available in all 99 counties – is exclusively funded by the statewide coalition through private philanthropic support. In 57 counties across the state, including Polk, Dallas, and Warren, 211 Iowa is operated by United Way of Central Iowa. The statewide coalition providing 211 coverage also includes United Way of the Quad Cities, United Way of the Midlands, and Gunderson Health Systems. This group is currently advocating Iowa state legislators and policymakers for funding to support this critical service.
By advocating for and supporting 211, Iowans can help connect people, nearly 300 a day statewide, with essential services and resources now and in times of desperate need.
211 Iowa is powered by real people serving as our communities' front-line workers – trained, certified specialists who work to identify and address the root causes of a client's problem. From the first hello, Iowans seeking food, safe shelter or rent assistance, tax preparation assistance, and more can talk with a live, local expert who will help navigate and connect them with the various services and supports available in their community.
211 Iowa is for anyone seeking support or facing a crisis. Get connected with 211 in the following ways:
On your phone, dial 2-1-1 to reach a live, local operator who can help.


On your smartphone, text your zip code to 898211 to chat live with a 211 Operator 24/7.



Go to

211iowa.org to find information and access the 211 database of available resources in your Zip Code.



Download the

211 Iowa app for iOS or Android to have instant access to the 211 database.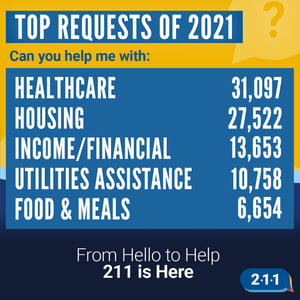 As the COVID-19 hotline and Vaccine Navigator service, call volumes skyrocketed during the pandemic, and volume trends remain stable over pre-pandemic levels.
After the derecho, 211 Iowa was immediately activated by Polk County Emergency Management to serve as disaster recovery support. In addition, 211 Iowa partnered with the Iowa Utility Board to provide real-time estimates on utility restoration.
After a natural disaster, during the pandemic, or when you just don't know where to turn first, 211 is here to help every person in every community find the programs and services available to help them.