EARLY GRADE READING


of central Iowa students are not reading proficiently by the end of third grade. Nearly all (22.3%) stay behind through eighth grade.
(Iowa Dept. of Education)
---
Children who cannot read at grade level by the end of third grade are 4 times less likely to graduate from high school.
(Annie E. Casey Foundation)
---
MIDDLE SCHOOL SUCCESS
Students who participate in after-school programs attend more school and perform better on tests compared to peers.
(Durlak et. al.)

MIDDLE INCOME
Of third-grade students who DO NOT qualify for free and reduced-price lunch:


read proficiently
---

13 books: 1 kid

LOW INCOME
Of third-grade students who qualify for free and reduced-price lunch:



read proficiently
---

1 Book: 300 kids

(Iowa Dept. of Education,
Handbook of Early Literacy Research)
LITERACY SKILL PROFICIENCY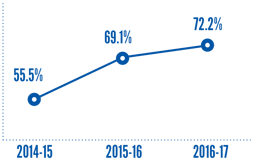 In fall 2016, more central Iowa kindergartners were proficient in literacy skills.
(FAST test, 2017)
---
children participated in United Way-funded programs promoting academic growth during out-of-school hours. 94% showed good attendance, and 89% passed all classes.

United Way's READ to SUCCEED initiative engages central Iowans in helping students read proficiently by the end of third grade.



Power Read volunteers read weekly with elementary students, a key to
raising reading scores.
Students who read with a Book Buddy volunteer in the year before kindergarten scored 10% higher than their peers on reading assessments three years later.
students at 22 central Iowa schools received glasses through Vision to Learn this school year. Most students at these schools qualify for free and reduced price lunch.

volunteers visited the homes of 6th-through-12th-grade students at risk of dropping out or who were chronically absent. Over six years, United Way's Graduation Walk has encouraged more than 2,200 students to graduate.
EMPLOYMENT GAP

55% of all jobs in central Iowa require some postsecondary education, up to an associate degree. Only 32% of the workforce has the right skills for these jobs.
(Iowa Workforce Development)
HEALTHCARE EMPLOYMENT GAP


40% of central Iowa's health care workers could retire in 5-10 years. The average wage for health care jobs is $41,000.
(Iowa Workforce Development)
WORKING POOR

of the population in a central Iowa community is working and not financially self-sufficient.
(ALICE report)


central Iowans over age 18 do not have a high school diploma or equivalency. All of them are economically disadvantaged.
(U.S. Census, American Community Survey, 2012-2016)

United Way's Bridges to Success initiative uses innovative strategies to help central Iowans obtain a high school equivalency diploma (HSED).

In 2017, the Iowa Legislature unanimously passed legislation to expand the number of pathways for those seeking to earn a HSED. United Way advocated for this change.


individuals enrolled to earn a HSED and received supportive coaching. Of those who graduated, 40% increased their income.


additional central Iowans were financially self-sufficient in 2016 than the year before.
(U.S. Census Bureau, American Community Survey)
individuals gained high-demand skills through United Way's Central Iowa Works, a public-
private partnership with 56 organizations. 183 participants have enrolled in health care education and training through Central Iowa Healthworks in less than one year. 66% of participants are minorities.
---
central Iowans advanced to better jobs through United Way-funded programs, increasing family incomes.
---
more central Iowans (ages 18-64) have progressed toward or obtained an associate degree since 2009.
(U.S. Census, American Community Survey, 2012-2016)
Volunteer Income Tax Assistance (VITA) volunteers returned more than $8.9 million in tax refunds to central Iowans in 2017.
---
families each received an average refund of $1,837 through United Way's free tax preparation service.

$7.6 million was added to the state budget to extend child care assistance benefits to working families who faced the loss of benefits. United Way's OpportUNITY initiative to address poverty led advocacy efforts to remove this barrier.
PHYSICAL HEALTH
Central Iowa ranks 158th out of 186 regions for healthy eating.

(Gallup-Sharecare Well-Being Index)
---
Central Iowa ranks nearly last—185 out of 186 regions—for consuming 5+ servings of produce 4+ days per week.
(Gallup-Sharecare Well-Being Index)
SOCIAL HEALTH

Loneliness is as damaging to one's health as smoking 15 cigarettes a day.
(Holt-Lunstad)

United Way's 5-2-1-0 initiative promotes healthy habits where children live, learn, and play.

central Iowa children and families learned healthy habits through 27 schools, child care centers, and health care clinics.

central Iowans accessed United Way-funded mental health programs.




are maintaining or improving their well-being as a result of receiving these services.

providers received United Way-funded training on how to build resiliency in central Iowans who have experienced trauma.

United Way of Central Iowa successfully advocated to protect dental and vision screening requirements for Iowa's K-12 students, ensuring access to prevention services that promote healthy childhood development.

volunteers donated


lbs. of fruits and vegetables to food pantries from corporate giving gardens, feeding


central Iowans.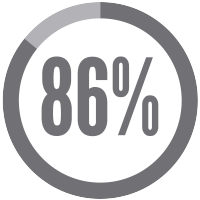 of households earning less than $15,000 annually live in housing they cannot afford (paying more than 30% of their income).

affordable units are needed in central Iowa to meet current needs.
(Polk County Housing Trust Fund)
Homeless children are 2x more likely to have a learning disability, repeat a grade, or be suspended from school.
(American Psychological Association)

of Polk County households were food insecure at some time during 2017.
(DMU Dept. of Public Health Food Insecurity Survey)

calls were received by United Way's 2-1-1 helpline in 2017. 2-1-1 serves a 15-county area and helps central Iowans address essential needs. Among those calls:

fewer individuals are homeless in Polk County.
(Institute for Community Alliance, Point in Time Study, 2016-2017)
---
people received United Way-funded legal assistance to help increase financial stability:

families/individuals stayed in their homes.

people received legal assistance with housing issues.

families/individuals had assets protected/maintained
Three new mobile pantries launched in Polk and Dallas Counties to increase access to food from the support of OpportUNITY's Food Insecurity Work Group.
---
people accessed United Way-funded services for homelessness, and 300 families moved from shelter to permanent housing.
---
meals and food items were served or distributed to individuals/families through United Way-supported pantries and shelter services.