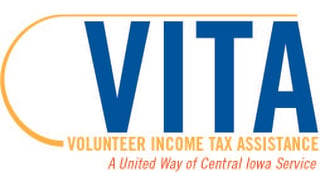 United Way and its community partners are helping low-income workers at tax time by providing free tax preparation assistance. Individuals or families with a combined income under $58,000 in 2015 qualify to receive free tax preparation.
In 2016 the Volunteer Income Tax Assistance (VITA) program filed 5,666 tax returns in the Des Moines area -- bringing a total of $8.3 million back to people working hard to make ends meet.
VOLUNTEER: Be a Tax Preparer, Greeter or Interpreter for VITA
You can help return millions of dollars to central Iowans, and our local economy! Volunteer as a tax preparer or greeter for VITA, and help local families in need.
United Way provides free training either in classrooms or online, to help volunteers become IRS certified as Tax Preparers.
Volunteers work weekly shifts of their choosing throughout tax season at one of our 4 sites conveniently located throughout central Iowa to prepare taxes for low-income workers.
Volunteer greeters and Spanish translators are also needed to welcome taxpayers and make sure they have the paperwork they need. Click the button to learn more:
To have your taxes prepared free: Do I qualify?
If you are an individual or family with a combined income under $58,000 in 2015, you qualify for free tax preparation. Please dial 2-1-1 to schedule an appointment at the location nearest you (See locations below.)


What you'll need
Proof of identification

Social Security Cards for you, your spouse and dependents and/or a Social Security Number verification letter issued by the Social Security Administration

Birth dates for you, your spouse and dependents on the tax return

Current year's tax package if you received one

Wage and earning statement(s) Form W-2, W-2G, 1099-R, from all employers

Interest and dividend statements from banks (Forms 1099)

A copy of last year's Federal and State returns

Bank Routing Numbers and

Account Numbers for Direct Deposit. Blank check or deposit slip required.

Total paid for day care provider and the day care provider's tax identifying number (the provider's Social Security Number or the provider's business Employer Identification Number)

To file taxes electronically on a married filing joint tax return, both spouses must be present to sign the required forms.


VITA Tax Preparation Locations
DES MOINES
SUPERSITE
Polk County River Place
2309 Euclid Ave., Room 3A
DES MOINES
United Way of Central Iowa
1111 9th St., Room E


DES MOINES
DMACC Southridge Mall
1111 E. Army Post Road


ANKENY
Neveln Center
406 S.W. School St., Room #204
PERRY
First Presbyterian Church
1323 4th Street

Sites and times are subject to change. Please call 2-1-1 for the most current information.