Preparing youth for successful careers from the start increases their likelihood of graduating and earning more throughout their life. This is especially critical for youth living in poverty. One-third of youth in lower income households contribute more than 20% of the total annual income of their households, and one-tenth contribute more than 50%, according to the Urban Institute.
Meanwhile, youth unemployment is higher in Polk County, and increasing, compared with other counties:
Polk County: 20.3% for 16-19 year olds; 10.9% for 20-24 year olds

Dallas County: 2.0% for 16-1

9 year olds; 4.0% for 20-24 year olds
Warren County: 12.4% for 16-19 year olds; 5.7% for 20-24 year olds
African American youth especially face higher rates of unemployment -- more than double the unemployment rate of white youth.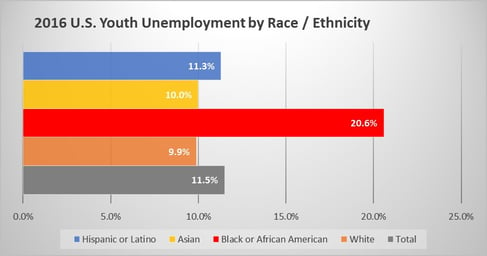 The next OpportUNITY Summit will focus on this issue and share best practices for addressing it as part of OpportUNITY's comprehensive game plan for bringing prosperity to the one-third of central Iowans who live in poverty. The summit is from 3-6 p.m. at the Greater Des Moines Botanical Garden, with panel presentations, followed by an hour of networking and shopping youth's work at a social enterprise market.
Here are three examples you'll hear at the event:
iJAG
Principal Financial Group organizes a program of 80 employee volunteers who visit high school classrooms each month to host workshops and provide students with personal, leadership, communication, job attainment, job success and career development skills. The students in the iJAG program are at risk for disengaging from school or dropping out.
Evelyn K. Davis Center for Working Families
This Des Moines non-profit supports youth with education, job training and career opportunities. Its Summer Youth Experience Program, supported by United Way, gives under-served youth ages 14 to 21 summer employment experiences, volunteer opportunities and educational experiences to build their skills in the workforce. About 50 participants were accepted into the program last summer.
Central Campus
Central Campus with Des Moines Public Schools offers nine advance career academies with more than three dozen specialized programs providing multiple pathways to college and career readiness. More than 1,700 students participate in career training programs that help them earn community college credit and a two-year associates degree. Central Campus is the first high school in Iowa designated as a pre-apprenticeship and registered apprenticeship by the Department of Labor.
Sign up now to attend the January 24 OpportUNITY Summit: