Most of us aren't farmers, so harvest season passes us by without a thought. But this year—over at Telligen in West Des Moines—employees dedicated late August and September to rooting out potatoes—a harvest of hundreds of pounds for the food-insecure of central Iowa.
Back in April, when the planting season was already well underway, Telligen decided to become the sixth corporate giving garden partnered with United Way of Central Iowa. Employees built a fence to keep out deer and other hungry herbivores, tilled up the ground and planted potatoes, tomatoes, zucchini and cucumbers before spring had bid them adieu.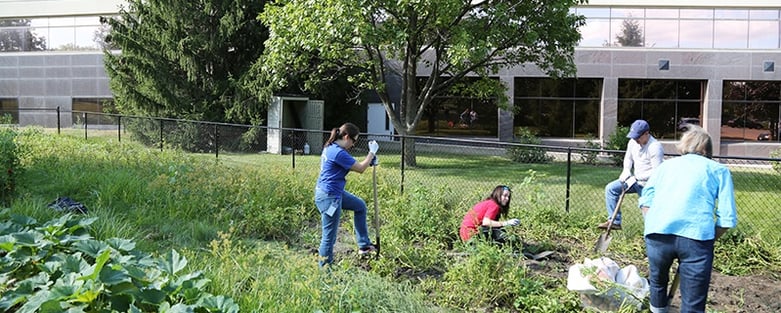 Telligen is the newest and largest of the corporate giving gardens.
Although it was a late start for a new garden, none of the volunteers at Telligen regret the choice to move ahead with the idea this year. They got the chance to engage with their company in a different way, to take a break from the office, to step outside and get their hands dirty.
Emily van Oosbree, contracts administrator at Telligen and a coordinator of the garden, was excited to try out a new experience. "I live in an apartment, so I don't get to garden. Now I'm able to grow food—for a good cause."
Emily relished the chance to deliver produce at Des Moines Area Religious Council (DMARC), which distributes donations to 12 food pantries in Des Moines. During her tour, Emily had her eyes opened to an often-invisible problem in her own community.
In central Iowa, more than 65,000 people don't know where their next meal is coming from—including one in five children.
To help reduce food insecurity, United Way of Central Iowa set the goal to have 10 corporate giving gardens on board by the end of our 100th year in December. United Way still needs corporate partners to volunteer their time, talents and unused land to produce healthy food for the community's hungry.
If the idea of high-tech agricultural equipment or vast swaths of land stresses you out, never fear: a corporate giving garden can be as simple as a quarter acre with a few types of produce.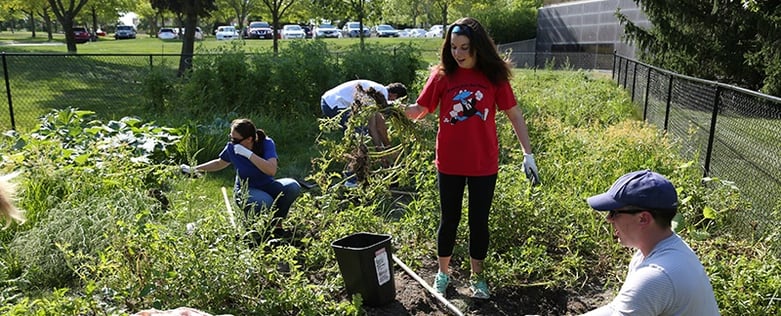 Brett Williams, another volunteer gardener from Telligen, says the employees didn't need to do much beyond watering and occasional weeding. Instead of trying to grow dozens of specialized species, they stuck with four traditional favorites.
"Don't be concerned that you have to spend hours and hours on it," Brett says. "You can keep it simple."
Simple work can make for simple fun. Dozens of Telligen employees have volunteered at the garden a few hours a month. They even hold informal competitions for guessing the correct poundage on a harvest day. Even before they started in on the potatoes, they had already grown and donated 900 pounds. That's a win for everyone.