On June 20, the longest day of the year, more than 1,000 volunteers came together at sites across the city to build literacy kits for central Iowa's kids.
This is the second year that United Way of Central Iowa has hosted Literacy Solstice from sunrise to sunset. View photos from the event.
The goal of Literacy Solstice was to get literacy kits and books into the hands of struggling readers, many from low-income households, who may face barriers at home and at school that make it difficult to gain the skills they need to read. Without these skills, they will fall farther behind in the classroom.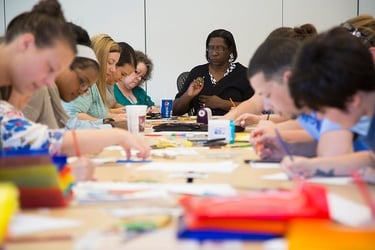 Each literacy kit includes a book and related activities perfect for one-on-one interaction and imagination. The kits were designed by experts to focus on the skills young children need when learning to read while, at the same time, diving deeper into the book and its themes. The literacy kits will be used by children in classrooms, in out-of-school programs, in child care centers, and at home. With four different versions made on Literacy Solstice, the kits and the corresponding books were delivered to schools, early child care centers, and out-of-school programs for students from kindergarten through sixth grade.
The activities in the kit foster a love of reading and build critical skills such as comprehension, phonetics, sequencing, and vocabulary.
As a result, each child who receives a literacy kit is on a path to read proficiently by the end of third grade—the number one predictor of whether that child will graduate from high school. And an Iowa high school graduate, throughout their lifetime, earns an average of $700,000 more than a high school dropout.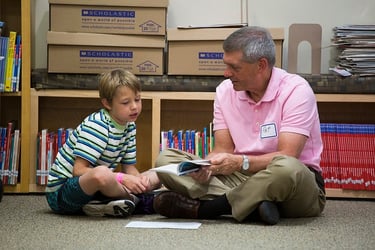 Literacy Solstice is part of United Way's READ to SUCCEED initiative, which is mobilizing the whole community to increase the number of third grade students who read proficiently to 90 percent by 2020. As part of that initiative, the event also recruited volunteers for the Power Read program, a partnership between United Way and Everybody Wins! Iowa that pairs adults with one elementary school student for 30 minutes each week during the school year.
At Literacy Solstice, United Way also encouraged participants to spend 15 minutes a day reading together with a child. These 15 minutes can happen at the store, in a waiting room, or even while cooking from a recipe. And they will be the most important 15 minutes of that child's day.