In central Iowa, we are surrounded by food. In farm fields, in supermarkets, in a thriving restaurant scene we are justifiably proud to brag about. But we are also surrounded by hunger. And that's something we don't talk about. Something many of us don't event know about.
United Way of Central Iowa and our OpportUNITY initiative is trying to break that silence surrounding poverty and food insecurity in our community. To learn more, watch the video below.
What is food insecurity and hunger?
Food insecurity: When family members are concerned about where their groceries and meals will come from and how they will pay for them. In order to prevent anyone in the household from going hungry, they purchase lower-quality, less expensive, and less healthy food for the family.
Nearly 20% of central Iowans are food-insecure.
Hunger: When family members eat less food, repeatedly experiencing the physical sensation of hunger.
Over 28,000 central Iowans are hungry—more than half of them children.
Source: American Community Survey, 2011-2015, 5-year estimates, S1101, B09005
OpportUNITY Leading the Way Awards
Despite the scope of the problem, there have been significant successes in our community.
The OpportUNITY Leading the Way awards recognize programs, organizations, businesses, and individuals who are "leading the way" in central Iowa to help individuals and families become self-sufficient.
At the OpportUNITY Summit on Food Insecurity on October 25, United Way of Central Iowa honored four organizations that have led the way in fighting hunger—implementing innovative solutions or investing significant resources to tackle this problem at the roots.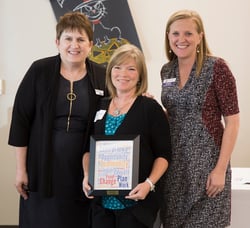 Waukee Area Christian Services runs a community garden and free clinic that is vital to those families and individuals who are struggling to make ends meet. Thank you to Waukee Area Christian Services for not only addressing the immediate needs but also the long-term concerns that many of these families have.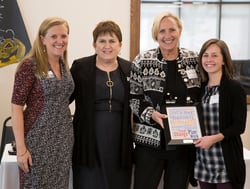 The City of West Des Moines is running a new program, Ignite - Incentivizing Heath, that assigns points based on the nutritional value of the foods people choose at a local food pantry. The healthier their choices, the more food people receive. DMARC will be able to track the average nutritional scores of individuals and the pantry as a whole. The Ignite program is helping to ensure that people make food choices that improve their health over the long term.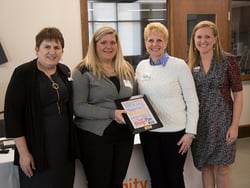 Nationwide and the Nationwide Foundation have collectively invested more than $600,000 in the Food Bank of Iowa over the past decade. Nationwide employees have donated more than 800,000 meals and volunteered nearly 5,000 hours of time. In 2017, the Nationwide Foundation made its largest investment in Des Moines with a gift to the Food Bank of Iowa's Fighting Hunger, Feeding Hope campaign in the amount of $1.5 million.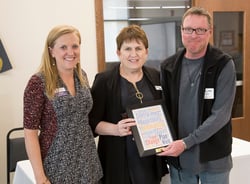 Lutheran Services in Iowa's Global Greens program includes more than 280 refugees growing their own produce in 18 community gardens around Des Moines. The produce provides nourishing food for their families and their ethnic communities and is sold at the Global Green Farmers Market and the Downtown Des Moines Farmers Market. Global Greens makes on impact on refugee and immigrant families by providing a source of income, as well as wholesome, Certified Naturally Grown food to people in central Iowa.
To get involved in OpportUNITY's work fighting food insecurity in central Iowa, join the working group by clicking the button below and filling out the form.