"I was more scared to leave prison than I was to go to prison."
Jamie Roos shared her story of re-entering society after serving 16 years at the Iowa Correctional Institution for Women in Mitchellville to a crowd of about 60 people on Thursday, September 14.
The stakeholders from business, government, and non-profit met at the prison to go through a Re-Entry Simulation developed by the U.S. Attorney's Office to better understand the challenges offenders face upon release from prison and to hear personal testimonials from those who have lived it. The event was hosted by Central Iowa Works, and supported by United Way of Central Iowa and OpportUNITY.
Here are a few takeaways from this experience.
Re-entering society is chaotic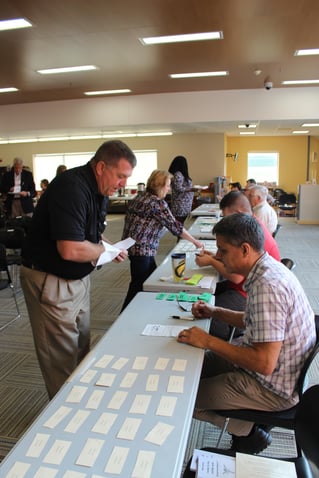 The simulation is set up as four 15-minute segments, each representing a week. Within that week, each participant has to complete several tasks individualized to their character. These tasks could include getting a job, getting an ID, going to the food pantry or a church, going to the bank, donating plasma to make money, paying rent, going to counseling, checking in with the parole officer, and much, much more.
For every task not completed within the 15-minute period, participants receive an X. Five Xs and you go to court and possibly back to jail.
The simulation gives attendees a realistic perspective of what it's like to re-enter the community after leaving prison, creating feelings of hopelessness, anxiousness, confusion, fear, and even accomplishment to the few who can complete all their tasks.
"The most lasting benefit is my taste (distaste) of the time consuming challenges to manage life once out of prison," said Rep. Kevin Koester, who participated in the simulation. "The celebration of walking out into restored 'Freedom' will usually face very limited resources and multiple responsibilities and trips to appointments. These requirements would absolutely overwhelm any 'graduate' of the prison who did not leave prepared and equipped by our dedicated state staff."
For many, things happen along the way that derail their efforts. Some get the flu and need medical care. Others find a job but then don't have time to complete all the other tasks. Some have to barter for enough money to cover fees.
More than half are in jail by the end.
Prison is the new mental health hospital

Warden Sheryl Dahm shared how the Iowa Correctional Institution for Women has undergone a culture shift.
"We are about changing lives, not only for the women in our care, but also the people they touch," she said.
This shift has happened as the dynamics of the prison have changed. Among the 700 women at the prison:
60 percent

are mentally ill.
26 years ago, 2 percent were in prison for drug offenses. Today

35 percent

are in prison for using drugs.

60 percent

have been sexually abused.
About

90 percent

will re-enter the community at some point, with the average stay at prison of 4.5 months.
The goal is to provide the support these women need to change and be on a better path when they leave. But the challenge remains of helping these women re-enter society when their time is served, and especially, helping them get a good paying job.
There's no good path to employment
Kyle Horn, founder of America's Job Honor Awards, shared that there is a gap between employers who need skilled workers in Iowa and the 750,000 in Iowa who are no longer in the labor force (or 12 times the number of people who could fill Jack Trice Stadium). Many have given up because they've been rejected so many times.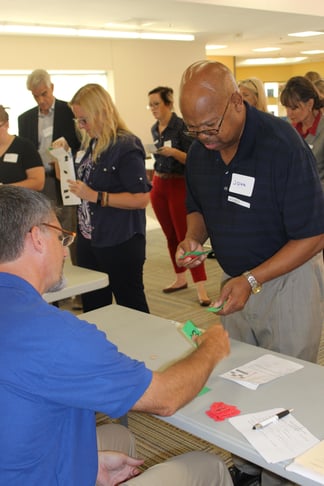 The women in prison who shared their stories echoed Kyle's comments.
"We just need another chance," said Andrea, who is serving a 25-year sentence. She had returned to her community after serving a prison sentence and managed to get a good job, but then was suddenly laid off without a safety net. She committed fraud, sold drugs, and scammed small businesses to make enough money to survive and ended up back in prison.
"Your criminal record will follow you for the rest of your life," said Jennifer.
Jennifer shared her story of being in prison for the 7th time for drug use. She described the feelings of leaving prison as overwhelming, alienating, and confusing, making it easy to fall back into old habits. Added to these feelings is the rejection from employers who won't hire anyone convicted of a felony.
Now Jennifer is taking every support she can get in the prison to prepare for when she re-enters. "Life gets better when you get better," she said.
Jamie shared that she planned to participate in the simulation but could feel the anxiety building in the room. She had experienced those feelings first-hand several years ago when she left prison, but was lucky enough to have a job as a dog trainer at the Animal Rescue League.
This gave her a foundation to cover her basic expenses while she re-established herself in the community. Now, she is a medical technician at the VA hospital. The road wasn't easy, and she noted how many in prison feel as though their sentence is just beginning when they leave.
"We have to get society not to feel it's their job to continually hold our head under water," she said.
To learn more about how Central Iowa Works supports those re-entering our community after prison, visit our website or contact Pat Steele at pat@centraliowaworks.org. You can also request a simulation for your organization.