Stephanie Burrows could understand how reading to young children could change their lives. After volunteering as a reader at Conmigo Early Child Education Center, it quickly became clear that it could change her life, too.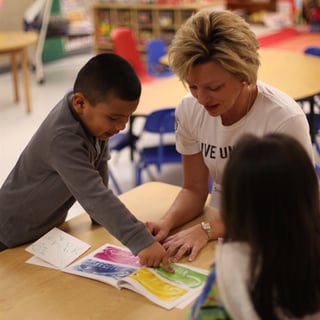 Burrows, a Tocqueville Society and Women's Leadership Connection member, started with the Volunteer Reading Program last year. She had long been interested, but her schedule often conflicted with the program's weekly engagements. She made an arrangement to team up with Cathy Lacy, also a WLC and Tocqueville Society member, to make sure no reading sessions weremissed. The experience was eye-opening.
"Not having children myself, it was a great and rewarding experience to watch these children grow and develop," Burrows said. "Since you have the same child every week, you really have the opportunity to see their progress and watch their personalities develop. When we started, we had one little girl that would only whisper and was very shy. By the end of the program, she'd sit in our laps and speak out loud."
Burrows says she loves the one-on-one experiences with the children. You know they're engaged. You can get to know them. It's more personal, so you can build a relationship—and build trust. Seeing children engage, learn and grow is a great feeling. Knowing she—and fellow volunteer readers—played a key role is even better. It's made her want to do more. She now volunteers in a Conmigo classroom for a few hours per week when her schedule allows.
"I am not sure who gets more out of it—me or the kids," she says. "I get to be a mentor in their lives, and they have someone new to play with. We play games, do crafts and read as well as lunch duty, recess and putting everyone down for naps. When I miss a week, I really miss them and their hugs."
Stephanie was one of 67 volunteer readers spending time with children at two WLC-supported early learning centers (in addition to Conmigo, children were also read to at the Early Enrichment Center at Oakridge). Students were assessed in October and again in May to measure progress in the area of print literacy.

The students tested between October 2012 and May 2013 improved 42 percent on average from pre-test to post-test. The children were tested for pre-literacy skills like the direction the book is held, where the title of the book is found, the association between printed and spoken words, and the meaning of illustrations. The volunteer reading program has been named "Book Buddy" and is expanding to a third center this fall.
Book Buddy is being coordinated by Rachel. Please contact her at bookbuddy@unitedwaydm.org or sign up online.
UPDATE: As of 10/4/13, the Book Buddy program is currently at volunteer capacity.
Click to edit your new post...