There are a lot of things a six-year-old can do with a bag of rocks. Build a castle. Lay out an imaginary battle. Roll them around like cars. Learn to read. That last one is what Bill, a kindergartner at Norwood Elementary in Des Moines, did with the help of his mentor Larry Collins.
This past year was the fourth school year Larry volunteered as a mentor for Power Lunch, a literacy and mentoring program of Everybody Wins! Iowa that pairs volunteers and elementary schools students to read together on a weekly basis. The students, many of whom are struggling readers or English Language Learners, benefit from having a caring adult read aloud to them. The sessions improve not just their reading skills but their social skills and confidence as well. Larry had seen that growth in his previous students.
Despite his experience as a mentor, when Larry first met Bill last fall, he wasn't sure he could handle it. "Remember, this was his first year of school," says Larry. "There was a lot going on in his little life at the time. And he didn't have the skills yet to know how to handle it, so he just did the best he could."
Bill has a twin sister, Hillary, and he couldn't go more than a few minutes without running over to her to talk and play. He wouldn't sit still, and he didn't pay attention to what Larry was reading.
After a few weeks, Larry was at his wit's end. "I was about ready to say, 'I'm out of here.' But then I realized I couldn't do that to Bill. I just decided I had to find some way to keep him more interested in what we were trying to do."
After consulting with a teacher friend, Larry had an idea to keep Bill engaged.
"I got a disposable bag, and I put rocks, bolts and all kinds of boy stuff in that bag," he says.
He also included simple tools and small games and puzzles from the dollar store. Last but not least, he grabbed a stopwatch. "And so I said: 'We are going to time our reading, and then we're going to time our playtime, Bill."
Larry let Bill set the watch: eight minutes of reading and then three minutes of play with the bag. The breaks were fun for Larry, too. "I'm pushing 80 years old, but I'm still a kid," he says with a laugh.
Although Bill and Larry didn't spend the entire session reading, they found they were actually getting through more books than before. And Bill was following the stories.

"I found he was more attentive," says Larry. "He would listen to what I would say to him." More importantly, between play breaks, he would sit still, leave his sister alone and not disrupt the class.
Gradually, Bill and Larry started playing less and reading more. Several times they never even pulled out the stopwatch. Bill turned the pages of the book, and Larry asked him what he would do in different situations in the plot. Bill always had an answer.
On the last day of reading in May, Larry decided to leave the bag of rocks in his car. He told Bill that they were going to switch. Larry would be the student. Bill would be the mentor and read the book.
"So he started reading," Larry says. "And I was amazed."
Larry had no idea that Bill could read so well. The kindergartner had absorbed the words that Larry had read to him all those months.
Karen Ligas, director of Everybody Wins! Iowa, has seen this growth in students many times. "There is so much research around how important it is for children to hear the English language spoken," she says. That is doubly true for English Language Learners like Bill, who is Latino.
Karen cites a shocking statistic: Before starting school, kids from middle-class families recognize between 1,000 and 1,700 words. Children from low-income families know about 25.
That's one reason United Way of Central Iowa is partnering with Everybody Wins! Iowa to expand the Power Read program, a twist on Power Lunch, to 18 schools in central Iowa. During Power Read, mentors use literacy guides (like the ones built during Literacy Solstice) designed by experts to build vocabulary, comprehension, pattern recognition and other important literacy skills. The book-related activities provide a fun, interactive break from reading, just like the rocks and bolts did for Bill.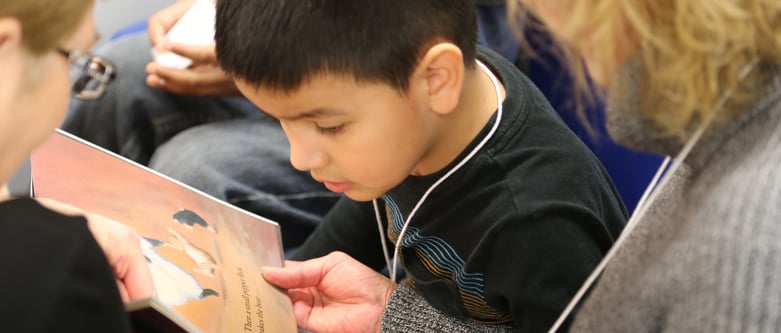 Power Read is looking to greatly increase its number of volunteers, and Larry encourages everyone to consider it. "At least give it a try. Give it a good effort. Find something the child is interested in and just ease into the reading part of it."
As much as Bill grew during the school year, Larry thinks he was the one to benefit more. "It's more about me than anyone else. I just enjoy doing it. They were great kids," he says of Bill and his sister Hillary, who sometimes joined them. "I really grew to love each one of them."