On December 19, 2019, the U.S. Census Bureau released its 2018 five-year estimates for different data points, including population, housing, and income. Within the release, the results showed improvement from the previous year for the percentage of individuals in central Iowa who are financially self-sufficient, increasing from 67.0 percent to 67.7 percent.

Though 0.7 percent may seem small, it translates into 11,000 more financially self-sufficient central Iowans than in 2017, and more than 36,000 financially self-sufficient central Iowans than 3 years ago. It's also 0.7 percent closer to our Income Goal of increasing the percentage of central Iowans who are financially self-sufficient to 75 percent by 2020.
What does financially self-sufficient mean?
In central Iowa, we use 250 percent of the Federal Poverty Level as the definition of self-sufficiency, using information from "The Cost of Living in Iowa." According to the Iowa Policy Project Report-Central Iowa Stats, it's estimated that those living at 250 percent of poverty have the means to "survive" and maintain a "basic budget" – meaning they have enough money to cover rent, utilities, food prepared at home, child care, health care, transportation, and household necessities. Unfortunately, it's not quite enough to "thrive" with extra dollars to put toward entertainment, vacations, restaurant meals, loan payments, education expenses, or savings.
The categories of Extremely Poor, Very Poor/Low-Income, Poor/Low-Income and Self-Sufficient are used when discussing moving from poverty toward self-sufficiency and prosperity. Here, poverty generally refers to people who are living below 100 percent of the Federal Poverty Level: the extremely poor.

The good news for central Iowans is that the percentages within each of these population categories improved: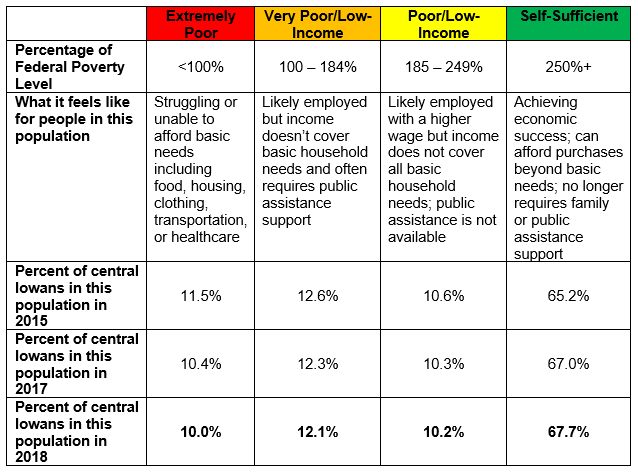 Fighting Poverty Together
We attribute these positive changes to our community's dedicated commitment and the collaborative work happening to tackle the critical issues that affect people living in poverty.
Through the OpportUNITY Community Plan, United Way of Central Iowa is invested in addressing barriers preventing people from achieving financial stability and in helping adults acquire training and education needed to obtain better jobs.

Our community's achievements include:
According to the Iowa Department of Education, the percentage of students who graduated from high school within a five-year timeframe increased more than 10 percentage points since 2008 to 93.7 percent in 2018, and the number of people pursuing some college and/or an associate degree increased by 2,164 people from 2015 to 2018.
Through Bridges to Success

,

2,014 adults have earned their high school equivalency diploma and about half of this program's graduates have increased their income by at least 10 percent.
United Way-funded programs have supported 14,609 central Iowans in becoming work-ready and 5,564 central Iowans in being placed in employment since 2015.
Through Central Iowa Works, a key initiative of United Way of Central Iowa, 602 people have received job training and 267 people have been placed in a job since 2015. Of the total population served, 58 percent were people of color.


We Still Have Work to Do
We know that with support from our community, we will continue to make progress – and there is still much to do.
More than 1 in 5 working families in central Iowa are not earning a living wage.
Of all central Iowans in Polk, Dallas, and Warren counties, 32 percent are not financially self-sufficient.
20,377 of central Iowa children under age 18 lived below poverty level in 2018.
In central Iowa, 27.9 percent of African Americans lived below the Federal Poverty Level in 2018.
Far too many of our neighbors and family members are struggling, and we will continue to fight for them.
Join the Fight: How You Can Get Involved
OpportUNITY is the work of hundreds of central Iowans uniting to fight poverty through work groups, collaborative learning, and grassroots advocacy. We want to get you engaged – whether you're an individual community member, an elected official, or business leader.
Talk about poverty with your friends and family. As a community, we must agree that poverty is an important issue to address together.
Meet with your local elected officials. Taking time to build a relationship with your elected official can help implement great change on a local level.
Join a work group. Visit org or our Facebook page, @OpportUNITYDSM, to learn about the issues our groups and subgroups are tackling.
Volunteer to fight poverty. Find volunteer opportunities that directly impact the work of OpportUNITY at unitedwaydm.org.