What are you going to eat for dinner tonight? If you don't know yet, are you certain you can stop off at a restaurant or scrounge something up in your fridge? There is comfort and security in knowing that nutritious food is easily available to you. But 65,000 central Iowans don't have that, don't know where their next meal is coming from.
This is especially true during the summer. When school cafeterias are closed, kids who rely on free and reduced-price lunch lose two or three consistent meals a day. Their families may be forced to rely on food pantries, which see donations fall off after the holidays and into summer.
75% of students in Des Moines public schools receive free or reduced-priced lunch.
"It's easy to forget to donate during the summer, but that's when pantries and other community agencies need food the most," says Erin Drinnin, Community Impact Officer, Health at United Way of Central Iowa.

Sarai Rice, director of the Des Moines Area Religious Council—which operates 11 local pantries and one mobile pantry—says: "Without good nutrition, we can't grow, change, work, learn or be in good relationships with family and friends."
To help central Iowans perform all these essentials of a quality life, United Way of Central Iowa organized the Pack a Protein Picnic food drive from July 7-21. The drive focused on protein items like canned meats and peanut butter because less than 20 percent of food donated to pantries are protein. Particularly for kids, teenagers and pregnant women, protein is an essential nutrient because of its role in:
Building and repairing muscles

Controlling blood sugar, which is critical to thinking

Maintaining a functioning immune system

Supplying the blood with energy
During the two weeks of Pack a Protein Picnic, 3,000 volunteers from 50+ companies and organizations collected 15,000 food items and $1,300.
The food donations went to our partners in all three counties of central Iowa: DMARC (Polk county), Hunger-Free Dallas County and The Helping Hand (Warren county).

As we often do, United Way of Central Iowa served as a key facilitator, bringing together nonprofit organizations and our corporate partners. Mercer, the human resources consulting firm with offices in Urbandale, was a standout collaborator, collecting 8,566 items—the most of any company or organization. Mercer employees—who are proud of their competitive ethos, strove to outshine one another, with the winning team earning a special catered lunch. Because the company smashed their initial goal by 343 percent, employees received two full weeks of "jean days."
Part of the reason Mercer had so much buy-in for the food drive was that employees had already been requesting just such an opportunity. Some of them had seen friends or family fall on hard times or even faced food-insecurity themselves during the recent recession. Now stable and secure again, they wanted to give back.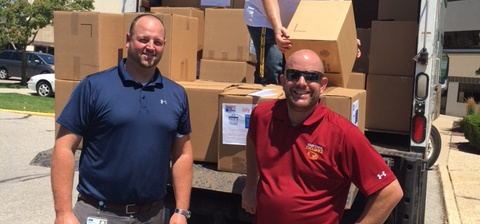 "We want to help people," says Karen Lo Forti, Operations Supervisor at Mercer. "That's what we do in our daily lives here.
"If we are going to help protect lives, why not also reach out to the less fortunate in our community and help provide the basics? Teaming up with United Way allows us to make a bigger impact."
Although some Mercer employees had personal experience with hunger, others assumed it wasn't a big problem in central Iowa until it was explained in team meetings. That's a common assumption, given our agricultural abundance in the Midwest. But even in neighborhoods people regard as middle or upper-middle class, food-insecurity exists.
"We need to be aware that food insecurity is an issue in Dallas county," says Bruce Thorsen of Adel Good Samaritan, who volunteered at the Dallas county delivery site on July 21. "People feel that there isn't a problem, especially in the eastern half of the county, because it is a wealthy, affluent area. But there is a hidden need. The ALICE report showed that. Seven thousand people here struggle. That's half the population of Waukee."

The hidden need Thorsen describes is present in all three countries. One in five kids are food-insecure. DMARC serves 15,000 people a month, more than one-third of whom are children. It distributed 1.4 million food items last year.
If you want to do more to help central Iowa's hungry families, consider taking one of the actions below: