After a long and hopefully fulfilling weekend focused on food, family, and finding the best shopping deals, today is an opportunity to focus on another side of the holiday season.
#GivingTuesday is an international day of online giving established in 2012 in counterpoint to shopping-focused Black Friday and Cyber Monday. It's meant to remind us of our responsibility to give back to those in need of our support, especially those closest to home.
Central Iowans have been giving back to United Way and other local nonprofits for more than 100 years. We are fortunate to live in a community with such a compassionate and generous spirit. Today we celebrate the giving power of that community and the impact it can make on local nonprofits.
Central Iowans give more to their local United Way per person than any other community of our size or larger.
If you've not yet had a chance to give in 2017, or if you're looking to add a little extra as part of your holiday giving, #GivingTuesday is a perfect opportunity.
In giving to United Way of Central Iowa, you can be sure that you are investing in a trustworthy organization with a stellar record of financial transparency and accountability. In 2017, we received the highest possible rating from Charity Navigator for the 13th year in a row—placing us in the top one percent of charities nationwide.
This #GivingTuesday, United Way of Central Iowa is raising money to expand our Vision To Learn program—which provides eye exams and two pairs of glasses to kids whose families can't afford them.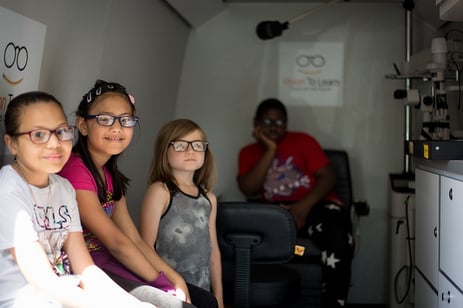 This winter and spring, we hope to expand the program to 22 elementary schools in Des Moines and West Des Moines—giving glasses to over 1,000 kids, helping them learn to read, graduate high school, and succeed in life.
Without the ability to see clearly, thousands of central Iowa students struggle to learn to read. And students who are not proficient in reading by the end of third grade are four times more likely to drop out of school.
Vision To Learn provides two free pairs of eyeglasses (one pair to take home and one to leave at school) to students who need them. A trained eye care professional provides a modified screening exam with a full refraction for students who would otherwise not receive vision care.
95% of first-graders in low-income communities who need glasses do not have them.
Vision to Learn serves schools where at least 50% of students qualify for free and reduced lunch. Nationally, 89% of kids served by Vision To Learn live in poverty and 87% are students of color.
One small thing—glasses for a student in need—can lead to a bigger thing—reading proficiently by the end of third grade—which can lead to a much bigger thing—a high school diploma and the chance to succeed for the rest of their lives.
Will you give a child her first pair of glasses?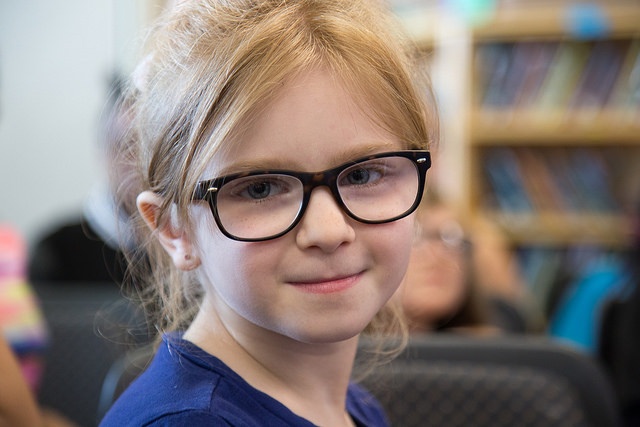 $100 covers the eye exam and two pairs of glasses for a child. Any gift covering all or part of that cost makes a difference. In the expanded program, we estimate that more than 2,000 pairs of eyeglasses will go to over 1,000 central Iowa students.
Thank you for supporting healthy vision and quality education for central Iowa kids on #GivingTuesday.
Click below to learn more about the Vision to Learn program and to make a gift today.