United Way of Central Iowa's 2021 Community Impact Report shares the final results toward the Community Goals for 2020. Companies and individuals recognized with annual LIVE UNITED Awards, including Athene as the recipient of the prestigious Spirit of Central Iowa Award.
At today's virtual LIVE UNITED celebration, United Way of Central Iowa announced the results of the Community Goals for 2020 in Education, Income, and Health with the release of its 2021 Community Impact Report, along with honoring organizations and individuals with the annual LIVE UNITED Awards. Athene was awarded the 2021 Spirit of Central Iowa Award.
Celebrating the Culmination of the Community Goals for 2020
The Community Goals for 2020, set in 2008, have influenced the work done in an effort to reach a high school graduation rate of 95 percent, an increase to 75 percent of central Iowans being financially self-sufficient, and a community well-being score of 64.5. United Way of Central Iowa's 2021 Community Impact Report shows the following achievements toward these three goals:
93.6 percent of central Iowa students graduated from high school within five years in 2019, up more than 10 percentage points over a decade.


68 percent of central Iowans were financially self-sufficient in 2019, increasing from 67.7 percent in the previous year. The .3 percent translates to 8,179 more financially self-sufficient central Iowans than in 2018, and more than 44,000 financially self-sufficient central Iowans than 4 years ago.


Despite the elimination of the Gallup National Health and Well-Being Index in 2019, United Way continued to identify and track indicators that most significantly impact well-being in central Iowa and created innovative solutions to pervasive challenges, including Powered by Purpose, 5-2-1-0 Healthy Choices Count, CAMHI4Kids, and Oral Health Iowa.
The past 12 years have been amazing for our community and for our organization. With our community's generosity and commitment to these goals, we see what living united can really accomplish. Together, we are improving the lives of the thousands of central Iowans represented by these numbers. We are giving more people in our community the essential building blocks for a quality life.
In addition to the growth and progress we've made toward the Community Goals for 2020, we are incredibly proud that United Way of Central Iowa remains number one in the nation in per capita giving for campaigns raising more than $25 million, as we have been for the past several years and by a significant margin.
Additional 2021 Community Impact Report Highlights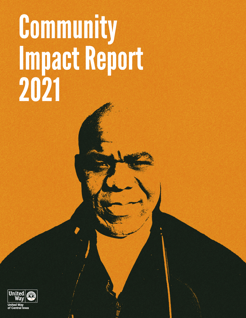 The 2021 Community Impact Report highlights how – through its collaboration with partners, donors, volunteers, and others – United Way of Central Iowa led impactful efforts in Dallas, Polk, and Warren Counties since the inception of the Community Goals for 2020. In addition, special sections share how the organization and 211 Iowa, which is operated by United Way in 57 Iowa counties, have responded to the current and urgent needs of our community during the COVID-19 pandemic. View the full report at www.unitedwaydm.org/community-impact-report.
Highlights noted at LIVE UNITED include:
Education: United Way of Central Iowa has been providing professional vision screenings and eye exams to students who would otherwise not receive vision care since 2017. With over 40 schools served, more than 30,000 students have received screenings and of those nearly 3,700 students in our community have received two pairs of free glasses to help them see and have a better experience learning in the classroom.


Income: Through United Way of Central Iowa's Volunteer Income Tax Assistance (VITA) program, tens of thousands of central Iowans have had their taxes prepared since 2008, resulting in $86.5 million in federal and state tax refunds.


Health: Since 2010, an incredible 19.6 million pounds of food have been distributed through pantries, food rescue programs, community gardens, and corporate giving gardens funded in part by United Way of Central Iowa. In addition, the number of central Iowans eating healthier has increased with 54.6% consuming five or more servings of fruits and vegetables four or more days per week. That is up from 53.7% in 2014.


COVID-19 Response: United Way of Central Iowa collaborated with community partners to establish resources and support the central Iowa nonprofit community, including an additional $1.8 million invested in COVID-19 relief, creating centralized volunteer opportunities on United Way's Central Iowa Volunteer Hub, Community Circle Conversations, and advocating with community, state, and federal leaders around programming and operational challenges.



211 Iowa:

From activation as the COVID-19 statewide hotline in March 2020 to activation as the Vaccine Navigators in March 2021, 211 Iowa has been instrumental throughout the pandemic. Since implementation, the 211 Iowa Vaccine Navigators have handled more than 16,000 contacts, from those more than 10,000 COVID-19 vaccination appointments have been scheduled (as of April 8, 2021).
"The future is bright for central Iowa," said Nora Everett, Chair of United Way of Central Iowa's Board of Directors: "As we celebrate these accomplishments, we know that there is still a lot of work to do and there will be challenges ahead. But United Way is unwavering in its optimism because of the remarkable commitment, dedication, and generosity of so many people in our community. Our collaborative work will continue to create large-scale and life-changing results, giving every central Iowan the opportunity to thrive."
LIVE UNITED Award Recipients
At the LIVE UNITED celebration, the following individuals and organizations were honored for their achievements in giving, advocating, and volunteering for the community:
Spirit of Central Iowa Award – Athene
For the third time, Athene is honored and recognized as the Spirit of Central Iowa Award winner for its commitment to giving, advocating, and volunteering through United Way and its support of central Iowa throughout the year.



Individuals recognized:

Impact-Maker Award: Mary Neubauer, for her advocacy in children's mental health
Hand-Raiser Award: Deb Milligan, for her dedicated volunteerism in our community, especially for EveryStep – a current United Way partner
Game-Changer Award: Brad McManus, for his leadership during F&G's 2020 United Way Campaign, which had the most dollars raised and highest employee participation to date for the organization



Organizations recognized:

Impact-Maker Award for advocacy: Iowa ACEs 360, F&G, John Deere
Hand-Raiser Award for volunteering: ITA Group, John Deere
Game-Changer Award for giving: Delta Dental of Iowa, Bankers Trust, Casey's, Corteva Agriscience



UNITED to THRIVE Beyond the Community Goals for 2020
UNITED to THRIVE evolves United Way of Central Iowa's strategic focus from one outcome in three independent focus areas of education, income, and health to five interconnected elements of a thriving community, each with several key indicators of success: Essential Needs, Early Childhood Success, Education Success, Economic Opportunity, and Health & Well-Being. These five elements encompass a more holistic definition of what is needed not only to survive, but to thrive in central Iowa.
While addressing inequities and disparities has always been an important focus in United Way of Central Iowa's work, equity will now be an intentional top priority in every aspect. Focusing on equity allows United Way to identify specific areas of intense need to dramatically progress our communities' overall ability to thrive.
Finally, the new focus will refine the way United Way creates strategies, sets goals, and measures impact. As the organization focuses on results, the goals, once set, will be well-defined and measurable so our community can see the impact of the work they generously support. Transparency and accountability are a top priority for United Way of Central Iowa.