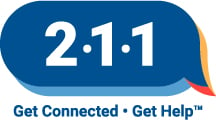 211 is a free service to find help. Iowans can connect with 211 to learn about local resources available to get them through whatever challenge life has thrown their way.


Everyone knows when to call 911. We want to make 211 just as well known. The statewide service, funded by United Way of Central Iowa, connects people to the available resources we need – whatever the situation: disaster relief, legal services, finding food, making estate donations, rent, housing and other challenges life can throw our way. If you're facing a challenge, and don't know where to turn, call 211.

Here are 9 reasons why everyone should know about 211:
211 Certified Referral Specialists can help with complex challenges by connecting you to resources for:

Employment and job training
Health assistance, including mental health
Childcare and after-school programs
Financial coaching
Addiction treatment
Transportation
Affordable housing and rent assistance
Legal services
Disaster recovery
Utility assistance
Disability resources
Veteran services
Tax preparation
Donation locations



211 is for anyone. Life can be challenging sometimes. Losing a job, being diagnosed with a terminal illness, divorce, dealing with damaged property from a natural disaster, or having to figure out what to do with your loved one's belongings after they pass away can upend your life at any given time. 211 is here for you. This information referral and resource service is available to everyone. Spread the word to your friends, family and co-workers so they know to call 211 when the unexpected happens to them.


211 is available all the time.

That's every day, every hour, every minute of the year. If you don't feel like calling, download the 211 app, text your zip code to 898211, or find resources by visiting

www.211iowa.org.


When you call, you talk to a real person. A certified referral specialist answers your call, helps identify the root causes of the problem you're facing, and connects you to available local resources. Have a pen in hand – they'll provide phone numbers, addresses, specific times you would need to call if necessary and other important details to ensure you have everything you need to connect with that resource.


76,484 Iowans called 211 for help in 2019.

We want to keep this good thing going. This year, we're advocating for a government investment through direct, annual appropriation to support disaster recovery and resource referrals for the service. Find out more about this legislative priority and others on the United Way of Central Iowa's

2020 Legislative Agenda.


It's not just an "Iowa Nice" thing – 94.6% of the U.S. population has access to 211. Our statewide service is based on a national model. So, if you're supporting someone in a different state, encourage them to call 211 to find out how to connect to resources close to them.


Translation is available in 180 languages, making the service available to millions more people than would otherwise have access.


211 can also connect you to volunteer opportunities in your area. If you're looking for Volunteer Time Off opportunities for work, are eager to get involved in the community and don't know how, or are interested in finding a new organization to support, call 211. We especially recommend calling as the holiday season begins. 211 will have a list of local organizations that need your help.


211 changes lives.

Susie, an elderly woman, from Pacific Junction, Iowa, called 211 after her home was flooded. She needed help cleaning the debri. 211 connected her to the Crisis Cleanup Hotline from American Red Cross and shared information on how to apply for the Individual Disaster Assistance Program. Susie said: "I was so happy 211 was able to connect me to the help I needed to take care of my home."
This post was adapted from an article provided to United Way of Central Iowa by United Way Worldwide.