Is a nonprofit you're connected with looking for ways to boost their volunteer engagement? Learn how the Central Iowa Volunteer Hub can help.
Through the Central Iowa Volunteer Hub, the local nonprofit you work for or work with can connect with hundreds of volunteers who are eager to support our community. Easily post and share ongoing initiatives, like reading with students, or one-time opportunities, like helping distribute food, and everything in between.
United Way of Central Iowa has been hosting a volunteerism website for nearly a decade. Find it at volunteer.unitedwaydm.org.
Last fall, we decided it was time to revamp this site to make sure the community knows about this hidden gem. Our first step was to get insight and feedback. We invited a group of 12 volunteer consultants to give feedback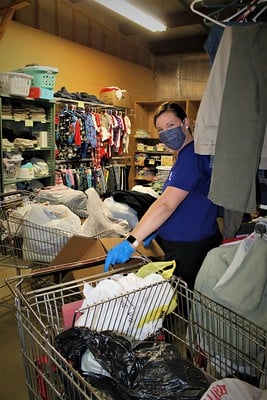 on what was – and wasn't – working. We realized a name change was in order, updating it from Get Connected to Central Iowa Volunteer Hub. The new name better reflects the purpose of the site, and the tagline spells out our intention: "Connecting Nonprofits and Volunteers. We make it easy to give back to your community."
Next, we redesigned the look and feel of the site. Our consultants suggested using photographs of people volunteering right here in central Iowa. We are proud of the hard work our volunteers put into the community, and we were thrilled with this suggested change. Our consultants also suggested a new color scheme and we jazzed up the homepage.
The Volunteer Hub's design allows space for a gallery of photos, which is a great way to showcase what has been going on recently. If you'd like to have us share a picture from your volunteer event organized through the Volunteer Hub, please send me a photo and caption at Ramona.Gaukel@unitedwaydm.com and our team can help get it featured in the "Community Spotlights" section.
Finally, and most importantly, we are working more closely with our nonprofit friends and partners in the counties we primarily serve – Polk, Dallas, and Warren – to ensure they are regularly posting volunteer opportunities they have available through their organizations. An accurate, up-to-date post can make the difference when seeking volunteers.
"We are grateful to be partners with United Way," said Brooke Heldt, Community Engagement Director for the YMCA Supportive Housing Campus. "Our volunteer interest has doubled since posting opportunities on the Central Iowa Volunteer Hub website."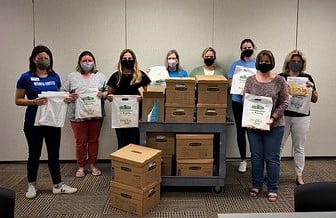 Simply posting initiatives is important but considering how you ask volunteers to interact is equally as important. During the last couple of years, the COVID-19 pandemic has made it nearly impossible for groups of volunteers to work closely together. We have looked for new ways to continue to get companies and individuals involved in a nonprofit's work while also allowing them to be safe, whether that means it's volunteering from home, in small groups, or only offering outdoor opportunities. We created a category of DIY Volunteering opportunities, which offers a wide variety of things people can do, from making breakfast casseroles to tying fleece blankets, from home or work and then drop-off at the nonprofit.
If your nonprofit already has its own sign-up service, and you think you don't need to post events on the Central Iowa Volunteer Hub, I challenge you to weigh the pros and cons using the Volunteer Hub in addition to your site. Here are four "pros" for you:
Pro: Using the Volunteer Hub is free.

Pro: The Volunteer Hub had over 70,000 visits (includes non-unique) last year from people looking for ways to get involved.

Pro: If you have your own volunteer site, you can use that for sign-ups and take advantage of the Volunteer Hub as an additional way to drive people to register.

Pro: You can upload your own photos and additional links to share more information about your opportunities.
To get ideas on how to make your listing more impactful, review other current listings to see what they're doing to engage volunteers. The Hub is a community where we can all learn from each other.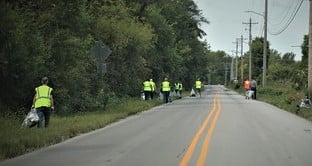 One final tip – keep your listings current. The Hub has algorithms that control the inner workings, so the most recently updated opportunities show up at the top of the list when someone is searching for a place to volunteer. By keeping your listings up to date, you'll have a greater chance of getting volunteers to see your post and sign up.
Volunteers are a great way to complete projects you might not otherwise have the capacity to complete. By creating an easy way for them to connect with your organization, you're already making a great first impression. And you continue to foster those volunteer relationships by offering a great experience when they are working with you – which can help them become long-standing partners and supporters.
Please reach out to me with questions, ideas, and feedback on the Central Iowa Volunteer Hub. I'd love to connect with you and hear about your experience with the site.