Kindergarten is harder than you think. It's more than playtime and naptime; it's the foundation of an education that will carry them to high school graduation and beyond.
Once a child enters kindergarten unprepared—without baseline literacy skills like recognizing letters and sounds—research shows it's nearly impossible to catch up.
And in 2014, 44 percent of central Iowa kindergartners started school without the necessary skills to learn.
Fortunately, just 40 minutes a week can make a big difference in a child's life. In United Way's Book Buddy program, volunteers read one-on-one with four-year-olds in preschools and early childhood centers throughout central Iowa. Using an engaging curriculum and a library of 25 books developed in collaboration with Des Moines Public Schools, volunteers follow the book insert to teach a specific literacy skill.

The program is having incredible results. During the last school year:
Students improved an average of 66 percent in their assessment results.
Many of the students in the Book Buddy program come from low-income or non-English-speaking households, which puts them at a significant disadvantage compared to their middle-class peers.
Low-income students:
Hear 30,000,00 fewer words by age three

Recognize only 9 letters of the alphabet, 13 fewer than their middle-class counterparts
Even more shocking is the fact that low-income households possess one book for every 300 children. Middle-income kids each have 13 books of their own.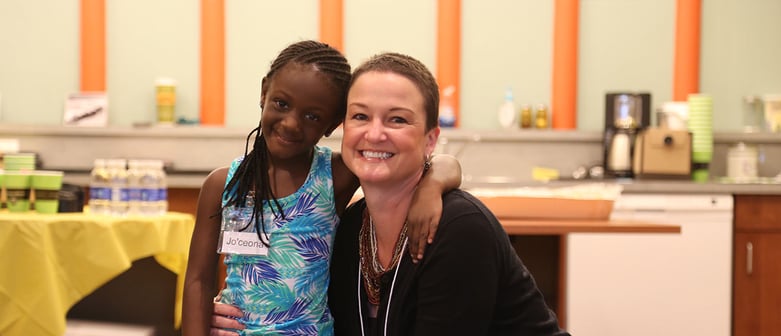 Book Buddy works to close this gap by helping the students start home libraries of their own. Each week, children bring home their own copy of the featured book so that they can enjoy it over and over again with their families.
This school year, beginning in October, Book Buddy volunteers will be in six different early childhood centers in Des Moines. Volunteers can choose the day and location that works best for them—and even team up with someone else to split up the commitment.
Will you help a small child start down the path of lifelong education and career success?
Each weekly session is a stress-reliever, a confidence-booster and a smile-starter. To learn more, or to sign up to be a book buddy, click below.