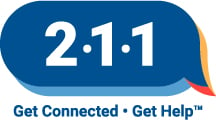 In 2020, 211 usage in Iowa jumped a staggering 81% compared to the previous year. On National 211 Day, 211 Iowa recognizes its record-breaking year and its commitment to continue to serve the state.
In celebration of National 211 Day on February 11, the United Way of Central Iowa recognizes the 211 Iowa team and their incredible effort and contributions to our community and our state within the last year. 211 Iowa has connected more individuals with help and resources than ever before. In fact, since March 2020 when 211 Iowa was tapped to be the state's official COVID-19 hotline, 211 usage has skyrocketed – going up more than 81% compared to the same timeframe in the previous year. In total, 138,849 contacts were made in 2020, and of those more than 52% (72,734 contacts) were COVID-19 related. The total contacts include both calls and texts and do not include users who accessed resources and information using the 211 Iowa app or website, 211iowa.org.
Additionally, 211 is a go-to resource when natural disasters strike. On August 10, 2020, a high-wind weather complex, known as a derecho, pummeled the central and eastern regions of the state. 211 Iowa was immediately activated by Polk County Emergency Management to support the community with its expertise. In addition, 211 partnered with the Iowa Utility Board to provide real-time information on estimated utility restoration for individuals without access to internet.
National 211 Day was created to recognize the free, user-friendly phone number that serves about 95% of America's population. Across the country, 211 connects millions of people to critical resources, information, and services. 211 Iowa covers all 99 counties with 24/7 coverage. There are four ways to get connected to essential resources through 211 Iowa — by a phone call, text, app or website. Every Iowan has access via four call centers which are privately funded by local and regional partners including United Way of Central Iowa.
We continue to help so many people who have questions about the vaccine, about symptoms, and about COVID-19 in general in addition to the standard types of calls we answer. The pandemic has simply added a new dimension.
During the onslaught of calls near the start of the pandemic, Dave Stone, Advocacy Officer for United Way of Central Iowa, trained and served as a 211 specialist. He says he had believed in the power of 211 before, but after answering calls and hearing the fear in people's voices, he had a new appreciation for the service.
"Being able to talk individuals down from that fear and help them with their crisis by working with them to develop an action plan confirmed the importance of 211 for the state of Iowa for me," Stone said.
March 17, 2020, was the busiest day of the year for 211 Iowa with 1,916 calls and texts. We were fortunate to have a statewide hotline system in place to tap into handle the additional volume. With the increased usage since then, particularly with its phone-in service, having several calls in the queue isn't unusual. However, 211 Iowa initiated a callback feature, which allows callers to keep their place in line and to be called when it's their turn rather than waiting on hold. Now, we're looking at hiring — if we are able to get additional funding — so those Iowans who are seeking answers, help, and support won't have to wait.
The Federal Communications Commission first approved 211 for nationwide use as a short number on July 20, 2000. United Way of Metropolitan Atlanta was the first to introduce a 211 service in 1997. Many states, including ours, began implementation plans soon after in partnership with the Alliance of Information and Referral System (AIRS).
211 has been in Iowa for decades, previously known as First Call for Help and Community Telephone Service. The specialists who answer calls are highly trained. Once they take the call and discern the needs, the specialists connect callers with the best resources from an extensive database of resources that is continuously updated to provide accurate and up-to-date information. In addition to making the connection, the 211 specialist explains how to access the services. For example, in the case of a worker who has recently been laid off or whose hours have been reduced, the 211 specialist may provide contact information for the Iowa Workforce Development, as well as the best time to call, what to have prepared, and information about unemployment benefits. In addition, the specialist may also share resources for job search options, SNAP benefits, food, mortgage or rent help, utility assistance, counseling, and other available resources.
I encourage you to call 211 when you don't know where to turn. Assistance is available in multiple languages, and services are accessible to people with disabilities. 211 Iowa uses a LanguageLine translation service that can translate assistance in 150 languages. Research shows that without 211, callers can make an average of eight phone calls to different numbers before finding the services they need. 211 cuts through the red tape to save providers time and money, while helping Iowans connect with the resources they need.
Cook notes that 211 serves a purpose beyond connecting people with needed resources. "211 also helps us keep a pulse on communities around the state — where a specific need is emerging," she said. "We are able to closely track the calls to see the highest needs in specific areas and share that information with community leaders and policymakers. We're able to let these partners know which needs are most pressing in their area so they can determine if they have the resources to meet them for their constituents. It's a valuable tool for planning."
One misconception about 211, according to Deann Cook, Executive Director of United Ways of Iowa, is that some people believe the hotline is reserved for people in dire need. "We want the state to know that 211 is for everyone," said Cook. "If you have a question about any kind of resources, whether the question is related to housing, disaster relief, utilities assistance, or if you need information about COVID, dial 211."
The biggest lesson I've learned in my 15 years at 211 is that there is no such thing as a silly question and there is no need to feel ashamed to ask for the assistance – even if you feel like there's someone out there who needs more help than you do. We want everyone to know that we are a resource and are here to help.
ABOUT 211 IOWA
There may be a time that you or someone you know needs help, but don't know exactly what kind of assistance is available — let alone how to access it. 211 is where you go when you don't know where to turn for help, acting as a single point of contact to thousands of social service programs. 211 can assist by helping to clarify your personal situation and then utilizing an extensive up-to-date database to determine the best resource(s) for you. 211 is a free, comprehensive information and referral system linking Iowa and Nebraska residents to health and human service programs, community services, disaster services and governmental programs. 211 is a one-stop source of information for people looking for services.