Lynn Graves has been honored with the 2016 Tocqueville Society Award. The award is United Way of Central Iowa's highest honor, given annually to an individual or couple who exemplify inspirational and sustained leadership and service to the central Iowa community through United Way.
Tocqueville Society, United Way's premier philanthropic society, recognizes the 400 households who annually contribute $10,000 or more into our community in the areas of health and human services.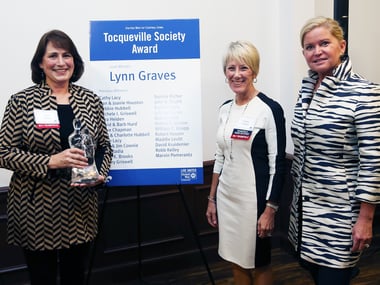 A committee of past Tocqueville Society awardees selected Lynn Graves as 2016 Tocqueville Society Award Winner. The award was presented at the annual Tocqueville Society celebration event on November 3 at Sam & Gabe's in the East Village.
"Giving back is important, because there are always people less fortunate than you," said Graves, who was one of 12 children in her family. Her mother instilled in all of the children a simple three-part philosophy: Try your best; share what you have; be nice to everyone.
Graves joined Tocqueville Society in 2004 and is an inaugural Women's Leadership Connection (WLC) Tocqueville Member. She is a founding member of WLC and has served in all areas of this group's work, specifically as a guiding voice on both the advisory committee and advocacy committee. She also embraces the WLC mission to impact early grade literacy as a WLC Book Buddy volunteer, reading to young children in local early learning centers. As part of her continued commitment, Lynn has volunteered her time and talents to the United Way Campaign Cabinet, Income Cabinet, Volunteer Engagement Cabinet, Graduation Walk, 55+ Initiative and HOPE Holiday Food Basket.
"The Tocqueville Society represents some of the
most dedicated philanthropic leaders of our
community. It is a pleasure to work with Lynn
Graves to have a positive impact on the lives
of central Iowans."
– Mary Sellers, President of United Way of Central Iowa
---
About Tocqueville Society
Since its inception in 1984, Tocqueville Society members have contributed cumulatively nearly $40 million to United Way of Central Iowa. Last year alone, Tocqueville Society members contributed $6 million. These funds are strategically invested to create measurable and lasting change in our community's most urgent issues.