United Way of Central Iowa Tocqueville Society recognizes the exceptional individuals and families who lead the way with annual contributions of $10,000 or more to United Way of Central Iowa.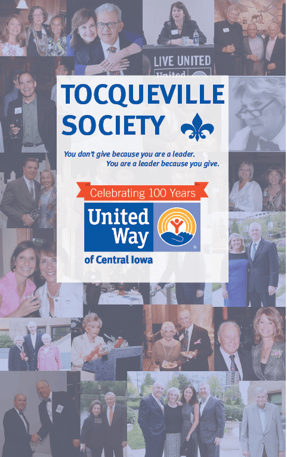 Tocqueville Society Membership Benefits
Recognition in the Business Record, The Des Moines Register and United Way of Central Iowa's online Leadership Circle Registry.

Timely e-newsletters to inform Tocqueville Society members how your contributions lead community change.

Invitation to the annual celebration event as well as special engagement and volunteer opportunities.
A membership benefit of being a Tocqueville Society member is having a recognition ad in The Des Moines Register and Business Record. United Way thanks Register Media, Willis Auto Campus and Accordia Life for their generous support of this recognition.

2016 Co-Chairs
Paul Schickler and Gerry Neugent are co-chairing the 2016 United Way Tocqueville Society campaign. Paul is the President of DuPont Pioneer and Gerry is the President and Chief Executive Officer of Knapp Properties.
Over 30 Years of Giving
Since its inception in 1984, Tocqueville Society members have contributed cumulatively nearly $40 million to United Way of Central Iowa. Last year alone, Tocqueville Society members contributed $4.9 million. These funds are strategically invested to create measurable and lasting change in our community's most urgent issues.
2015 Tocqueville Society Award: Cathy Lacy
Cathy Lacy has been honored with the 2015 Tocqueville Society Award. The award is United Way of Central Iowa's highest honor, given annually to an individual or couple who exemplify inspirational and sustained leadership and service to the central Iowa community through United Way.
Tocqueville Society, United Way's premier philanthropic society, recognizes the 362 individuals and families who annually contribute $10,000 or more to United Way.
Lacy was selected by a committee of past Tocqueville Society awardees. The award was presented at the annual Tocqueville Society celebration event, October 21 at the World Food Prize Hall of Laureates.
Lacy joined Tocqueville Society in 2001 and is a member of Tocqueville Legacy Circle. She is a founding member of United Way Women's Leadership Connection (WLC) and served on the group's advisory committee. She also is a WLC Book Buddy volunteer, reading to young children in local early learning centers.
In 2012 she was a founding member of WLC Women of Tocqueville Society, and led the group's launch committee and recruitment efforts.
"Cathy Lacy has been instrumental in the growth of WLC. Thanks to her efforts, today WLC has over 600 members, and is known nationally as a model for women's philanthropy aligned toward our most important community priority—young children," says United Way president Mary Sellers.
"Cathy has shown us what it means to be an active community member. She's an example for all of us to listen more, act more and care more," says 2014 Tocqueville Award winner Joanie Houston in announcing this year's award.
In addition to her service for United Way, Lacy has served on the Drake University Board of Trustees, as Board Chair of Education at St. Augustin Catholic School, and on the boards of Dowling Catholic School, Holy Family Inner City Youth Foundation and the Blank Park Zoo Foundation. She volunteers as co-chair of the Young Women's Resource Center's annual fundraising event, and also assisted the organization with establishing a literacy initiative for their child care program.
Cathy and her husband, Steve, serve their alma mater, Kansas State University, on the Foundation Board of Trustees and are members of the KSU Presidents Club.
In 2014 the Lacys were named outstanding individual philanthropists by the Central Iowa Chapter of the Association of Fundraising Professionals.
Tocqueville Society Award Recipients:
2015 - Cathy Lacy
2014 - Dan & Joanie Houston
2013 - Debbie Hubbell
2012- Michele I. Griswell
2011 - Cara Heiden
2010 - David & Barb Hurd
2009 - Steve Chapman


2008 - Fred & Charlotte Hubbell
2007 - Steve Lacy
2006 - Patty & Jim Cownie
2005 - Suku Radia
2004 - Roger K. Brooks
2003 - J. Barry Griswell
2002 - Sunnie Richer


2000 - John R. Grubb
1995 - Evelyn Davis
1994 - Johnny Danos
1992 - Bob Burnett
1991 - Robert E. Larson
1990 - William C. Knapp
1989 - Robert Houser


1988 - Maddie Levitt
1987 - David Kruidenier
1986 - Robb Kelley
1985 - Marvin Pomerantz