One local organization's decision to raise wages for their lowest-paid employees improved recruiting and decreased turnover.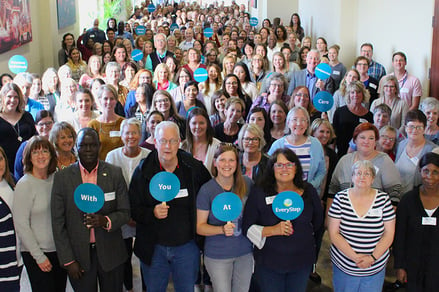 As the economy recovers from the pandemic, businesses across the state — especially those in foodservice, hospitality, retail, and manufacturing — are facing painful worker shortages. Many of these positions have long paid minimum wage or slightly more. To lure workers back, some businesses are starting to raise pay for these types of employees.

If your business is having trouble attracting or retaining workers, you may want to consider boosting pay and advertising a living wage.

What is a living wage?

According to the Massachusetts Institute of Technology's Living Wage Calculator, a living wage is "the cost of living in your community or region based on typical expenses." These costs include food, child care, health care (both insurance premiums and deductibles), housing, transportation, and other basic needs.

In the Des Moines-West Des Moines metro area, the calculator estimates a living wage for a single adult to be $13.79. For a working individual with a working partner and two children, it's $20.66. And for a single parent with one child, a living wage is $29.56.

A living wage can make a huge difference for the one-third of central Iowans who are struggling financially, according to OpportUNITY. These households (who make less than 250% of the Federal Poverty Level) often live paycheck to paycheck, struggle to cover necessary expenses, and are unable to save – leaving them one broken arm or flat tire away from a serious financial crisis.

How to implement a living wage for workers

If you're considering offering a living wage, it's a good idea to learn from other businesses that have gone before you.

Two years ago, EveryStep, a nonprofit health care and human services organization, successfully raised wages for their lowest-paid workers to $15 per hour. They wanted to decrease turnover in transient positions, which people would often leave to make just 50 cents an hour more in another role. They also wanted to better support employees who were struggling with food insecurity, housing, and health care expenses. Some staff members — like certified nursing assistants (CNAs) and interpreters — assisted low-income parents and families as part of their job responsibilities, but had to rely on the same supplemental programs and benefits as their clients.

Leadership decided to start talking about the financial impact of a pay increase on the organization's bottom line. They found that boosting the lowest wages to $15 per hour wouldn't be a financial hardship. The change affected about 30 to 40 employees, and the largest jump was an increase of $4 per hour.

The decision was largely met with celebration and pride by employees across the organization, even those who didn't benefit. But Tray Wade, president and CEO, did note a significant unintended consequence of the change: that it compressed the pay scale overall.

Limited resources meant that EveryStep couldn't bump up the wages of staff already making $15 per hour. Some who made a dollar or two over the threshold felt overlooked, especially if they had worked their way up to that wage over the course of several years.

To placate these employees, EveryStep strived to be consistent in their internal messaging: that the increase was meant to help people escape poverty and feed their families, not reward newer employees at the expense of more experienced ones. Overall, the message resonated with staff.

Wade explains: "We had more people who said, 'Wow, this is really neat. It shows that the organization values employees who work in difficult, heavy positions.'"

Since the wage increase was implemented, Wade says recruitment has become easier and turnover is down.

"The amount we spent has probably been paid back to us in the lack of turnover in those positions where people used to come and go more often," says Wade.

The decision also had a positive effect of EveryStep's long-term organizational culture, says Wade. During orientation, all new employees hear about the policy, even if they aren't affected by it.

"I think it's a great foot to start off on," says Wade. "People understand what we expect out of our culture."

Wade recognizes that not every business has the financial resources to offer a living wage. He recommends that those on a stable financial footing look into the idea, keeping in mind unintended impacts, like compressing the pay scale.

"I'm very proud of the decisions we make here and the culture we've created," says Wade. "Everyone is working hard, and we wouldn't be here without every single one of our employees."


Looking for more guidance on raising wages at your business or organization? Contact Central Iowa Works for a free consultation.