You may have heard that central Iowa is facing a workforce shortage in skilled trades. Rapid growth in Greater Des Moines and an aging workforce are just a couple of reasons for this shortage.
Tasked with thinking creatively about how to boost employee recruitment, Michelle Ashline, Workforce Development Manager at Turner Construction Company, focuses on building relationships throughout the industry, the education systems, and community to create opportunities for people of all ages and experiences to learn about and consider construction as a choice for their long-term career.
The construction industry offers both a great starting wage and a clear path for career growth. Michelle says, "It's not just a good-paying job, it's a path to success, and an opportunity to be a part of strengthening your community." She especially sees her organization as playing a part of the economic success of the area and the sustainability of our communities.

Here are some recruiting ideas Michelle is implementing to build a thriving Construction Skilled Trades workforce.
1. Connecting with Students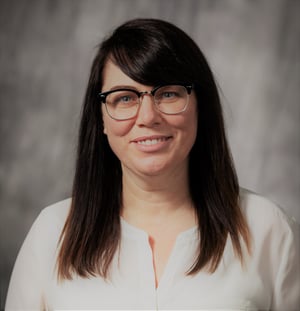 Michelle Ashline, Workforce Development Manager, Turner Construction
Michelle says that it is important to prioritize building relationships that connect industry, education, and community to expose all Iowa students to the many career paths construction has open to them.

She does that in several ways: Michelle is a member of the Skilled Trades Alliance that supports programming at DMPS Central Campus. Through her partnership with the Iowa Department of Education's Division of Community Colleges and Workforce Preparation, she helps highlight opportunities for young women through Girls in Construction Camp. While her current role focuses on growing awareness of skilled trades, she also works with programs like ACE Mentor that connect experienced architects, engineers, and construction mangers to students for the purpose of introducing and sharing more about those careers in construction. Her industry peers at the National Association of Women in Construction also work to bring construction to students of all ages, including with an early introduction program, Block Kids, which is a contest for elementary-age students.

The construction industry is trying to do a better job of telling its story to high school teachers and career counselors and giving them next step directions to share with their students, Michelle says. Connecting in student support spaces like Boys & Girls Club and Iowa Safe Schools is another way to deliver the message to young people that construction could be the career path that is the best fit for their future.

"I like to tell students, 'even if you're not on the path to construction now, know that you made friends here today that you can call on in the future if or when your path changes,'" says Michelle. "What we know is that for the student who is going to college, a lot of times they change directions after their first semester or first year of college. While I'm always telling the story that says, 'Come here to construction where you can earn while you learn," I also want to always tell the story that construction is a family and, like a family, we will be here when you change your mind, and when you need us."
2. Changing Perceptions
In addition to getting information to schools, programs, and students, the construction industry has to help people think about this option as a sustainable career. Michelle explains to educators that the skilled trades is not the end of a student's education journey, just a different approach to secondary education. Many of the area trade training centers, like those for electricians and plumbers/steamfitters, partner with the American Council of Education for course credits that are accepted by over 400 accredited colleges and universities.

Michelle also works to reframe parents' perception of what construction is. "We have to tell the story of safety in construction," she says. "The construction industry works hard every day to protect its workers. We have a strong emphasis on training programs and safety protocols that support our overall well-being."
Turner's Living Injury Free Every Day (LIFE) program focuses on eliminating incidents through preplanning, safety engagement, and continuous improvement to standards and guidelines. Everything on Wheels practice helps maintain a clean job site, leading to less trips and falls, and saves workers from potential strains. Before every shift, a construction worker stretches for about 10 minutes to help reduce fatigue and avoid injury, and messaging and programming keep workers informed and aware of their mental and physical health.
3. Developing an introductory program
In September, Michelle helped launch an introduction to construction program to give people interested in construction a chance to learn about the field and get acclimated to the work schedule. With a focus on building relationships with education and community partners, this program was hosted at DMACC. Participants completed training and gained certificates for OSHA 10 and First Aid/CPR/AED, as well as completed classes for math and blueprint reading. Turner paid an hourly wage to participants for the 30-day construction education program. Turner's Trade Partners also made a 30-day commitment to the participants, opening jobs to them that allowed them to jumpstart their careers.
4. Marketing to diverse candidates
Retention starts at recruitment, Michelle says. Often individuals Michelle is trying to recruit to the industry go to a website to look at job opportunities and don't see themselves reflected in the images and materials. She reminds her industry peers that their marketing should reflect the diversity they want to see on their projects, and that it must go beyond just marketing to genuinely supporting a culture that welcomes everyone.
"Innovation in construction can only happen through diversity," Michelle says. "If we all have the same experiences, same everything, buildings get built the same way and the construction industry is stagnant."

"Construction is a safe and welcoming environment for everyone," she adds. "We need to go the extra mile to tell that story in every space we can. To parents, this is a career that gives you the ability to pick your kids up from school in the afternoon. To women, you can be an electrician, a welder, an iron worker, anything you want to be. To LGBTQ+ youth, we want you! To the person that is learning English as their second language, you can do this! My personal experience tells me that construction is the career that allows you be your best self and live your best life."
Growing your workforce
For anyone struggling to recruit workers, Michelle emphasizes that building partnerships is critical to hiring diverse candidates. "We need to feel like we're all in it together" she says.
Find more ideas for building an engaged and productive workforce with our guides.